Fat Kid Fridays, Father's Day edition: The most ridiculous bar foods, ranked by calorie count
Your dad might like a fancy booze, but you know what he likes even more? Talking about the good ol' days while drinking that booze. So take him out for a pint and some deep-fried, high calorie goodness -- the kind that'll remind him of college, before your mom got knocked up and started forcing him to eat salad and go on fun runs. Because Dad's the Man... and the Man deserves beer and pulled-pork nachos.
Black Rock
4. Mega Taters
Black Rock Pub and Kitchen (address and info)
Chicago, IL
Approximate calorie count: 866
These may look way fancier than the not-eco-friendly Styrofoam container of tots your dad used to order at Vandy while downing a pitcher of beer, but don't let 'em fool you. That's just simple nacho cheese sauce, bacon bits, and sour cream soaking into the fried nuggets, so it's certainly something he could've gotten down with in college. But maybe still let him pour his beer into a coffee mug if it'd let him feel more comfortable.
Forget Chicago-style pizza; the Windy City's got a tater tot pizza...
3. Kentucky Breakfast
Bungalo Bar (address and info)
Portland, OR
Approximate calorie count: 964
It's your duty to help your dad age gracefully by throwing away his cell phone belt-holster, and by teaching him to break tradition... when it comes to mix-and-matching the fattiest of fat foods. There's no need to stick with a fried pork chop and gravy when crispy fried chicken buried under a few cups of chunky sausage gravy tastes this good. And, yes, that's a bowl of syrup, just in case.
Not to brag, but Portland's also got a double-bacon cheeseburger housed between grilled cheeses...
Brickhouse Cafe
2. Nachos del Diablo
Brickhouse Cafe (address and info)
San Francisco, CA
Approximate calorie count: 1,238
Show your dad that he taught you how to spend your money well at this SF cafe/bar. For $23, you can get him a pitcher of beer and this giant plate of housemade nachos luxuriating with blue and cheddar cheeses, pulled pork, and pico. To reiterate, that's two meals' worth of delicious calories and a pitcher of beer, so he clearly taught you to be a genius with your cash.
If you forgo the pitcher (sad), you can take this into the Giants game...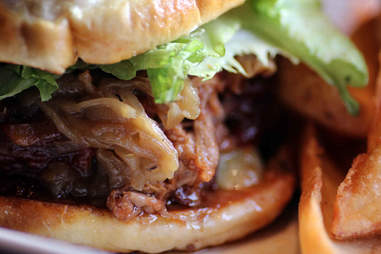 Dave Baldwin
1. Cask Burger
Cask 'n Flagon (address and info)
Boston, MA
Approximate calorie count: 1,468
Just because the dining world you live in is littered with ramen burgers and patties sandwiched between slabs of mac & cheese, your dad is probably clinging tight to his non-artisanal, super-delicious simple burger. So ease him in slowly with this pulled pork-topped half-pounder that also has the basics, like lettuce and caramelized onions. Just don't tell him that the pickle is fried and on the top, rather than bread-and-butter style on the patty. He'll thank you after.
The place also serves up killer BBQ right near Fenway... 
Liz Childers wishes she could buy her dad a beer and some nachos for Father's Day, but will have to make do with an IOU until she sees him next. Follow her at @lizchilders1.