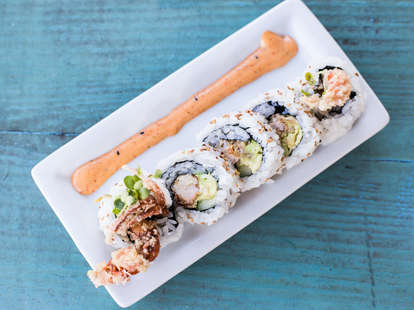 Sushi's generally considered a healthy food, even when it's been Americanized with a Super Soaker's worth of mayo. But to find out just how healthy, first we consulted a pro from the Sushi Chef Institute to give us the lowdown on the most popular rolls and their most common ingredients. Then we calculated the average number of calories in said rolls, using sites like CalorieKing and CalorieCount, plus the nutritional info from multiple restaurants that serve sushi. Since recipes vary so wildly from restaurant to restaurant (especially when the plates are painted with spirographs of spicy mayo), these are just approximations of the counts before they've been Kewpie'd to death. Here's the ranking -- get your soy sauce ready.
9. Surf and Turf Roll - 293.3 cal
Cucumber, fish cake/imitation crab, beef, carrot, tuna, salmon, avocado
This surprisingly landed lowest on the list despite being the beefiest.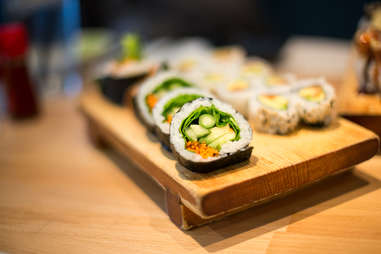 8. Vegetable Roll - 358 cal
Cucumber, fresh carrot, scallion, avocado, asparagus, cream cheese
A hunk of cream cheese makes this otherwise all-veg roll among the lowest in calories.
7. Caterpillar Roll - 373.5 cal
Cucumber, fish cake/imitation crab, avocadooutside
This roll gets its name from the avocado shell, and not because it was created by that company that makes tractors.
6. Spider Roll - 376.6 cal
Deep-fried soft-shell crab, avocado, cucumber, radish sprout, masago roe, pickled carrot
Deep-fried crab packs a caloric punch.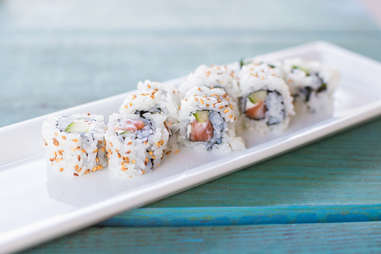 5. Philly Roll - 388.8 cal
Cream cheese, avocado, salmon, sesame seeds
A cheesesteak this is not, but it's still one of the fattier rolls.

4. California Roll - 394.6 cal
Fish cake/imitation crab, avocado, cucumber
Despite being a little crabby, California knows how to party!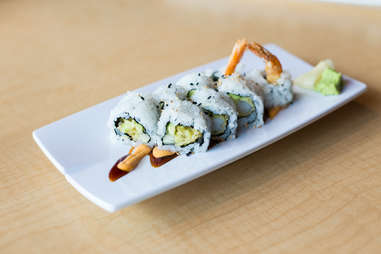 3. Shrimp Tempura Roll - 417.6 cal
Shrimp tempura, avocado, tempura flakes, eel sauce
Tempura is one of the least fatty ways to fry... but regardless, that extra oomph rockets the shrimp tempura roll into the top three.
2. Rainbow Roll - 424 cal
Fish cake/imitation crab, avocado, cucumber, tuna, avocado, salmon, shrimp, yellowtail
Eating a Rainbow Roll contributes mightily to the rolls on you.
1. Dragon Roll - 454.6 cal
Cucumber, avocado, eel, eel sauce
Turns out eel is exactly as evil as Little Mermaid makes it look.
Dan Gentile is a staff writer on Thrillist's National Food and Drink team. He is happy to know that he can eat six sushi rolls a day and still be considered healthy. Follow him to six sushi rolls a day at @Dannosphere.