Man's favorite food, in every year of his life
Dan Gentile / Jennifer Bui
It can be tough to pick your favorite food, especially if your frontal lobe isn't developed enough to process language. But whether or not you can verbalize a distinct preference for pureed pears over mashed sweet potatoes, there's probably still a magic bite that puts a twinkle in your eye.
So we here at Thrillist have calculated every man's favorite foods, from the age when he can't chew, up until the age when he can't chew.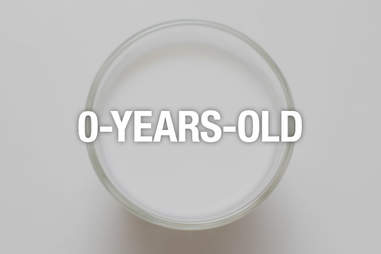 Dan Gentile / Jennifer Bui
0. Milk from Mom's boobs. Will seem gross later, but is now the equivalent of a $5 shake.
1. Mashed pears
2. Mashed sweet potatoes
3. Chocolate pudding
4. Peanut butter and jelly
5. SpaghettiOs
6. Grilled cheese, rectangles
Dan Gentile / Jennifer Bui
7. Grilled cheese, triangles. Made by best friend's Mom.
8. Pizza!
9. Fast-food kids' meal
10. Something that has to do with a cable cartoon show. Likely cereal.
11. Any restaurant with a soft-serve machine
12. Olive Garden
13. Grilled cheese, triangles. Made by the Mom of the girl next door.
Dan Gentile / Jennifer Bui
14. Pizza!
15. A fast-food restaurant that is close enough to walk to from your high school
16. Taco Bell
17. Mongolian barbecue
18. Waffles topped with ice cream from an awesome college dining hall
19. Italian sub from an iconic college sandwich shop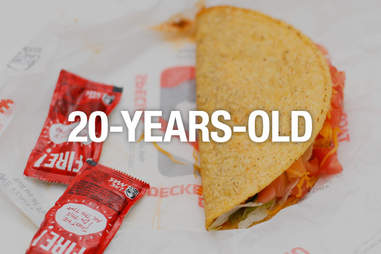 Dan Gentile / Jennifer Bui
20. Taco Bell
21. Cheap keg beer
22. The most notable dish from the country you studied abroad in
23. Bar pizza that comes free with the purchase of a beer
24. Cereal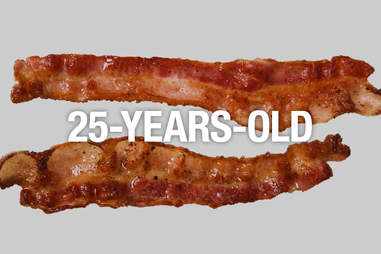 Shutterstock / Jennifer Bui
25. Bacon
26. Cheap cuts of steak cooked on a stovetop in a cracked ceramic pan that was a housewarming gift from Mom several apartments ago
27. Cheap happy hour sushi rolls
28. Pork belly prepared creatively
29. Tonkotsu ramen, slurped loudly
30. The crippling taste in the back of your mouth that your life is over (also, pizza)
31. BBQ, brisket or pork ribs depending on geography
32. Extremely unaffordable sushi, paid for with a credit card
33. Brussels sprouts, prepared in a fusion style that includes duck fat or bacon or both
34. Chinese takeout with a side order of guilt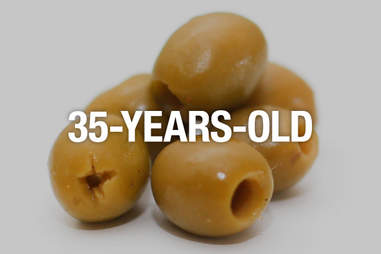 Dan Gentile / Jennifer Bui
35. Olives
36. Italian sandwich from a legendary sandwich shop very close to your office
37. Frozen pizza (budget temporarily tightened due to being far behind on your 401k)
38. Charcuterie plate
39. Raw oysters by the dozen
40. Wood-fired pizza with several "exotic" types of meat like capicola
41. Bone-in ribeye prepared medium-rare by your wife
42. Big salad
43. Frozen lasagna out of a box while you're going through your mid-life crisis/divorce
44. Bone-in ribeye prepared medium-rare by your much younger girlfriend
45. Sports bar burger because your much younger girlfriend broke up with you
46. Sports bar burger because you actually just started liking sports bar burgers
47. Buttermilk pancakes drenched in real maple syrup
48. The passed appetizers at your nephew's wedding
49. Apple pie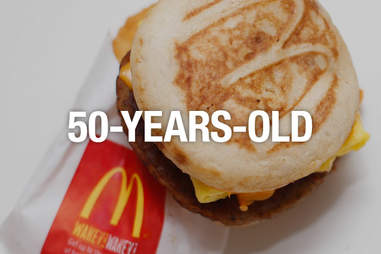 Dan Gentile / Jennifer Bui
50. McDonald's breakfast
51. Burgers, charred on a Weber grill in your backyard
52. Ravioli from a greasy spoon neighborhood Italian joint where they should know your name by now but don't and it's a little embarrassing
53. Chinese takeout, side of extra General Tso's
54. Diet that was trendy 10 years ago
55. A favorite food from your early 30s that now gives severe heartburn
56. Pecan pie
57. Turkey sandwich from a shop close to the office that one of your younger coworkers introduced you to
58. Ice cream!
59. Christmas ham
60. Bacon and eggs (weekends only)
61. Casserole of the Week
62. Spaghetti and meatballs, prepared by the woman you settled down with after that much younger girlfriend didn't pan out
63. Thanksgiving turkey
64. Steak
65. The Twizzlers you sneak when you're avoiding eating the regimen of fruits and vegetables prescribed by your doctor to combat high blood pressure from all that steak
66. Steak, to celebrate your blood pressure being lower
67. Retirement cake
Dan Gentile / Jennifer Bui
68. Cigars
69. Anything your wife still lets you eat
70. Anything you can successfully hide from your wife
71. Potato salad
72. Pork ribs, must be falling off the bone and not require much chewing
73. Olive Garden
74. Candy
75. Birthday cake
Dan Gentile / Jennifer Bui
76. Chocolate pudding
77. Thanksgiving sweet potatoes
78. Mashed pears
79. Chocolate pudding
Dan Gentile / Jennifer Bui
80. Milk. Definitely not from Mom's boobs.
Dan Gentile is a staff writer on Thrillist's National Food and Drink team. He is 30-years-old and can't wait until 31 when he can get this foul taste out of his mouth. Follow him to age-based anxiety at @Dannosphere.