When you're the world's most awarded chef, you don't just rest on your laurels -- you spherify them, freeze them, and then serve them with some kind of challengingly flavored jelly. And Ferran Adrià, the basically deified chef behind El Bulli, has not exactly been idle since he closed the joint four years ago. He's been busy with the El Bulli Foundation, a culinary lab whose modest ambitions extend to reinventing creativity itself (seriously, that's a stated aim).
The Foundation itself has just announced its partnership with Dom Pérignon, and to christen the whole affair, Ferran and his team put on their whites, and got back into the kitchen for the first time since they disbanded. Here's what they cooked.
The event takes place in Barcelona, in an old warehouse next to the sea. About 40 people were invited (including by some miracle, us) with about 50 chefs, waiters, photographers, and other staff to attend to them. As we wait patiently outside, no one quite knows what to expect.
Going inside, we're presented with this. Everyone gets a podium with their own bottle of 2005 vintage Dom, and a glass. Not a terrible start.
Out of nowhere, BOOM, wall dividers descend from the ceiling, trapping everyone inside their own little isolation chamber. Soothing ambient music starts to play, and cool, philosophical words are projected onto the walls. Everyone shuts up and drinks.
Everyone is then led into one of four small, black-walled dining rooms where we're served the first of 29 courses (!). The waitstaff gives us strict instructions as to what order to eat everything in, and even how many bites to take.
Above, we have beetroot & yogurt meringues (Gorgeous. Your jaw would drop if it weren't busy chewing.), hibiscus & peanut (fruity, effervescent, bright), mimetic peanuts (as you lay it on your tongue, the outer shell dissolves, covering your mouth with thick, ripe, peanut flavor), mango croquant leaf & marigold (like a peppery, sweet, weaponized Fruit Roll-Up.), and yogurt "pistachulines." (Like hardened yogurt. Tasty but weird.)
Suddenly -- surprise! The walls retract into the ceiling like something out of a stage show, and the four dining rooms all become one, separated by bars of light. Everyone, including us, instantly and remorselessly photographs the moment.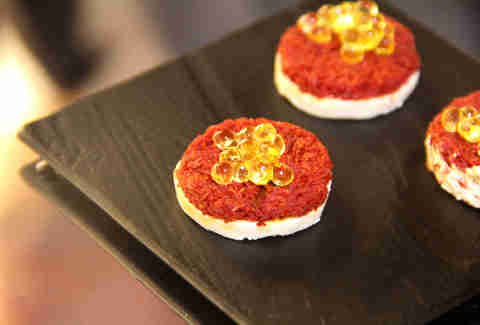 Now we're onto the "tomato biscuit." The name is not really doing it justice. Tastes intense, with a pungent, acidic, tart tomato flavor.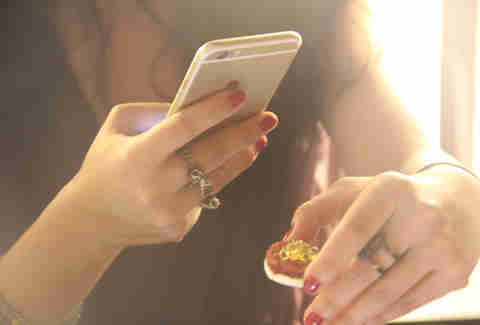 Everyone, including us, is photographing their food. Like, maybe two people are just here to eat.
This is the "tomato & olive oil air bag." (Seriously, Ferran, the names.) Light as a feather, this is a mellower number, with a more gently reassuring, sweetly satisfying finish.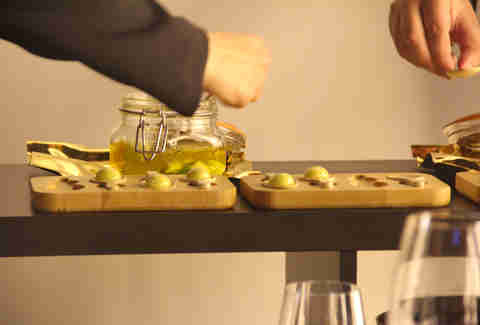 An El Bulli vintage; the spherified olive. These are made tableside, and placed on small wooden spoons. A little pressure from your teeth, and they burst with a fat, pillowy, buttery olive flavor.
The Iberian ham is an inverted sandwich, with sweet, meltingly good Spanish cured ham wrapped around a "baguette" of bread so light and fluffy, it's like eating a f**king cloud.
Now, naturally, we have the Parmesan macaroon. I don't like Parmesan, so these taste like feet.
This is one of the best things all evening; the raspberry fondant with wasabi & raspberry vinegar. The fondant is intense, shiveringly bitter, and fierce, while the vinegar tastes weirdly soothing.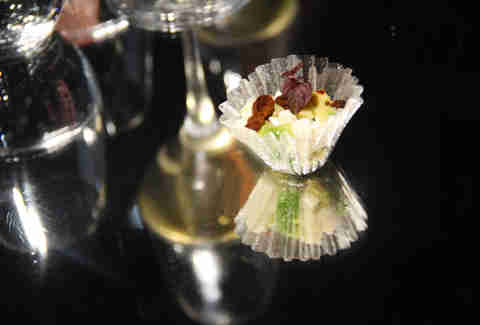 This is a Kyosaka muffin. It's a mixture of textures with some full-bore umami running through.
Presented in its own little steel chair, next up is the black sesame and miso sponge cake. HOT DAMN. It's painfully good. About the volume of your fist, it gets compressed in your mouth down to the size of a pea, and comes through with a deeply savory flavor that lazily waddles down to the taste buds at the back of your mouth. I could eat loaves of this.
This is called the ginger, flowers, and yogurt canapé, and it's understandably amazingly floral, with a soprano note of hot ginger root cutting through it.
Oysters with walnut and seaweed, this comes with a spherified bullet of Champagne inside, which brings with it a shimmeringly subtle kick.
It becomes clear that my table-mates want to take these oysters home and binge-watch Netflix with them.
Goose barnacles. They taste a lot like mussels, but are softer and sweeter. I later find out they're very popular with the locals. I joke with my table-mates that they taste "sticky." No one gets it.
This is part two of the barnacle; a briny, alkaline shot of "barnacle water."
The boiled prawn -- difficult to describe, because it is cooked at different temperatures all along the body, giving it a layered, incredible texture. This mini-lobster is maybe the best thing of the night, and that's saying something. Certainly the best prawn I've ever eaten.
Just a few of the things not pictured: fried rabbit ears, seaweed ravioli (WOW), Parmesan ice cream sandwich (no amount of Dom could get the taste out of my mouth), truffled blinis, and absolutely no laurels.
Jason Allen is an editor at Thrillist, and eats "flaked corn au lait" every day for breakfast (and sometimes dinner).