Feel-Good Chicken for Hospital Heroes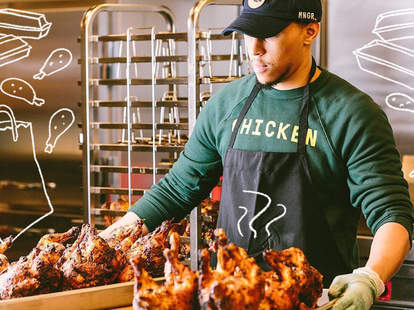 Photo: Fields Good Chicken; Illustration: Emily Carpenter/Thrillist
In brighter times, I used to stop by Fields Good Chicken's 23rd and Park location in New York City and order a mojo chicken bowl with brown rice and all the protein-packed sides. Now, under the new COVID-19 guidelines, their business has changed. The flagship location, nestled between the Empire State building and the sleek Design Within Reach store, and five additional branches are no longer bustling, fast-casual chicken spots. Like many restaurants across the country, the pandemic is wreaking havoc on these nascent brands. Fields Good Kitchen now is on the long list of establishments feeding hospitals and pivoting to delivery-only models.
As the company's founder, CEO, and newly the father of a second baby, Field Failing's everyday grind has grown beyond administrative tasks to being the vibe-starter-in-chief. Making a juicy yardbird can be taught, but true leaders understand that staying calm while the culinary world is transforming and inspiring your team is the real secret sauce. I spoke with Failing about his team's emotional well-being, spreading joy, and baked chicken parm.
How are you doing? 
It depends on the moment honestly. It has been like, just such a roller coaster in so many regards. As I think it is probably for everyone on the planet, these days.
What kind of food is the Fields Good Chicken preparing for hospital staff? Are you offering regular menu items?
Our director of culinary has been creating sort of new, off-menu items, so he's kind of playing around and having fun with the menu. So, these hospital meals, some of them are right off of our menu, like chicken and broccoli, sweet potatoes, cornbread, sauces. But he's also, for example, just created a chicken parm family meal. It's a baked chicken parm -- so it's not fried, it's healthier, but it's still really delicious--with mac and cheese and cornbread and broccoli. So, there's an opportunity for us to have a little bit of fun and send one of those [family meals] to the hospital staff and it's a way for us to test and try new things and get some really good food out there.
This small gesture is bringing workers on the front line of COVID-19 epidemic joy amid a lot of and sorrow and pain.
It really is. And I think we've gotten a lot of really great feedback from people that have been on the receiving end of these meals. And every time I see one [a hospital worker on the receiving end], it gives me goosebumps. There's so much appreciation and, like, "Thank you so much for giving us great healthy food and recognizing us on the front lines." So it further emphasizes our place in the community, and it's almost been like a re-centering, for us at Fields Good Chicken, around the essential need that we fill here through healthy food. And I think it's really made us realize our frontline workers are heroes in the same way that these medical workers are heroes. And we started to see this as heroes feeding heroes, like a collective effort to keep New York City up and running and safe right now.
What's the mood like on your team? 
The mood I think in general, all things considered, it's been really positive. It's been a roller coaster, for sure. There's been up days and down days. Probably the toughest day was in the hospital the morning after our son was born.  We were in the hospital room and I was on a call with our entire team, and there was some real concern, like what's happening, what does this mean for us? What does this mean for our safety, what does this mean for our jobs? And so there's beena real sense of, as there should be, concern and uncertainty over this. But I think since then, we have really kind of settled things down in part, by just being realistic about how serious this is, and making sure we're operating restaurants as safely as possible.
And then, shifting our focus to doing good for the community has brought a renewed sense of purpose. And it's kind of cool to see our whole team, our corporate team and our store teams, start to get excited about this effort and get behind it. And think more of us being a mission-driven company instead of just cranking out meals as quickly as we can every day.
How do you spread your positivity to people who are working for you?
I'm trying to look at the bright side of everything that I can in order to stay positive. And I'm honestly trying to remind myself on a daily basis what's good, just to get through. And I think it's been... I've been taking it one day at a time, as I think everyone is, because who knows what we're going to wake up to tomorrow? I think feeling grateful for my kids is certainly helpful but I am definitely like... I'm getting a lot of positivity out of the fact that we're feeding New Yorkers in the way that we are.
Sign up here for our daily Thrillist email, get Eatmail for more food coverage, and subscribe here for our YouTube channel to get your fix of the best in food/drink/fun.