15 things you didn't know about Five Guys Burgers and Fries
Kevin Alexander
Kevin Alexander
The delicious scourge of anyone with a peanut allergy, Five Guys Burgers and Fries hit the scene in 1986 as a Virginia-based family business and soon exploded into a serious national chain with more than 1000 locations. As Five Guys continues its quest for Little Burger-based world domination, let's take a look at some of the coolest info from the resto's... waitforit... checkered past. After all, how many other burger joints have put the Pentagon in its place?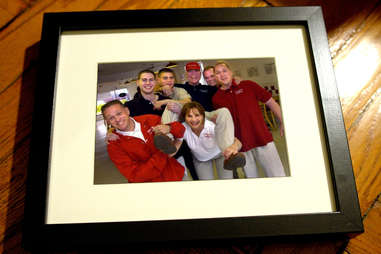 1. The "five guys" refer to founder Jerry Murrell's five sons Jim, Matt, Chad, Ben, and Tyler (originally, they referred to Jerry and his first four sons, but then Tyler had to mess everything up by being born). Each has a distinct role in the company. Jim helps manage the whole operation, Matt opens new locations, Chad does manager training, Ben handles IT, and Tyler looks after the bakeries pumping out dough for the buns.
2. When Murrell's oldest sons were about to graduate high school, Jerry accepted that Jim and Matt weren't really interested in college. So he made them a deal: the family would use the tuition money they'd saved to invest in a hamburger shop instead. And it was basically the boys running things initially -- Murrell kept his job at AXA Equitable until the restaurant really took off.
3.Jerry Murrell's first professional culinary experience came from running a University of Michigan frat house kitchen in the '60s. (He took the job as a student to help pay tuition.)
4. Back in their early experimental days, the Murrells tested out Five Guys coffee. It went very, very poorly by all accounts.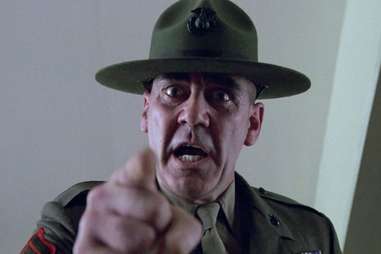 5. When they first opened, Five Guys got a call from the Pentagon with a request for 15 burgers. Jerry asked when they could pick the stuff up, since they didn't deliver. An admiral called him up personally and said, "Mr. Murrell, everyone delivers food to the Pentagon", so Matt and Jerry got a 22-foot-long banner that said "ABSOLUTELY NO DELIVERY" to hang in front of the store. After that, the Pentagon peeps got wise.
6. According to the official website, there are over 250,000 possible ways to order a burger at Five Guys. Challenge accepted.
7. Seriously, they're all about choices. In 2011, Five Guys became the largest chain in America to install those crazy Coke freestyle machines.
8.Five Guys' director of franchising is none other than former Washington Redskins kicker Mark Moseley. In case you're not up on your questionably-PC football team lore, Moseley was a huge deal. His 1206 points scored remains a franchise record to this day.
9. When President Obama moved into the White House, one Five Guys staffer suggested Murrell send him a T-shirt. Murrell, who shuns all national ad campaigns, dismissed that as "cheap", but Obama famously showed up anyway in '09. His order? A cheeseburger with lettuce, tomato, jalapeños, and mustard. He also bought a bunch of burgers for his team, and a cheeseburger with ketchup for boring old Brian Williams.
10.Not only have the Murrells repeatedly refused to add milkshakes to their menu, but they also won't add milk. Jerry's reasoning? Because kids don't like milk, and kids like Five Guys because it seems like a (calcium-low) treat.
11. On top of winning basically every Washingtonian Magazine burger prize, Five Guys clinched the entire nation's love in a Market Force Information survey last year. The Guys nabbed the esteemed #1 burger chain honor, beating out the likes of Smashburger and In-N-Out.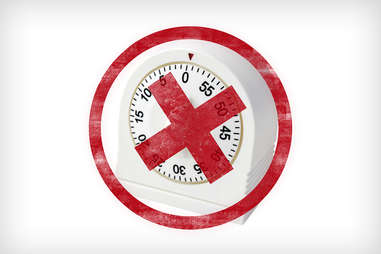 12. Some of the Five Guys' kitchen rules include no timers in the kitchen (because good cooks know when food is done), French fries must be shaken 15 times exactly, and onion and bacon go below the patty while pickles and tomato go above.
13. If you and the Internet co-exist, you've likely seen this "dayum, dayum, dayum" video before. Well, apparently Daymon Patterson's hilarious, fawning review of the Five Guys double cheeseburger was good enough to score him a Travel Channel show called Best Daym Takeout.
14. Instead of investing money in advertising, Five Guys puts it toward an intensive secret shopper program to ensure quality. Restaurant crew members can get extra dough for getting high scores from the shoppers.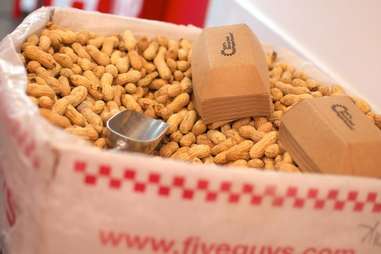 15. As of 2012, Five Guys had grown 792% since 2006, making it the fastest growing fast food chain in the country. Watch out, Del Taco!