This Japanese Restaurant At Borgata Goes Way Beyond Sushi
Borgata Hotel Casino & Spa
When Michael Schulson opened Izakaya at Borgata ten years ago, it was his very first restaurant, and in a style that definitely hadn't been done before -- especially not in Atlantic City. It's a true, western version of a Japanese izakaya (a.k.a. a Japanese pub) but one with enough high-end features to compliment the glitz of Borgata's other fine dining establishments. So, to celebrate Izakaya's 10th birthday (and Borgata's 15th) we took a deep dive into what exactly that means, and how Schulson made a name for himself doing it.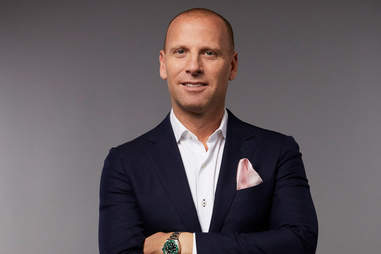 Borgata Hotel Casino & Spa
The chef spent a year studying in Japan
Chef Michael Schulson may not have the same name recognition as some of Borgata's other restaurant partners (looking at you, Wolfgang Puck) but he's become something of a regional celeb chef in the Philly area, seeing as he's opened about 10 restaurants in just as many years in the region. He got his start by dropping out of architectural design school to work in a pizza shop, then made his way to Culinary Institute of America. From there, he headed NYC's Buddakan under Stephen Starr -- before going to Japan to hone his skills. There, he learned to speak conversational Japanese while working in some of Tokyo's top restaurants, like Spago and the Four Seasons Hotel. When he came back, Izakaya was the very first restaurant he opened. According to Philly Magazine, Borgata approached Schulson to helm the Asian concept. As Schulson tells the story: "They took me down, and at this point I still was just a young buck trying to make a living, and they picked me up in this limousine -- I'd never been in a limo except for my prom -- and took me down, and they put me in this huge presidential suite. And I signed on to do that project, and that was kind of it."
Borgata Hotel Casino & Spa
The restaurant's concept is inspired by his experience there
In Japanese, "Izakaya" means "pub" -- and in Japan, an izakaya serves everything from sushi to tofu to robatayaki (that's Japanese barbecue, more on that in a bit). At the time Schulson opened Izakaya 10 years ago, the concept was rarely done in the US, with most Japanese restaurants specializing in just one dish. To bring the concept home, the decor is even inspired by a pub (although, a clearly very high-end pub) thanks to a centralized bar with tons of seating, high top tables, and leather banquettes throughout the restaurant.
Borgata Hotel Casino & Spa
It's the premiere AC spot for robatayaki
While you may find other Japanese restaurants in the AC area, you'll be hard pressed to find another spot offering true "robatayaki" or "robata" -- a style of Japanese barbecue. Unlike teppanyaki or hibachi (two other styles of Japanese grilling that are normally confused in the US), robatayaki involves cooking meat, seafood, and veggies on skewers over a flat, open charcoal grill. With teppanyaki, seasoned meat and veggies are cooked on an iron griddle, and with hibachi, a large pot filled with charcoal and topped with a griddle is used to cook non- skewered items. Robatayaki is a typical cuisine found at izakayas in Japan, and at Borgata's Izakaya, everything from BBQ short ribs to oysters and scallops are prepared on the grill, often combined with black miso or pineapple chutney. The method is centuries old, and was started by Northern Japanese fishermen. If you're looking to try it at Izakaya, Monday is the day to go: four different robatayaki items are available for just $7 each.
Borgata Hotel Casino & Spa
Japanese tapas? They do 'em.
Can you order an entree at Izakaya? Of course. But you'd pretty much be missing the point. Most of the menu is presented in a casual, small plate style. That's because in Japanese izakayas, small plates that are similar to a Spanish tapas bar are the norm -- with a table of two ordering several dishes to make up their meal. The bites are divided into hot, cold, and crispy, with robatayaki and sushi rounding out the options. The thinking here, according to Schulson, was to turn dinner into an adventure. "When you go to most restaurants, you get one appetizer and an entree. That's not fun," he told The Press of Atlantic City. "The great thing about Izakaya is that a table for two can have eight dishes that are totally different in flavor, that are fun and unique."
Borgata Hotel Casino & Spa
Sushi and sake are taken seriously, too
This adventurous approach to Japanese cuisine doesn't overlook sushi. Quite the contrary, actually. Schulson told NJ Monthly that he gets more than a dozen fish deliveries from five different purveyors every week. All the fish arrive whole and are taken down by the kitchen staff, so it's presented at its freshest. As for the drinks, Izakaya packs 10 different options from all over Japan, including some creative takes on cocktails (the Shirihama Surf, for example, blends Nigori Sake with rum, pineapple, and coconut). If you want to give some options a try without shelling out major cash, you'll get the best deal on Mondays: $7 sake cocktails are paired with plenty of inexpensive bites -- giving you enough cash to sample everything else Borgata has in store.