Courtesy of Penguin Random House
When the chefs behind Yotam Ottelenghi and Chef Noor Murad's Shelf Love were homebound at the beginning of the pandemic, they knew they would have to get creative. Considering they continued the test kitchen work in their own homes during lockdown, it only makes sense that the cookbook brings about feelings of comfort and family.
Murad found herself home in Bahrain for the first time in years. Memories came flooding back—her mother cooking shepherd's pie and her father taking her and her sister out to eat Bahraini street food.
"The one place that was giving me comfort was the kitchen because it was something I could control, and I could give myself place and joy in a time that was so uncertain," Murad says. "I was really craving things I grew up with, comfort food."
Ottolenghi cookbooks are always a hit, but Shelf Love sets itself apart. The book itself is formatted like a notebook, giving the reader an invitation to customize dishes and substitute ingredients based on preference or, more relevantly, necessity.
"What was quite fun about choosing recipes that would suit this book, making sure the recipe is a bit flexible," Murad says. "But this isn't a lockdown book. It's quite timeless. It's being resourceful with what you have—it's something you can carry with you forever."
With a team of chefs from different backgrounds, the cookbook spans multiple cultures. When it comes to Murad's approach, she found herself combining the two cultures she grew up with, applying Middle Eastern elements to traditionally western dishes.
"My style of cooking has always been east meets west. And that's because I am a product of two worlds," she says, laughing. "I can't help but add a drizzle of tahini to something or a black lime, and you can see that throughout the book."
"The one place that was giving me comfort was the kitchen because it was something I could control, and I could give myself place and joy in a time that was so uncertain."
Amongst the recipes, Murad's curried cauliflower cheese filo pie undoubtedly stands out, with its crackly crust, buttery texture, and, as Murad puts it, "cheese lava." Murad whipped up this creation in the middle of lockdown and posted it on Instagram. Little did she know it would become a sensation.
"A lot of people were making it. And I think the reason why is because it checks a lot of boxes in terms of familiarity and comfort presented in a different way," she says. "Cauliflower cheese is something I grew up eating because of my mom, and everyone loves it. And then changing it by adding curry powder and filo pastry—being Middle Eastern it is something we use so much—gives an amazing buttery texture to anything."
When it comes to making the dish, Murad insists on working with the filo pastry. Describing the Middle Eastern staple as "forgiving," she says not to worry if the pastry tears. You can use pieces of the filo to fill other holes and reshape the pie. The more rustic-looking, the better.
"Don't be afraid of color on your cauliflower pie—color is flavor," Murad says."You want it to be golden brown. So if it gets nice and charred on the top, that's totally fine."
Like many of the dishes featured in Shelf Love, the filo pie is warm and sentimental. When Murad reflects on her Instagram-famous pie, she thinks of the memories associated with it.
"When I make this pie, it does make me smile a bit. I made it in Bahrain. Whatever I was creating, I was serving it for lunch for my family.," she smiles. "This dish definitely has a special place in my heart because the first time I made it, I made it for them. And it is exactly them, my mom is the cauliflower and my dad is the filo."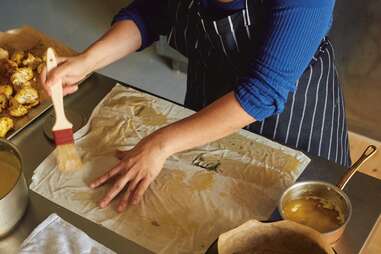 Curried Cauliflower Cheese Filo Pie Recipe
Total time: 2 hours 5 minutes
Ingredients:
1 large cauliflower, trimmed and cut into bite-size florets (1 pound 9 ounces)
2 teaspoons mild curry powder
3 tablespoons olive oil
7 tablespoons unsalted butter, half cut into roughly 1¼-inch cubes and half melted
½ cup plus 2 tablespoons all-purpose flour
2¾ cups plus 2 tablespoons whole milk
2 garlic cloves, minced
1½ tablespoons English mustard
1 ⅓ cups coarsely grated mature cheddar
6 sheets of good quality filo pastry (we use feuilles de filo)
Salt and black pepper
1 tablespoon roughly chopped parsley, to serve
1½ teaspoons lemon zest, to serve
Directions:
1. Preheat the oven to 400°F. Line the bottom and sides of a 9-inch springform cake pan with parchment paper.
2. Put the cauliflower on a large, parchment-lined baking sheet and toss with the curry powder, half the oil, ½ teaspoon of salt, and a good grind of pepper. Roast for about 20 minutes, until cooked through and lightly colored. Set aside, and turn the oven temperature down to 375°F.
3. Meanwhile, make the béchamel. Put the cubed butter into a medium saucepan on medium-high heat and, once melted, whisk in the flour and cook for 1-2 minutes—it should start to smell nutty (like popcorn). Turn the heat down to medium and slowly add the milk a little at a time, whisking continuously to prevent any lumps, until incorporated and the sauce is smooth. Cook, whisking often, for about 7 minutes, until thickened slightly. Off the heat, stir in the garlic, mustard, cheese, and ¼ teaspoon of salt until the cheese has melted.
4. Keep the filo sheets under a damp kitchen towel to prevent them from drying out. In a bowl, combine the melted butter and the remaining 1½ tablespoons of oil and set aside.
5. Working with one sheet at a time, brush the exposed side of the filo with the butter mixture and drape it into your prepared pan (buttered side up), pushing it down gently to fit. Continue in this way with the next filo sheet, brushing it with butter and then laying it over the bottom sheet, rotating it slightly so the overhang drapes over the sides at a different angle. Do this with all six sheets.
6. Spoon half the béchamel into the base and top with the roasted cauliflower florets. Spoon in the remaining béchamel, then crimp up the overhang so that it creates a messy scrunched-up border around the edges, leaving the center of the pie exposed.
7. Brush the top of the filo border with the remaining butter mixture, then transfer the pan to a baking sheet and bake for 30 minutes.
8. Using a kitchen tool, to help you, carefully release the outer circle of the springform pan and return the pie to the oven for another 20-25 minutes, or until the sides are nicely colored and everything is golden and bubbling. Let settle for 15 minutes.
9. Top the pie with the parsley and lemon zest and serve warm.