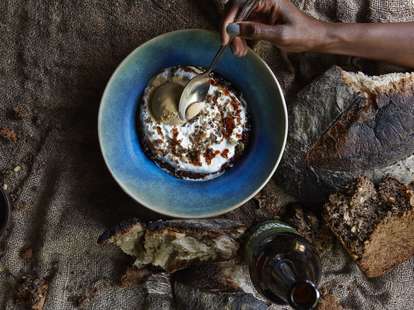 Gentl & Hyers/Grand Central Publishing
Gentl & Hyers/Grand Central Publishing
Why Flat Beer Makes the Best Desserts
Danish chef Mads Refslund is the co-founder of Noma, one of the most prestigious restaurants in the world, but his first cookbook is about trash. "I had in my brain that my first cookbook would be a restaurant cookbook," he admits, but his friend and co-author, forager Tama Matsuoka Wong, convinced him to pen something about cooking with wasted food instead. The result is Scraps, Wilt & Weeds, which shows you how to turn things like vegetable juice pulp and coffee grounds into pastas and panna cottas.
"I have always cooked with things no one tends to use because I always thought it was stupid to throw it out," Refslund explains. "It is money that you are throwing away." As a chef, he felt it was his responsibility to teach others how to use up foods -- like cauliflower cores and fish collars -- that are typically tossed without thought. "I think people throw these [perfectly edible] foods away because of a lack of knowledge -- they just don't know how to cook with them," he says. Leek roots, for example, are trimmed off and binned, but Refslund believes if people realized that the roots could be turned into something delicious, they wouldn't want to throw it away.
Paired against stark facts -- nearly 1 billion pounds of uneaten lettuce goes into the trash each year -- the book is filled with ways to turn what you definitely think is garbage into elegant dishes fit for a dinner party. Case-in-point: Refslund's recipe for a satisfying dessert crafted from old, dried-out bread and stale beer. Yes, stale beer.
The dish is based on the classic Danish porridge known as ollebrod. Back in the day, farmers tended to live off of mainly rye bread and beer, he explains. "When the bread got a little bit old, they would soak it in beer, boil it, and add sugar. If you could afford it, you would eat it with milk. If you really had means, you would eat it with whipped cream." Refslund's version of the dish is gussied up with a bit of chocolate and salted caramel ice cream. Count it as breakfast or dessert.
Refslund says that you can use any bread you have lying around, but he prefers dark rye bread for its flavor. As for the beer, he is adamant you use one that is well past its prime. "I realized that when you boil beer to make any recipe, it becomes flat -- so why not just use flat beer from the start?"
Get the recipe for Flat Beer & Day-Old-Bread Porridge below:
Flat Beer & Day-Old-Bread Porridge
Total Time: Active Time: 30 min/Inactive Time: 30 min
Yield: Serves 8
INGREDIENTS:
1 pound stale rye (or other) bread, torn into small pieces or crumbled (5½ cups)
2 cups flat beer, preferably dark beer or ale (less than 2 bottles)
1¾ cups sugar, half granulated/half brown
3/4 cup heavy cream
1/3 cup dark chocolate chips

Apple balsamic vinegar, for serving
Salted caramel ice cream, for serving
DIRECTIONS:
In a medium pot, combine the bread, beer, and sugars over low heat and cook, stirring gently, for about 20 minutes, until the bread is softened and the liquid is absorbed. Add the cream and cook, stirring, for about 10 minutes more, until it starts to thicken. Finally, add the chocolate chips and stir until melted. Remove from the heat and cool. Store in the refrigerator until thoroughly chilled, at least 30 minutes (or up to 2 days).

To serve, spoon into individual bowls, drizzle with apple balsamic vinegar, and add a scoop of caramel ice cream.
Scraps, Wilt, & Weeds is available now.
Sign up here for our daily Thrillist email and subscribe here for our YouTube channel to get your fix of the best in food/drink/fun.
Khushbu Shah is a Senior Food Features Editor at Thrillist and she hates stale beer but hates food waste more. You can reach her on Twitter.