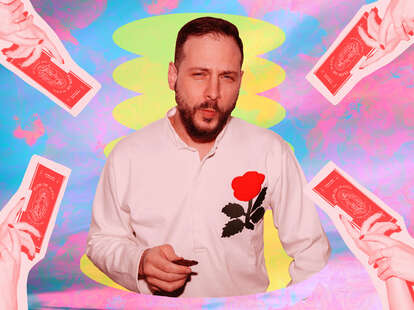 Image by Maitane Romagosa for Thrillist
Image by Maitane Romagosa for Thrillist
As you may already know, CBD is the cool kid in town. You can find it in every form and it has many uses. But, as of late, the industry has gotten even more creative with their CBD-infused offerings that cater to a variety of niche markets. That's where Flor de María comes in: a unique chocolate CBD brand created by William Zitser. The bar features 120 mg of CBD and is made with high-quality cacao sourced from family-owned producers in El Salvador.
Zitser was already a chocolate lover before coming up with the brand. He spent a year researching cacao suppliers in South America and was making his own chocolate in his New York apartment in hopes of launching his own company. But his experience with CBD didn't come until later in life. After experiencing hardship and dealing with a lot of anxiety, a friend recommended that he try CBD. A month later, he started noticing its benefits and the Venezuelan entrepreneur didn't look back. He started trying out CBD edibles—specifically chocolates—but couldn't find any that satisfied his palate.
That's how Flor de María was born, a name that's a "play on how we sometimes call cannabis 'María' and the flower 'bud'," Zitser explained. Besides wanting to make a business of his own, he wanted to honor his Venezuelan roots by creating a product that used ingredients coming from there and branding that embodied his experience growing up in Caracas.
We spoke with Zitser about the inspiration behind the brand, how CBD takes effect on your body, and his process of coming up with the chocolate flavors.
Thrillist: How did you become interested in CBD and chocolate? Where does the idea of creating your own chocolate infused with CBD come from?
William Zitser: I went through a considerably traumatic, life-changing experience back in 2015. I stopped working for a while, and then, when it was time to get back into it, I wanted to do things differently. I always wanted to work with cacao or coffee, which are Venezuela's most important exports–outside of crude oil. I love the two beans and see them as symbiotic.
I got a call from someone that wanted to set up a cacao exporting business in Venezuela and needed my help in the United States. That never panned out because of the political situation in the country, but two things came from that project: I met growers, experts, food scientists, and producers from all over Latin America, and I learned how to make chocolate, and got somewhat decent at it. At the same time, I wanted to get off of antidepressants, I did fairly easily, but I was having a lot of anxiety with regular daily stuff. Everything was overwhelming. Someone recommended CBD, and I took it daily. After about a month, I could really feel the difference. One day I saw a CBD chocolate bar at a store and I bought it, this was around the same time that it became clear that the Venezuelan thing wasn't going to happen, I tried it, I hated it, and right there and then I decided I was going to make my own.
Tell me a little bit about the process of creating Flor de María and how it got its name?
I was meeting cacao producers from all over Latin America, and I knew I wanted to bring their product to the US. There are so many amazing chocolate producers in the US, but I couldn't find a great CBD chocolate bar. Most of the chocolate edibles I was trying used chocolate strictly as a medium—the taste and quality weren't important, they were mostly wellness oriented, meaning they didn't have any sugar or had other supplements. I wasn't interested in that. If you're going to eat only a few pieces, I want them to be delicious. Real chocolate isn't that brown sugary stuff they sell at the bodega, unless the first listed ingredient is cacao, then we're good. I wanted to make great CBD edibles with the best ingredients I could get my hands on and I wanted my own brand to feature exclusively Latin American cacao. I didn't want to make Belgian or French chocolate, I wanted to feature our cacao and our flavors and textures. The name just came to me, a play on how we sometimes call cannabis 'María' and the flower 'bud'. With the name came the aesthetics, everything was born at once.
How do you think your Venezuelan roots are reflected in Flor de María? Why is this important to you?
As a Jew growing up in a very Catholic country, I was always fascinated by religious art. The image of the Virgin was an evolution from an idea I had with María Lionza, one of the central figures in the most widespread indigenous religion in Venezuela. The cult of María Lionza is a blend of African, indigenous, and Catholic beliefs. As a kid, I was always awestruck by the statue of María Lionza by Venezuelan sculptor Alejandro Colina. Standing guard over the city of Caracas, she sits naked on a Tapir holding up a female pelvis. Ultimately that image proved to be too confusing to people who don't know her. But I knew I wanted a Saint and elements of that culture which is very present when you grow up in Venezuela, and also Tarot—I'm very interested in the traditional Tarot de Marseille. Then, I saw a photo of a person I love dearly, and from that image, I created a sketch of the Saint, with the cacao pot as a crown, standing on the Theobroma Cacao flower, surrounded by a cacao pot halo. [It was] a bit like the mandorla – that almond shaped areola that encloses the woman on the Le Monde card in the Tarot. I think it retained some of that badassery that María Lionza possesses.
What is the most important thing we should know about CBD edibles?
I'm not a doctor so don't take it from me. I see CBD in edibles more as a booster or a treat, not as a main source of CBD. If you want to take it seriously, there are more efficient consumption methods, such as sublingual drops. But there are many things to consider when we eat it.
We can start with bioavailability, the portion of the substance that reaches the bloodstream. When we think about edibles (capsules or food), we are delivering CBD through the digestive system, which usually represents an absorption into the bloodstream between 6% and 12%. The big issue with this method of consumption is that the enzymes in the liver reduce the concentration of the CBD compounds before passing on what remains into the bloodstream. But CBD is fat-soluble (it breaks down in fat, not water), so consuming it with fat helps the body process it more effectively. Chocolate is an oil, so it's a fantastic carrier. Your body burns these fats and puts them—and the cannabinoids they hold—to immediate use. And this is on top of the mood-enhancing effects of chocolate! Typically, we say that the onset of the effect starts between 30 and 90 minutes after you eat our CBD chocolate bars and lasts up to seven hours. But just like with any substance, tolerance varies from user to user.
What factors influence the process of coming up with the flavors?
We currently have a 70% dark chocolate from Barlovento, Venezuela, and a 75% dark chocolate from Usulután, El Salvador. I want the chocolate to work together with the flavor of the CBD and the terpenes. I want you to feel it and I don't want to mask the taste. If you pay a premium for cannabis, I want you to be able to taste it. Cannabis has a delicious, strong, earthy flavor that goes well with many other strong flavors, so I want a cacao and a concentration that goes well with that taste. On top of that, I spent a lot of time developing other flavor combinations like our Ghost Pepper Caramel, Amagansett Sea Salt and Nibs, and Lemongrass. We also had a Dark Milk and Bourbon bar but COVID made us have to make some decisions and for now, our whole line is vegan.
So what's next for Flor de María?
We have new flavors and products coming hopefully soon, but I don't think of Flor de María as only a CBD chocolate bar company. For me, it's about the experience. Chocolate is about instant gratification, and right now we're all ordering everything online. So at the moment, I'm planning a series of online CBD/chocolate tastings and other online events. And as soon as we're allowed to socialize, we'll be going back to experiences that go beyond delicious chocolate and edibles.
Thanks for speaking with me.
Andrea Devoto is a journalist and content creator born in Peru, raised in Puerto Rico, and currently based in New York.