With respect to the peanuts and Cracker Jacks of the old ball game, baseball's changed a lot since becoming the national pastime, and we're not just talking about, um, enhanced performances. So, too, has baseball spectatorship -- in particular, the art of eating and drinking your way through nine long innings. Sure, hot dogs are good, but once you've had one piled high with poutine, you're a changed man. And these days, if you're overpaying for a stadium beer, it might as well be craft.

In honor of opening day, we took it upon ourselves to rank all the MLB stadiums based on food and drink. We awarded extra points for local-centric foods, creativity, and craft beer dominance. We deducted points for weird-for-the-sake-of-weird Frankenfoods. Ready? Play ball. No, seriously. There are meatball sandwiches below.

30. Kauffman Stadium
Kansas City Royals
Look, when an investigation reveals you were serving expired food and committing a whole bunch more gross food violations (even during the World Series!) as recently as last fall, it's going to take some time to earn the public trust back. Beyond that, why is a BBQ landmark like Kansas City serving Sweet Baby Ray's (a Chicago-based operation) as its 'cue of choice? Can't someone get Oklahoma Joe's, Gates, or Arthur Bryant's on the phone? All isn't totally lost -- Boulevard is a welcome presence in the beer department -- but for now keep it clean so no one has to read about "mouse feces" for a while.

29. Wrigley Field
Chicago Cubs
The Cubs' baseball operation has overgone enough of an overhaul that some are (probably crazily) predicting that Back to the Future had it right all along. Overhauling the concessions operations will be a bit more slow going as the venerable stadium undergoes a massive multi-year renovation (including a bleacher project that won't be complete until the middle of this season. But for now you're not likely to find a ton of boundary-pushing ballpark fare -- though sticking to a dog and a beer kind of feels right here anyway, and AB's acquisition of Goose Island has expanded the offerings in that regard.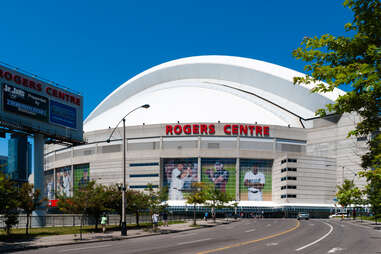 28. Rogers Centre
Toronto Blue Jays
Since we're in Canada, the best choice here is, obviously, the Quaker Steak & Lube. Oh, that's, uh, a chain based out of Pennsylvania that opened its first Canadian outpost in a baseball stadium? Well, the wings are still excellent. On the brighter side, the sausage carts outside the stadium are really, really delicious.

27. US Cellular Field
Chicago White Sox
Even the staunchest Cub fan will begrudgingly acknowledge the superiority of Chicago's South Side team when it comes to the food department. Local chain Beggars Pizza was a welcome addition to the mix last year. Another favorite is the corn off the cob -- a fresh-cut pile of corn doused in the elote-inspired toppings of your choosing. There are some other curveballs (heyo!) in the mix, like a carvery turning out corned beef on marble rye and the like, and batting helmets full of barbacoa-topped nachos (this will not be the last time we hear of those), but not a ton else with much of a "wow" factor.

26. Busch Stadium
St. Louis Cardinals
While we're normally in favor of all things BYO, Busch Stadium seems to let Cards fans bring their own food to make up for what's available inside. El Birdos Cantina has a build-your-own nachos station, while toasted (that's the Midwest term for deep-fried) cannelloni are the sole regional representative, unless you count the beer. And if you were wondering what beer you're drinking, you clearly have forgotten you're in St. Louis.

25. O.co Coliseum
Oakland Athletics
Try to forget for a moment that the Coliseum looks like a prison camp from the future and that Billy Beane's regular season HOF-ers will inevitably choke hard in the playoffs. Progress is being made with the local beer selections (Pyramid Alehouse, Linden Street Brewery) and brick-oven pizzas at the West Side gastropub. The food options fall off a cliff from there, unless you're a fan of soggy, gross garlic fries that will just remind you that San Francisco's ballpark has much better garlic fries... and a much better atmosphere... and much better players... and isn't in Oakland.

24. Angel Stadium of Anaheim
Los Angeles Angels of Anaheim
Thankfully, Angel Stadium reaps a bit of the benefits of its SoCal location with Stone leading a list of craft breweries on draft, which also includes Saint Archer and Lost Coast. Last year's season gained local pizza chain Oggi's and SoCal chain Chronic Taco. But there's a surprising lack of much else going on -- and that includes gimmicky food, which is practically a requirement these days.
23. PNC Park
Pittsburgh Pirates
Like Rogers Centre, the Quaker Steak & Lube is one of the best options here. Unlike Rogers Centre, we're finally in Pennsylvania and this makes a bit more sense. Thankfully the wing chain at least gets overshadowed by Pittsburgh sandwich legend Primanti Bros. (you want the capicola & cheese) and local burger chain BRGR.

22. Globe Life Park in Arlington
Texas Rangers
Globe Life Park is riding this whole bacon thing HARD. Like a state fair underwritten by cardiologists seeking work, Arlington's "Just Bacon" stand offers bacon cotton candy, bacon lollipops, bacon beer, bacon sunflower seeds, and chicken-fried bacon on a stick. You came to Texas for its bigness, so go whole hog on dessert too with deep-fried s'more Oreos (we're not calling them S'mOreos). The Major League Brewhouse hosts a lineup of mildly crafty brews to put back with a side of beer-battered Sidewinder fries or brisket sausage.

21. Minute Maid Park
Houston Astros
Nothing like hitting the ballpark to drink... SO MUCH ORANGE JUICE! Thank you, thank you. Minute Maid made some headlines last season for a partnership with local BBQ titan Ronnie Killen on a deal to serve his brisket, but unfortunately the partnership was short-lived due to logistical issues (fear not, they're still serving 'cue, just not THAT 'cue). You can also get your meat fix (and frighten Robin Ventura) with a Nolan Ryan beef burger and chase it with brews from St. Arnold. Also: a "Street Eats" station serves up food truck-inspired fare like pulled pork tacos and Buffalo meatball subs, along with other rotating chef specials.

20. Fenway Park
Boston Red Sox
No amount of Gulden's mustard will hide the fact that Fenway franks are just plain, sweaty Kayem hot dogs wrapped in nondescript buns. The baseball temple plays it too safe (re: boring) when it comes to eats -- sticking mostly to burgers, dogs, and helmet sundaes -- although, they do manage serviceable lobster rolls and a thoroughly greased sausage & peppers from the cart on Lansdowne. You may want to consider drinking at Fenway-adjacent bars rather than endure MLB's most expensive beer prices inside the park, especially when there's the possibility of being charged by an outfielder and hit with an errant slice of pizza at the same time.

19. Great American Ballpark
Cincinnati Reds
You can get local favorite Skyline Chili at not just a solitary location, but several scattered throughout the park. Some corners of the tasting public may not see this as a good thing, but there's a certain charm to the stuff when you've been drinking beer, and you should be doing that, as Cincinnati has really upped its game in recent years and that's become increasingly reflected within the park. Montgomery Inn is another local favorite with a welcome presence throughout as well, doing solid BBQ. And with a name like Great American Ballpark, it's all-too appropriate that Frisch's Big Boy is now on-hand slinging burgers.
18. Comerica Park
Detroit Tigers
Many ballparks dabble in the "hey we made a crazy hot dog" game, but the introduction of Comerica Park's poutine dog was particularly inspired (hey, Windsor is just across the way, Canadian fare makes sense). If your encased meat tastes run more stateside, Leo's Coney Island does a solid rendition of the chili-topped Detroit classic. This year's addition of Bacon & Eggs -- a bacon strip topped with three deviled eggs is... interesting? Also, the stadium's worked in recent years to better represent one of the nation's most thriving and creative beer scenes, and there's been progress (including an all-Michigan craft bar), but they could definitely take it further.

17. Tropicana Field
Tampa Bay Rays
Florida's gifts to America, in this very particular order, are the Florida Man Twitter account, oranges, and Cuban sandwiches, and Tropicana Field delivers at least two of those. Besides the Cubano and a citrusy corporate name, the Rays' stadium just added a new, uh, lineup which includes mac & cheese in a cone, pulled pork-laden baked potatoes, and an outpost of Tampa's most popular food truck, Taco Bus. With Cigar City leading a fairly impressive craft draft list, the Rays' stadium comes in decidedly higher than its team ended 2014.

16. Chase Field
Arizona Diamondbacks
The 18in corn dog stuffed with cheddar, jalapeños, and bacon makes their Sonoran dog (the bacon dog you'll actually want to eat) look dietary by comparison. If tubed meats aren't your thing, there's tubed dessert in the form of the churro dog, the bun is an éclair! Or you can just keep to the revamped Draft Room, the new outpost of local favorite Lo-Lo's Chicken & Waffles and the food truck alley that will host a new lineup for each series.

15. Turner Field
Atlanta Braves
Braves fans only have two seasons left to be the only baseball crowd that can order WaHo hash browns scattered, covered, peppered, and diced during a baseball game. Or to get one of the best damn burgers in America from Holeman & Finch's H&F Burger kiosks. The stadium, which will be demolished after the 2016 season, also has outposts of La Taqueria -- one of Atlanta's best Mexican spots, a Kevin Rathbun Steak Sandwich, which sells... steak sandwiches, and a SweetWater beer island. All of this gives us high hope for the new stadium's food options.

14. Citizens Bank Park
Philadelphia Phillies
Phillies fans might not have been able to eat Ryan Howard's contract, but they can support the team by eating the new South Philly dog, topped with roasted red peppers, sharp provolone, and broccoli rabe. Kudos to The Vault for bringing in more local flavor over the years with cheesesteaks from Campo's and Tony Luke's, Federal Donuts, and "The Schmiiter" sandwich from McNally's. Also, at the always alliterative Phanatic Phamily Phood Stand you can get your fix of Go-Gurt if you're a cartoon skateboarder from 1999.
13. Dodger Stadium
Los Angeles Dodgers
Sure, the Dodger Dog is iconic and delicious, but don't sleep on the selection of fine Italian subs coming from perennial meatball sandwich powerhouse Eastside Market. Also, FROZEN BEER! Yup, the Kirin Ichiban frozen drafts come with a layer of chilly foam that both keeps your brew cold and protects it from spillage. Comes in handy when the dude behind you rocking a well-worn Andruw Jones jersey gets too raucous or the peanut guy accidentally grooves one to you.

12. Progressive Field
Cleveland Indians
Progressive Field made headlines for dropping prices last season to $4 for 12oz domestic beers. Add on a $3 hotdog, and you can enjoy a classic baseball meal for less than that beer costs at most stadiums around the country.
The fancier beer action is there too, with hometown brewery Great Lakes dominating craft beer taps alongside New Belgium, Bell's, Avery, New Holland, Harpoon, and Dogfish Head. And, as of 2015, the park has food to match, with grilled cheeses from Melt (no word on whether your Melt tattoo will get you 25% off in the ballpark too), build-your-own tacos from Barrio, Dynomite burgers, and ice cream from the folks at OG Sweet Moses Soda Fountain all debuting. Bringing in local spots to mix with the old-school baseball prices is a huge win for the Indians.

11. Miller Park
Milwaukee Brewers
If you're going to do the "hey we made a crazy food item" thing... THIS is how you do it. Nachos on a stick. Wisconsin loves frying stuff. They love cheese. And foods on sticks are sensibly portable. Good work, Milwaukee. That said, you're likely to be perfectly content with your experience if you just stick to a brat (try it with the secret stadium sauce, a vaguely BBQ-esque substance that originated at the old County Stadium) and some cheese curds. Beer-wise, well, it IS Miller Park, so obviously that's going to be reflected in the beer options (their subsidiary Leinenkugel is also well represented throughout the stadium). But they make room for others, and you can also get your hands on a New Glarus Spotted Cow if that's more your speed.

10. Nationals Park
Washington Nationals
Look, even though it's not a "local" thing in this case, having a ballpark Shake Shack is going to score you some points with the committee -- that's just how it is, okay? Even if there's a decent chance you miss a Bryce Harper home run waiting in line for it. But there's definite local DC cred to be had here as well, starting with two outposts of venerable late-night haunt and presidential stomping ground Ben's Chili Bowl (the half-smoke being one of the few culinary treats that can genuinely be labeled "a DC thing"). Also, local celeb chef Mike Isabella has an outpost where you can get your Italian sandwich on (chicken Parm -- do it!). The presence of local brews like DC Brau and Atlas is pleasing, though they could be a bit better distributed throughout the stadium.

9. Coors Field
Colorado Rockies
Major cool points for being the only stadium with an actual working brewery (this is where Blue Moon was first created), meaning seasonal and ballpark-only brews are available to Rockies fans to dull the pain of trying to watch pitchers hold leads at altitude. There are also whispers that the regular Blue Moon product at the park is a bit superior (freshness!). Local favorite green chile burritos are on hand, as is the made-to-order Helton burger, which is a decided cut above the token "upscale" stadium burger you encounter at most ballparks, and the stadium's collective burger game became even MORE impressive with the addition of Oskar Blues' CHUBurger in its outfield party deck, along with an array of OB's beers.
8. Yankee Stadium
New York Yankees
Where Yankee Stadium does well, it does really damn well. The meatball Parm from Mario Carbone and Rich Torrisi's Parm is just as delicious as it is at their NoLita restaurant, and a Lobel's location means there are steak sandwiches carved to order. Pizza comes from Two Boots, and, if you take your Brother Jimmy's 'cue and stand in the right sections, you can close your eyes and pretend you're amongst the Murray Hill bros, if that's your kind of thing. But, it's hard to not pit the NYC teams against each other, and Yankee Stadium's total lack of craft beer compared to its neighbor in Queens bumps it down on this list.

7. Marlins Park
Miami Marlins
Opened in 2012, Marlins Park is the youngest MLB stadium, and its location in Little Havana is (somewhat) an inspiration for the food. The big winner is Taste of Miami, a corner of the stadium crowded with local restaurants. You've got ceviche and fresh-shucked oysters at Don Camaron, chicharrón and Miami's best damn Cuban pork sandwich at Papo Llega y Pon, and all the tequeños, empanadas, and arepas you can balance on the way from Panna Cafe back to your seat. South Beach hotel & bar the Clevelander also shows up with the Magnum hot dog, a bacon-wrapped 1/2lb kraut- and mustard-covered dog. While craft beer options are lacking, you ARE in Miami and a Dolphins game can't be your only excuse to indulge in frozen Bacardi beverages.

6. Camden Yards
Baltimore Orioles
Camden Yards was a pioneer in the whole "wait, every new ballpark doesn't have to feel EXACTLY the same" movement, and though it's actually almost part of the old guard now when it comes to stadia, it's still bringing it in the eats department. They're deep on local Baltimore flavor -- with the money move being a pit beef from Boog's BBQ (named for Orioles great Boog Powell, because he owns it, not just because they're trying to cram in more nostalgia). There are also respectable crab cakes on hand (or better yet, a crab mac & cheese dog from Stuggy's). Of course, a sausage and peppers from Polock Johnny's (which has been around Baltimore long enough that, at the time, that name was totally okay), isn't a bad move either. Beer-wise you could always keep it classic and go with a Natty Boh, though Heavy Seas and Flying Dog are also refreshingly plentiful throughout the park. Also, they recently threw in a healthy wrinkle with a juice bar. Respect for zigging when everyone else is zagging!

5. Target Field
Minnesota Twins
With sausages, an Andrew Zimmern presence, and an entire shop dedicated to state fair food, the Twins' stadium basically plays into all stereotypes of its regional cuisine. And that's a great thing. AZ's Canteen has dishes like the smoked meat sandwich with maple syrup hot sauce. Kramarczuk's, a James Beard Classic winner, makes its brats and sausages daily in Minneapolis. Butcher & Boar, a downtown restaurant that got a James Beard nom in 2013, dishes out bbq tips. And to truly remind you that you're not a professional athlete, there's the straightforward State Fair Classic: fried apple pies, fried pork chop on a stick, and fried pickles. Also the Midwest draft options of Grain Belt, Summit, Goose Island, and Surly don't hurt things.
4. Petco Park
San Diego Padres
You could confine the discussion solely to the beer and you're already talking about a serious contender, with in-park beer gardens from Stone and Ballast Point, not to mention the presence of other area standouts like Green Flash, AleSmith, Karl Strauss... this could go on a while. Point being, you will drink REALLY good beer here. But the food holds up its end too. The fish tacos are seriously legit, and you have local seafood king Anthony's Fish Grotto turning out fish 'n chips, fried shrimp, and other oceanic goodness. Seaside Market may SOUND like it's bringing you seafood, but the move here is actually the celebrated tri-tip sandwich. Local burger favorite Hodad's is on hand, as is local BBQ standout Phil's (good stuff, and not just by Cali standards), and pizza's ably handled by local chain Filippi's. Want something sweet? How about a customizable ice cream sandwich on fresh-baked cookies from Baked Bear? How does everyone in San Diego seem to stay so steadfastly skinny again?

3. Citi Field
New York Mets
Having Danny Meyer involved in your food makes any ballpark a serious contender for the crown. But, while Nats Park got a boost from its one Shake Shack, Meyer has given Citi Field a Blue Smoke for pulled pork and brisket sandwiches, a Belgian frites spot with a slew of dipping sauces, and a Shake Shack. If burgers and BBQ aren't your thing, NYC meat-god Pat LaFrieda has a meatball sandwich stand, a steak sandwich spot, and, well, more burgers for you. (Also, if you've made it into the Delta Club, go to the Chop House and get the 16 oz. dry aged NY Strip.) There's also Catch of the Day from Midtown Esca crew, new sandwich shop Pressed from Josh Capon, the chef behind Bowery Meat Co., and a Rao's for red sauce-classics.
Citi Field's real kicker, though, is its beer. The AB regulars are obviously available, but a look at the full beer menu in the stadium is a testament to the city's booming craft movement: Bronx, Rockaway, Coney Island, Greenpoint, Queens, and, of course, Brooklyn. So, a SmokeShack and a Brooklyn beer without the Madison Square Park line? A lobster roll outside on a warm day? Citi Field is basically fulfilling the dreams that help New Yorkers survive winter.

2. AT&T Park
San Francisco Giants
A stadium with a year-round herb garden built into the outfield is not f'ing around when it comes to concessions. The Murderers' Row of food includes Dungeness crab sandwiched between slices of garlic butter sourdough, Caribbean-style bibimbap, and the model ballpark garlic fries (no wonder Pablo Sandoval got so fat here). While the pre-game drinking options are growing by the season -- you know, just shipping container bars or private boozing parties at batting practice -- Public House offers a beer selection that could even rival bars that aren't attached to baseball stadiums, with the advantage of having to-go cups for when you take your seat. And if that's not enough, Thrillist favorite Tony Gemignani even has a Slice House inside the park.

1. Safeco Field
Seattle Mariners
Cask-conditioned ales, Firkin Fridays... no, these aren't the selling points for some new high-minded craft beer bar, it's just how they roll at Safeco, where the dizzying array of seriously impressive eating and drinking options reflects the strengths and tastes of the local market as a whole as well as any stadium out there. Standout local chef (and big-time Mariners fan) Ethan Stowell is seriously involved in the food program (since 2010), which is why every year they're rolling out fresh offerings like Dungeness crab sandwiches on sourdough with lemon aioli or Pacific seafood gumbo. You can get craft cocktails made with small-batch spirits from the folks at local mixology staple Rob Roy. There's legit sushi (RIP Ichiroll) and sake. Grass-fed burgers come topped with Tillamook cheddar. Honestly it kind of feels like every buzzy food trend from recent years is somehow represented, but in a way that somehow manages to not feel completely out of place. There are probably some sticks in the mud that bristle at the notion of this kind of highfalutin fare at the ballpark, but these are the same types who likely once decried nachos as "ethnic food." This is how progress is made.
Matt Lynch is a senior editor at Thrillist who selected his fantasy baseball team this season based on ballpark food quality. Keep track of how it works out: @MLynchChi.
Sean Cooley is a Senior editor at Thrillist, and he's still amazed that RBI Baseball 3 gave Dennis Eckersley his own special throwing animation. Follow him @SeanCooley.
Liz Childers is an associate Food/Drink editor at Thrillist, and thinks the combination of Waffle House and Braves baseball is infinitely more American than peanuts and Cracker Jacks. Follow her @lizchilders1.