Food & Drink
Sponsored By
7 Food & Drink Pairings to Try on Your Next Alaska Airlines Flight
Sponsored By
Image courtesy of Alaska Airlines
Settling for a lackluster in-flight meal seems to be par for the course of the flying experience these days. If every time that dining cart rolls down the aisle, your mind automatically thinks of tiny bags of brandless pretzels and plastic-wrapped sadness, you're not wrong. But Alaska Airlines wants you to actually get excited about eating breakfast, lunch, or dinner in the air. That's why they offer well-researched and meticulously planned menus that make you feel like you're dining in a veritable flying bistro -- whether  you're traveling in first class or in the main cabin.
"We are inspired by the flavors and traditions of West Coast food," says David Rodriguez of the airline's food and beverage team. "This means looking at the produce that is especially abundant and popular on the West Coast. It also means pulling from culinary traditions that make West Coast dining interesting, including a significant influence from Asian dishes as well as a strong tie to Latin American cooking traditions."
Their menus rotate quarterly and star seasonal ingredients (think brussel sprouts, chard, cranberries, root vegetables, and mushrooms for winter), so you can expect to eat fresh no matter what the weather is doing outside. And since you can achieve elite status on Alaska Mileage Plan after just 20,000 miles, you're that much closer to getting bumped up a class to sample even more menu choices. So whether you're flying home for the holidays or getting in out-of-office time, here's a few of the food and beverage pairings to indulge in during a trip onboard Alaska Airlines.
Beets So Fly Salad by Evergreens + Radiant Green Tea
If you're looking for a refreshing yet satisfying lunch, the Beets So Fly salad from PNW fast-casual chain Evergreens will do the trick. It's made with a combination of romaine and mixed greens, then topped with roasted chicken, pickled red onions, pickled beets, cucumbers, walnuts, feta, and a black pepper dijon balsamic dressing. When paired with Teavana's Radiant Green tea, you'll find yourself satisfied but without that heavy, I-need-a-nap feeling. Available in the main cabin on most coast-to-coast flights and flights to Hawaii, this salad is perfect fuel for long flights to whatever destination you're about to explore.
Gochujang Chicken Sandwich + Fremont Lush IPA 
You won't find bland chicken sandwiches flying Alaska -- especially flying in first class. The Korean-inspired Gochujang Chicken Sandwich is proof of this. Stacked with fire-braised chicken, applewood-smoked bacon, smoked provolone, and Gochujang aioli, every bite is begging for a swig of a hoppy IPA. "There are strong flavors in the chicken sandwich, which include spice from the Gochujang sauce and richness in the applewood-smoked bacon," says Ethan Grossman of Alaska's food & beverage team. "Coincidentally, the contrast of the spice and richness helps balance flavors in the sandwich itself. An IPA has an equally strong flavor among beers that holds up to the sandwich."
Image courtesy of Alaska Airlines
Roast Chicken and Clementine + Browne Family Vineyards Tribute Red Blend 
Roast chicken is always in season, and when paired with sweet clementines and a bold red blend, it's the perfect comfort dish that also brings a bit of zest with it. Roasted with fennel and Pernod (anise-flavored liqueur), the chicken is served alongside clementines, saffron basmati rice, Tuscan kale, and a chicken demi-glace. "The red blend is able to help balance the acid from the clementines better than a white wine because of the increased tannins, which help keep the acid in check," says Grossman. "Tuscan kale is a notoriously hearty vegetable whose flavor doesn't get overpowered easily, including from a bold red wine, which makes the Tribute red blend a great pairing with the dish." Served in first class, this meal is one that you won't want to end.
Image courtesy of Alaska Airlines
Signature Fruit & Cheese Platter + Canoe Ridge Cabernet Sauvignon
Wine and cheese is basically the milk and cookies equivalent for adults. Which is why ordering this classic duo, available in the main cabin on most Alaska Airlines flights over two hours, is a no-brainer. Made up of Beecher's Flagship cheese (crafted in small batches at Seattle's Pike Place Market), Tillamook cheddar, and creamy brie, this plate is served with crispy crackers, grapes, apple slices, and a Seattle-made chocolate truffle to end lunch on a perfectly sweet note. It pairs nicely with the rich currant and berry notes of the Canoe Ridge cabernet sauvignon. From Columbia Valley, Washington, this cabernet was blended especially for the airline to account for the changes in taste at high altitudes. Bonus, the fruit & cheese platter is just one of many dishes you can preorder prior to takeoff via the Alaska Airlines app or online when managing your reservation. Just remember to raise that pinky as you sip.
Kabocha Squash Entree Salad + Browne Family Vineyards Chardonnay
Chillier weather calls for more intriguing, deeper flavors, and that includes salads as well. The Kabocha Squash entree salad, served in first class, is exactly what you need to give your typical salad a good kick in the pants. It's made of grilled chicken, lightly-spiced kabocha squash, radicchio chiffonade, dried medjool dates, roasted pepita seeds, and shaved Pamesan served over mesclun greens and topped with a balsamic vinaigrette. "The kabocha squash, also known as Japanese pumpkin, is a staple winter vegetable because it has great flavor on its own but can adapt well to other flavor profiles -- including spices," Grossman says. "The kabocha squash in our entree salad is roasted with a Chinese five-spice powder, which isn't spicy but has great warming flavor perfect for the colder weather." He recommends pairing the salad with a glass of chardonnay: "In order to help provide a balance to the warming spices, our Browne Family Vineyards chardonnay has notes of fruit and vanilla, which help enhance the dish." Sign us up.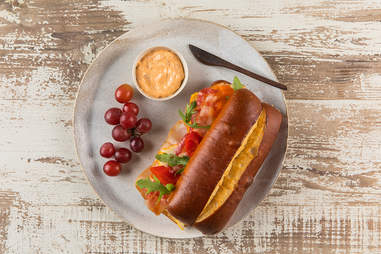 Image courtesy of Alaska Airlines
Turkey Pretzel Sandwich + Session Premium Lager
Pretzels and beer are a pairing as celebrated as mac & cheese or peanut butter & jelly (and anyone who says otherwise is just plain wrong). So it only made sense to mash them up into this tasty lunch option. The sandwich is served in the main cabin and available on most flights over three hours leaving between 10am to 8pm, and packs no shortage of flavor. Smoked turkey, bacon, Muenster cheese, pickled peppers, and remoulade sauce come together in this delectable combination, which is served between a pretzel brioche. This crowd-pleaser goes well with an easy-drinking beer, like Session Premium Lager. "The subtle flavors of the pretzel roll and lager complement each other and contrast well with the spice of the remoulade and pickled peppers," Rodriguez says. We'll take five, thank you.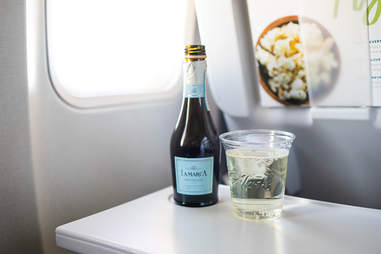 Image courtesy of Alaska Airlines
Himalayan Gold Vegan Popcorn + La Marca Prosecco
Forget the ol' tiny bag of peanuts. Pairing Himalayan Gold Popcorn with a bubbly La Marca prosecco will make for a surprisingly tasty and light snack (and it's available on flights over 1.5 hours). "The prosecco freshens your taste buds to make every handful of the buttery, yet vegan, salty popcorn as good as the first one," Rodriguez says. Emphasis on the vegan part, which means you can snack and sip almost guilt-free, especially if you want a second bag (we won't judge). With this many fresh and locally-sourced dishes on the menu, the only difficult choice will be which one to order.