10 races that require you to eat pizza and drink beer
For a lot of us, exercise is a very nice idea that we seriously explore about twice a year, before returning to our blanket cocoon for a fresh Netflix binge. But fitness doesn't have to be all push-ups and pain. Some smart marathon organizers from across our great nation have added an incentive for racers in the form of Twinkies, bacon, and other delicious treats, consumed right in the middle of the run. With 2015 fast approaching, these are the ones you should register for in the coming year. After completing a corndog race, trust us, you'll feel the (heart)burn.
The Beer Mile
A phenomenon that dates back to the late '80s, the Beer Mile is reserved only for the fittest beer enthusiasts. It's a solo event that's open anytime, any place, so long as you drink a full beer for every quarter-mile you complete, which puts you four-deep at the one-mile mark. The current male record belongs to this guy, James Nielsen, who clocked in 4:57, while the female record was broken just this month by a 44-year-old Mother of six from Austin, who's single-handedly redefined the term "cool Mom".
Corndog Classic
Between the Buffalo Crunch donuts and chicken & waffle cones, you probably gain 5lbs just from smelling a state fair. So to make the whole affair (moderately) more healthy, the Tulsa State Fair puts on a 5K each year that benefits the Leukemia & Lymphoma Society and Tulsa Area United Way. You do have to consume a mini corndog, mini caramel apple, and lemonade (or beer, if you're legal) before you cross the finish line, but at the fair, those are practically Clif Bars.
April Fool's Day Twinkie Run
If you were too much of a wimp to dump a bucket of ice water over your head, but still want to help fight ALS, consider this annual Michigan event. Put on by Ann Arbor Active Against ALS, the 5K race serves Twinkies at the starting point and again at mile 1.5, plus grilled Twinkies once you're off the track. Despite its suspicious date, we promise it's very real, and very full of Hostess treats.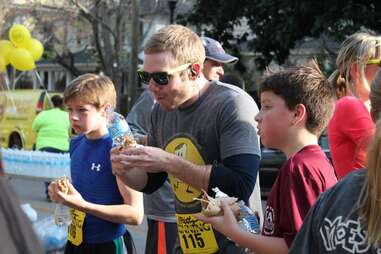 Burrito Dash
Since you're already willing to endure absurd lines for a good burrito, some savvy fitness freaks guessed they could trick you into running a 5K by inserting Mexican cuisine into the middle. (Spoiler alert: they were right.) The Burrito Dash feeds runners a "race-friendly sized" burrito at the halfway point before sending them back toward the finish line with a belly full of beans and just a touch of self-loathing. It's all put on by the Moe's Southwest Grill of Columbia, SC, which means it's only a matter of time before the Chipotle Classic comes into glorious, guac-filled existence.
Ice Cream Mile
Whatever lame booster event your track team hosted at Chili's pales in comparison to Pinckney High School's annual fundraiser. At the Michigan school's Ice Cream Mile, you're required to eat a pint to complete the race -- no exceptions. The clock doesn't stop running until you've finished both your mile and your dessert, so choose your flavor wisely, and make sure to stretch between scoops.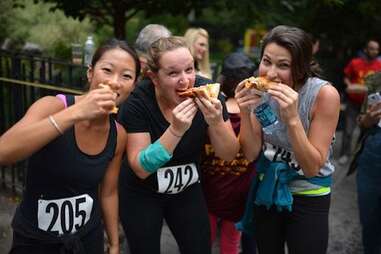 New York City Pizza Run
People from all over the world apply for the New York City Marathon, but if you want a true NYC experience, you gotta have pizza. This race packs three slices (wolfed at various checkpoints) over just 2mi, with a free beer also waiting for you at the after-party. If all marathons were like this one, we'd probably have more medals than Usain Bolt.
Bacon Chase
Really, given our nation's collective bacon mania, it's shocking we aren't handed strips for successfully parking or paying taxes. But you can at least get some pork candy for running in the Bacon Chase, a multi-location marathon that's taken over cities like Chicago and Minneapolis. Your registration entitles you to not only a heap of bacon at the finish line, but unlimited bacon bits throughout the course... and a Bloody Mary at the after-party. You know what to do.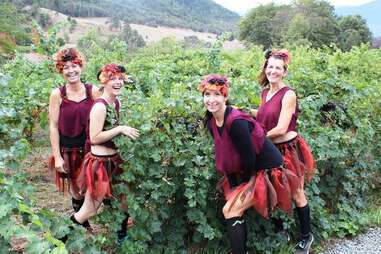 Enchanted Forest Wine Run
Though it sounds like a sloshed fairy tale the Grimm Brothers cut from their final print, the Enchanted Forest Wine Run is a whimsical race that takes you through Oregon's Wooldridge Creek Winery. Along the way, you're welcome to refresh with water, coffee, snacks, and, once you're far along the course, some of the vineyard's finest vino. If you're not ready for the half-marathon, you can sign up for the 5K, which starts just an hour later, and offers the same boozy perks. Either way, costumes are strongly encouraged, so go ahead and dust off your old Dionysius duds.
Krispy Kreme Challenge
Like most Saturday mornings, this one begins with a mad dash to the local Krispy Kreme. But once you've gorged on a dozen glazed donuts, you don't get to zonk out in front of a TNT Rocky marathon. You've got to run the 2.5mi back to your starting point at the Memorial Belltower (in Raleigh, NC), all while that sweet sugar is rumbling in your intestines. Remember: real athletes pass the finish line before they puke.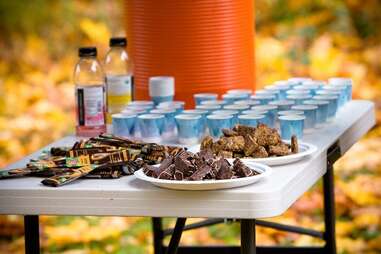 Mud and Chocolate
If you're the type of person who orders crates of king-sized Hershey's bars off Amazon, this is the run for you. Mud and Chocolate is held several times a year in two parks in Washington, but no matter which one you pick, you're guaranteed a healthy dose of cocoa. There's a chocolate aid station where you can fuel up on treats in the middle of the track, and once you've completed the race, you get a chocolate medal and all-access pass to the "Chocomania" buffet. Just to ensure supplies last, no one tell Cathy about this.
Kristin Hunt is a Food/Drink staff writer for Thrillist, and can totally eat a burger and speed-walk at the same time. Follow her at @kristin_hunt.