Paid Content For

These Food-Based Programs Help Turn Lives Around
Paid Content For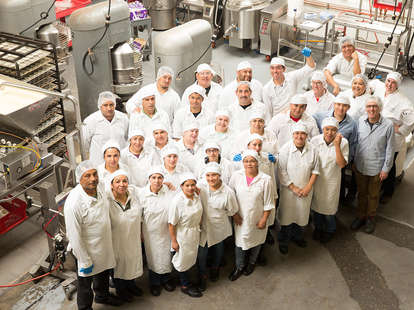 Courtesy of Rubicon Bakery
Courtesy of Rubicon Bakery
Stop what you're doing and think for a minute about the last time you messed up. Was it at work, at home, or with someone you care about? Then think about what happened afterwards: did you get a chance to make things right? And did you ever fear that you wouldn't?
Second chances aren't a given, particularly for those with troubled pasts. For ex-convicts, in particular, re-entry is no piece of cake -- according to a Bureau of Justice report published in 2015, more than half of prisoners released a decade ago wound up behind bars again within five years. Education, training and employment are three major keys for breaking the cycle, but so too is the belief in the power of second chances -- or third, fourth or fifth chances, as the case may be. That goes both ways -- the aspirant for redemption needs to believe it, but so does an outside party, one with greater capacity to affect change.
Fortunately, there are organizations that do, many of which incorporate food -- arguably the most universal human need -- into their work. Here's a look at five groups across the US that are dedicated to helping disadvantaged people get back on their feet, by providing opportunities that aren't always afforded to people with pasts.
LA Kitchen: In 1989, Robert Egger was a DC music scene veteran, working the doors at some of the city's legendary punk clubs, when he founded DC Central Kitchen. The radical-for-its-time meal distribution and job training program has, in the nearly three decades since, produced more than 30 million meals, helped 1,500 people gain full-time employment, and spread to over 50 "campus kitchens" across the country.
But in 2013, Egger, spurred by what he describes as "unlimited supply and a growing demand" for his services, moved back to his hometown of Los Angeles to launch LA Kitchen (the DC operation is still up and running on the East Coast without his involvement), a hybrid business and nonprofit culinary job-training center for former inmates and at-risk youth. During the 15-week culinary program, students learn culinary skills, nutritional basics, and life empowerment lessons, as well as intern at trendy LA restaurants like Broken Spanish. Nearly all of the graduates wind up getting jobs at local restaurants.
The for-profit component takes the shape of Strong Food, a contract meal operation that hires graduates to prepare healthy meals out of foods purchased from local suppliers that would otherwise go to waste. Their primary recipient is low-income seniors, a demographic that Egger has become increasingly fired up about in recent years, noting that LA has the largest concentration of older people in America. (LA Kitchen was founded in part with a $1 million grant from AARP, the single largest grant in the foundation's history.)
"Wrinkled food, wrinkled people, no waste," says Egger, who is possibly the only James Beard Humanitarian Award winner to regularly pepper his interviews with the English language's most notorious four-letter word (as in, "I came out here to make LA one of the most innovative cities in world with respect to older people, and I'm running up against some walls, so now I have to fuck it up.").
Second chances play a huge role in the LA Kitchen ecosystem -- for ex-convicts and young adults timing out of the foster system, for food destined to go to waste, and, as Egger points out, for an entire population of elders that's increasingly ignored. But Egger's mission goes beyond issues of hunger: "Hunger isn't about food. That's just the beginning," he says. "The real question is, what do we have to do now to make sure you're not hungry tomorrow? That's where most people stop, and it's where I love to go. It's a deeper, more imperative, more challenging commitment."
Edwins: Brandon Chrostowski, president and CEO of the Cleveland, OH nonprofit EDWINS Leadership and Restaurant Institute (most know it simply by "Edwins"), knows a thing or two about getting another shot. After a teenage dustup with the police, Chrostowski received probation in lieu of a decade-plus jail sentence thanks to a particularly compassionate judge. During probation, he began working under a chef who became his mentor, "teaching me to use all this internal energy and anger I felt about the injustice I saw daily and turn it into something useful," Chrostowski says.
After graduating from culinary school and spending a decade-plus working his way through high-end restaurants around the world, Chrostowski decided it was time to repay his debt to karma, with interest. In 2013, he launched Edwins as a fine-dining French restaurant (complete with cheese and wine cellar), staffed almost entirely by formerly incarcerated employees.
"Every human, regardless of their past, has the right to a fair and equal future. And in order to do that, we have to show that they deserve another chance."
The restaurant is the public-facing arm of the Institute, which also provides rigorous culinary training, employment aid, legal counsel, basic medical care, clothing, job coaching, and more, free of cost, for anyone who shows up and stays committed to the program. "We don't know and we don't care about the past," says Chrostowski of the application process. "We try to take all the parts that could prevent success out of the equation."
The formula seems to be working: 170 people have graduated from Edwins since its launch, and over 90% of them are currently employed (two have returned to prison). Last year, Edwins opened a 20,000-square foot campus to provide free housing for homeless students, in a once-foreclosed stretch of buildings on Cleveland's East Side. That same year, Chrostowski was named one of CNN's Heroes, and earlier this year, he announced plans to run for mayor of Cleveland. His ascendance, and that of all of those he's helped raise up from the morass of circumstance, is possible because of that second chance many years ago: "It's why I'm here," he says. "Every human, regardless of their past, has the right to a fair and equal future. And in order to do that, we have to show that they deserve another chance."
FareStart: This groundbreaking Seattle nonprofit was at the vanguard of culinary-driven redemption, launching back in 1987 and laying the foundation for many newer organizations with a similar model and mission.
Initially founded by chef and entrepreneur David Lee as a for-profit entity designed to provide food to Seattle's homeless and disadvantaged, the organization quickly grew into not just a soup kitchen but a culinary job training and placement program (Lee has since left the nonprofit and gone on to found Field Roast, a vegetarian food company). It's since blossomed into a full-scale nonprofit empire that includes a fine-dining restaurant and two cafes, catering and event services, and a brand-new paid apprenticeship program to help low-income foodservice workers gain additional skills to earn a living wage. That apprenticeship endeavor, which is backed in part by a little company called Amazon, will coincide with the opening of five new eateries in Seattle that will serve as training ground for the new program.
Although FareStart has racked up plenty of accolades, including a James Beard Humanitarian Award in 2011 and a coveted slot on a Thanksgiving-themed episode of Top Chef, their core values have remained fundamentally the same over the past 25 years. "The highest value that we hold is that you shouldn't give up on anybody," says Megan Karch, CEO. "We believe the past informs, but does not dictate the future. We work to give people second, third, fourth, and fifth chances -- we never give up."
The numbers back it up: since its inception, FareStart has seen almost 2,600 graduates (which doesn't account for the hundreds who found employment and left the program before technically graduating) and served an astonishing 9.8 million meals to people living in poverty. Over the next decade, they anticipate being able to reach another 7,000 people through their new training programs.
"In my opinion, if we as a society don't give people second chances, then we're living in a society that I don't want to be in," says Karch. "The reality is that everyone makes mistakes in their life, and everyone deserves another shot."
Rubicon Bakers: Oakland, California-based Rubicon Bakers is a second chance story within a second chance story. In 1993, a local nonprofit called Rubicon Programs founded the bakery as a job-training program for people recently out of prison, rehab, or other tough circumstances. A noble mission, to be sure, but by 2009, the 14-person operation was hemorrhaging funds and looking to sell. That's when Andrew Stoloff, a Wall Streeter-turned-restaurateur who ran a café in Northern California, entered the picture.
Stoloff was initially brought on as a financial consultant to help find a buyer for the bakery. The only requirement was that the new owner had to commit to the mission of Rubicon Programs. As he spent more and more time at the bakery, Stoloff found himself falling in love with the operation and the people behind it. Against all advice, he wound up buying it himself. He quickly set about making some changes: the first order of business was to turn the bakery into a for-profit business, then invest in new equipment to increase production, and shift the focus from job training to job retention and internal advancement.
"We're not a social service agency. You need to work. You need to show up, and work all day, and be there."
The approach has paid off: today, Rubicon has over 125 full-time employees, has doubled its revenue, and boasts wholesale deals for its layer cakes, cupcakes, cookies, and more with grocery stores including Whole Foods, New Seasons, and Bristol Farms. Many of its employees have stayed with the organization for years -- bucking food service industry norms -- and have moved up through the company's ranks accordingly.
And there's still a support component to the business, too, thanks to a revenue-sharing deal with Rubicon Program ensuring the nonprofit gets a cut of the bakery's annual profit, which amounts to more than they earned when they owned the bakery. Stoloff, in turn, leans on the nonprofit for new hires and additional job training for current employees.
"When you spend time in prison, even if you're not a hardened criminal, it's life-changing. It's very difficult for people to adjust to life outside," says Frankie Whitman, a representative for the bakery. "We say we're ready to give jobs to people who are ready to turn their lives around. We're not a social service agency. You need to work. You need to show up, and work all day, and be there. But if you're willing to make those kinds of commitments, there are amazing opportunities."
Recipe for Change: Many second-chance-oriented organizations kick into gear when an inmate is released from prison. Not so with Recipe For Change, which operates within the confines of Chicago's Cook County Jail. That's where Napoli native Bruno Abate, a classically-trained chef who runs an upscale Italian restaurant called Tocco, doles out tough love and culinary training to a few dozen inmates at a time, in advance of their release and re-entry into the workforce.
To hear Abate explain how the program came to be is to settle in for a long and rather winding story, involving a nighttime vision, several chance run-ins with Chicago's top lawmakers, and a few interrupted pilot programs. Abate doesn't have a legal or nonprofit background, but he believes strongly in the power of redemption: "Everyone deserves a second chance, third chance, fourth chance. Life is a chance. Why don't these guys have a chance to do something good with their life?"
For Abate, food is a vehicle for larger life lessons. The program itself covers basics like food safety and sanitation, along with skills and technique, and recipes for a variety of Italian dishes that are a serious improvement over the jail's cafeteria offerings. Inmates must apply into the strictly monitored program, and once they're there, they might stay anywhere from two months or two years, depending on their release status and behavior.
"We're here to help, but our mission is to change you," says Abate. "Change in mindset, change in skill sets, and ultimately a change in the lifestyle that brought these guys into the Cook County correctional system." By encouraging this metamorphosis, believing in the potential of his students and serving as their mentor, Abate hopes to reduce the chance that they'll wind up returning to jail. He's hired recent releases to work on staff at Tocco, and helps others find jobs at nearby restaurants (to date, Recipe for Change has seen about 200 graduates). His next dream is to create what he calls a "Decompression Center," a sort of post-release, pre-independent living complex where ex-convicts can live and work in an on-site cafe for a few months following their release.
"You lose everything when you're in prison -- you become a number. So I go really deep with these guys," says Abate of his curriculum, which also includes lessons on everything from personal finance to basic etiquette. "A lot of people think the job is the solution, but before the job, these people need their dignity back. After that, they can be like everyone else and succeed."