Cole Saladino/Thrillist
Cole Saladino/Thrillist
How Food Instagrammers Became the Restaurant Industry's New Power Players
It's a rainy December morning and the scene taking place at a long dining table in New York City's swanky Petrossian Boutique & Cafe feels straight out of a Portlandia sketch. My six dining companions are crouched in various positions I thought only yoga masters could achieve. They are pointing portable lights and pricey DLSR cameras at two plates of French toast. The group is part of a cadre of food Instagrammers, whose accounts boast 100,000 or more followers, and who have restaurants and their publicists scrambling to get one of their dishes on their influential accounts.
They are Elite Foodstagrammers.
And they are clamoring to take photos of French toast as if it were actually Beyonce. Christine Yi, better known as @cy_eats on Instagram, holds a brick-like light with her left hand, illuminating the toast from overhead as Mike Chau, the guy behind @foodbabyny, zooms in on the dish with his iPhone camera, elbows hovering at a very uncomfortable-looking angle. "Am I holding the light high enough?" Yi asks.
Jeremy Jacobowitz, the singular person behind the plural-sounding @brunchboys, cuts the French toast in half and stacks it upon itself, before raising up his portable light in one hand and his heavy DSLR with the other to get the right shot. My biceps hurt watching him hold the pose for a good three minutes straight like his life depended upon it. Daryl Zweben, one half of the sister duo behind @unbuttoningpants, sees an opportunity to take advantage of Jacobowitz's light and tilts her phone just so, while her sister Ali snaps the same plate from across the table.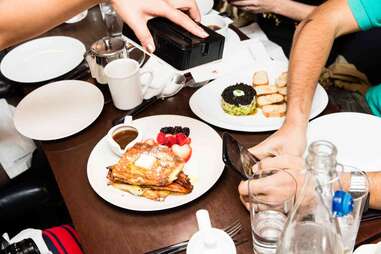 When they're done, Rayna Greenberg, the fast-talking force behind @OneHungryJew, grabs the plate, takes it to a separate table, and stands on her tippy toes to get the perfect overhead shot. I am hungry. But there are still two other dishes left to be shot on the table with one more item on the way.
The reason they are all here is because of an invite from Yi, who teamed up with the restaurant to host a "Blogger Holiday Soirée." To be clear, while some of the Instagrammers maintain blogs that are tied to their accounts, they were invited because of their social media followings. Food blogs were once the more influential medium, but social media platforms, like Instagram, have taken the throne over the past few years.
Each person at this soirée is part of an elite crew of food Instagrammers. They have turned posting photos of oozing brunches and ramen bowls into a full-time job. (The one exception at the table is Chau who works as a computer programmer for a major bank but has insanely flexible hours.) No one in the group, who are all in their late 20s to early 40s, is a professional food photographer. Instead, they've transitioned from careers in fields like PR and catering.
They have turned posting photos of oozing brunches and ramen bowls into a full-time job.
There are thousands of people trying to do what they do, but only a handful are able to get a high enough number -- around 100,000 or more -- of followers. The Elite Foodstagrammers, which include more people than were present at the lunch, add that there are other successful food Instagram accounts beyond their crew. But, they are typically run by college students who often regram images from different people. "We all shoot all of our own photos," Daryl proclaims, each word dripping with pride and a hint of annoyance.
But they also consider themselves as more than just social media influencers. Greenberg, who runs a site under the same name as her Instagram handle, essentially sees herself as a publication of sorts. "I have as many readers as legitimate publications," she says. "Maybe even more."
"I have as many readers as legitimate publications. Maybe even more." -- @OneHungryJew
This clique met each other through events similar to this one -- meals organized by restaurants (and their PR firms) to generate press. There has been a power shift in the food world. For decades, members of the media -- food and lifestyle editors at traditional magazines -- were the ones that publicists and owners would clamor to get into restaurants first. Then around 2006, bloggers gained sway, getting as much attention as magazine editors and competing with them for exclusives (some, like Eater, became legitimate media companies in their own right). Around 2015, the tides turned again and restaurants began to woo social media influencers, inviting them to preview dinners before actual openings and giving first dibs on the new openings.
Members of the media are, more often than not, just starting to type up their pieces on a restaurant opening when Instagram accounts like @foodbabyny have already posted six images of dishes from the menu. Food Instagrammers are now often the first line of press.
Compared to editors, the Instagrammers have much more flexible schedules, says Kate Burr, an account director at the boutique restaurant publicity firm BeccaPR. And they can make it into places earlier. She adds that because the influencers take so many images, they frequently give restaurants the images for free in exchange for exposure. But perhaps the main reason for the power shift is that Instagrammers are interested in covering even the smallest restaurant minutiae. While a publication might not write a full article about a restaurant's new salami-and-pineapple pizza, a food Instagrammer will post a photo.
Burr tells me she now reaches out to these social media influencers before anyone else -- and it's hard to blame her. For half an hour and a few free dishes, these images are circulated to thousands and thousands of people within minutes of being posted. They often get picked up by other food porn Instagram accounts and then the pic is on multiple feeds from multiple accounts, often causing a dish or two to go "viral." She notes that often a restaurant's Instagram account will gain "thousands of followers" after an Instagrammer posts a picture of its food. Hell, I'll even admit it, I track restaurants like football fanatics track their fantasy teams and I often find myself scrolling through @foodbabyny's feed to see what is new.
Burr says that over the past couple years, influencers have become an integral, if not central, part of a restaurant's press plan -- which means they're in high demand. Yi says that she "could eat out five times a day and not keep up with the invites I get." PR companies often have to offer the Instagrammers even more perks like car services to incentivize them. Because of this, the influencers are given the leverage to be picky with their invites.
Yi says that she worked with the restaurant to handpick the menu items that would be served at the brunch. "They initially wanted to just offer us a comped salad. Who would want that? Hello, it's Petrossian, there should be caviar."
"There should be caviar falling from the sky," says Ali Zweben, the other half of the sister duo behind @unbuttoningpants, to the laughter of the table.
Yi instead convinced the restaurant to give the Instagrammers a free three-course brunch featuring dishes picked based on how well they photograph. This included a smoked salmon croque-madame (which she picked for cheese-pull purposes), savory French toast (picked for the maple syrup drizzle potential), eggs Benedict (chosen for the yolk porn), and a caviar, avocado, and lobster salad (selected because, well, it has a pile of caviar on it). Adding in the appetizer pastries, tarts for dessert, and many cups of coffee, the restaurant comped the group well over $200 worth of food all in the hopes that it might get one or two photos posted on one of the group's popular Instagram accounts.
While restaurant critics might care about how a dish tastes or the smoothness in service, for the Instagrammers how photogenic a dish is, is all that really matters. Jacobowitz says he hates when he doesn't get to pick what is sent to his table. "Often chefs will send out dishes that they love or are proud of because of how it's prepared," he says. "But I don't care about the chef's techniques or whatever. Just send me the cheeseburger on the menu because it's what looks best."
"There should be caviar falling from the sky." -- @unbuttoningpants
The Instagrammers' goals for a good shot are different from that of a professional photographer. While the latter places importance on things like depth of field, the rule of thirds, and shadows, the influencers care more about things like cheese pulls and runny egg yolks. The aim at the end of the day is to take a photo that looks as gluttonous and indulgent as possible even if the crop isn't artistic. It's the sort of image that speaks to your stomach more than your eyes, and garners thousands upon thousands of likes.
Instagrammers are very particular about how the dishes are served. When the Petrossian Boutique & Cafe waiter asked if the kitchen should cut the dishes so that it was easier to share, the Elite Foodstagrammers responded with a "No!" so swiftly, it was almost as if he were asking them to actually pay for the meal.
The group also made sure to order all of the sauces for the dishes -- like maple syrup and hollandaise -- on the side, even if it was unnatural for a dish to be served that way. Both of these moves are pretty standard for food Instagrammers, Yi reveals. It's so they can control the shot easier by drizzling hollandaise slower, or drowning the French toast for the ultimate drippy, most food porn-y shot possible. Yi admits to asking a restaurant to remake things like eggs for dishes until she gets the shot she wants.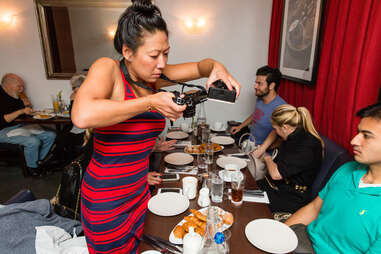 "I don't see this lasting forever." -- @cyeats
Each member of the group swears that restaurants don't pay them to dine there. Instead they make their money off of advertising on their Instagram pages. It is somehow enough to support their lifestyles in New York City, one of the most expensive cities in the world. They were all mum about how much they make per sponsored post, but considering that Kardashian lackey Scott Disick makes an estimated $20,000 posting pictures of detox teas, it's not hard to imagine that the food Instagrammers receive a decent chunk of change to put up a picture of a burger.
While it doesn't look like the Instagrammers will be out of a job anytime soon, they are surprisingly all realists about the lifespan of their career. A new social media platform will probably take over one day and seeing gluttonous close-up shots of food may not be a thing people want to see in the future. "I don't see this lasting forever," says Yi. But until then, she plans to keep living on a steady diet of yolk porn, cheese pulls, and comped meals. Who wouldn't?
Sign up here for our daily Thrillist email, and get your fix of the best in food/drink/fun.
Khushbu Shah is a senior Food editor for Thrillist, and is guilty of taking way too many food photos. You can find them all on Instagram @KhushAndOJ.