Paid Content For
Virginia Beach
The Adventurous Foodie's Guide to Virginia Beach
Paid Content For
Virginia Beach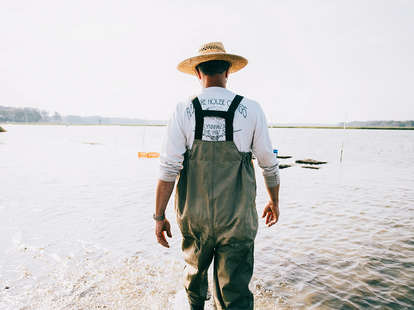 Courtesy of Visit Virginia Beach
Fall is not only pleasantly mild in Virginia Beach, it's also prime seafood season, thanks to fish migration in the Chesapeake Bay and the prevalence of fresh oysters. But it's not just fish you'll find here; this beach community also boasts 8,000 acres of farmland that harvest produce year-round for local breakfast joints and fine-dining restaurants alike. All of which makes Virginia Beach the perfect destination for foodies, especially those looking to try something a bit more adventurous. We rounded up nearly a dozen food experiences you can only have here. Consider this your gastronomic itinerary.
Eat oysters on the river they're harvested
Wild oysters mature at the beginning of fall, making months that end in "er" prime time to consume them. What's more, Virginia Beach is the only place that harvests Lynnhaven Oysters, a local delicacy once so popular that the bivalves were allegedly sought out by royalty and presidents thanks to their salty flavor with a tinge of sweetness. (Legend has it that William Howard Taft ate 10 dozen when he visited the area in 1909.) Now, Pleasure House Oysters offers boat tours on the Lynnhaven River to see how they're harvested, plus you can taste a few right out of the water. For an even more remarkable experience, we suggest the "Chef's Table" dining experience ($137.50 per person), where visitors eat dinner right in the marsh with an oyster farmer as your guide. It's offered year-round, so all you have to do is make an appointment -- they even provide waders.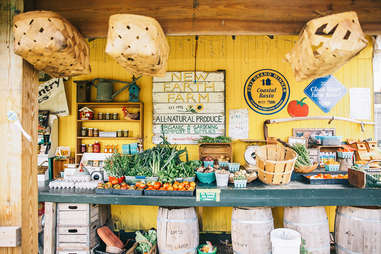 Learn a new cooking skill on a farm
Pungo, a rural area on the outskirts of Virginia Beach, boasts 8,000 acres of prime farmland, with several pick-your-own farms growing everything from strawberries to sweet potatoes. New Earth Farm, though, is all about educating the masses about local, seasonal cooking, while operating as a sustainable, working farm. They offer classes (from $20 per person) throughout the year on everything from fermenting to pickling to making kombucha, right on the property, as part of New Earth Farm's Food Lab. Some of the area's top chefs also teach cooking classes at the Lab, where they showcase how regional flavors and ingredients have shaped Virginia Beach's culinary scene.
Drink coffee that's roasted right in town
Sure, every town has a good coffeeshop, but how many roast their own beans locally? In Virginia Beach, there are two places doing just that. Three Ships Coffee Roasters, named for the trio of vessels that brought the first settlers to Jamestown, does its roasting on-site, then serves up tasty cups of joe at the cafe inside. On Shore Drive, Lynnhaven Coffee Company roasts its beans at a facility just a few blocks from their cafe, where you can also grab eats like house-cured gravlax and slow-smoked brisket sandwiches.
Take the ultimate scenic route to dinner
We don't just mean driving on local roads instead of the highway -- in Virginia Beach you can pick up a paddle and take a sunset kayak tour through a wildlife refuge on the way to your table. Surf & Adventure Co. offers kayak dinner tours (from $60) throughout the fall and winter that guide you right to the dock at Blue Pete's restaurant for a seafood or steak dinner. Along the way, you'll paddle through the waters of Back Bay National Wildlife refuge, a 9,000-acre oasis with plenty of wintering wildfowl (so bring a waterproof case for your phone/camera). Blue Pete's, a favored local hangout, even offers winter specials throughout the offseason, like half-priced steamers on Thursdays.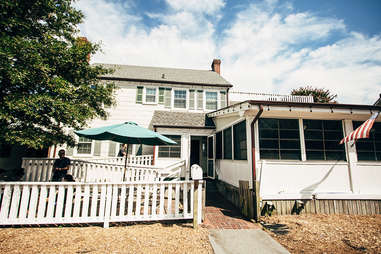 Have breakfast at a doctor's office
OK, a former doctor's office. Doc Taylor's restaurant was originally the practice and seaside home of the very real Doctor Taylor. After that, it was briefly a pink motel. Today, it's a local's spot for breakfast and lunch, specializing in Southern comfort food (think biscuits and gravy, creamed chipped beef, and country ham with grits). Besides hearty brunches, the restaurant also operates the Seaside Market Lounge where you can catch live bands on Thursday nights and play cornhole while sipping on cocktails on the weekends.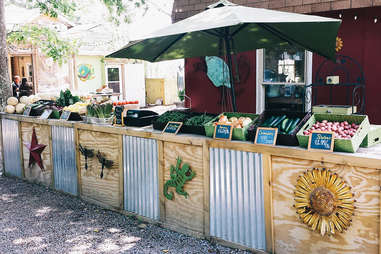 Take a lunch break while shopping for antiques
Besides the giant mosaic lizard out front, the Leaping Lizard Cafe is also known for its market selling antiques, furniture, and knick-knacks. Its menu draws on fresh produce (which is also sold to diners at an onsite farm stand), with their chicken salad sandwich (made with a peach chutney and curry mayo) as well as homemade soups and baked goods getting a lot of hype. As you dine on the patio, you may even spot the occasional wandering chicken.
Watch a fishing crew unload their catch, then devour it
The Chesapeake Bay is considered the most biologically diverse estuary in the US, meaning there are more types of seafood caught out of those waters than any other estuary in the country. To get an up-close look at the action, head to The Back Deck, a nautical dive bar that sits right by the docks of the Lynnhaven Fishing Company. While you enjoy a meal of crab legs and oysters, you can watch the day's haul get unloaded from the fishing boats, or simply take in some of the best views of the sunset in town. If you're looking to bring some of the day's catch home, the property is also home to the Shellfish Company open-air seafood market.
Or catch your own dinner
Just because the weather turns chillier doesn't mean the fishing slows down in Virginia Beach. The fall and winter are prime months for seafood in the Chesapeake Bay, too, with rockfish, black sea bass, flounder, speckled trout, and blueline tilefish regularly caught within 50 miles of the shore. Inshore, however, fall means one thing for anglers: striper season. (During its height, it's not uncommon to pull in 50-pounders.) Waterman Sportfishing, which runs offshore fishing charters and inshore striper trips (half-days start at $650 for up to 6 people), works with the nearby Waterman's Surfside Grille to offer (successful) anglers the chance to have their cleaned fish filets cooked and served to them for dinner.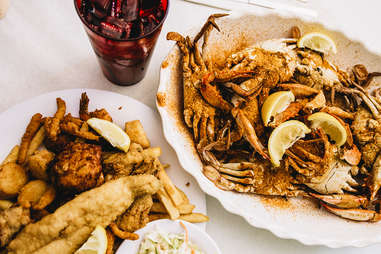 Sample fresh seafood in an old country store
If catching your own dinner isn't your thing, head to Margie & Ray's for some of the best seafood in town -- no fishing pole required. Located on a dirt road in Sandbridge Beach, a quieter community about 15 miles from the bustling resort area, Margie & Ray's operated as a tackle shop and general store for its first three decades in business before transforming into a hidden gem of a seafood restaurant. Today, it offers up some of the best she-crab soup in Virginia Beach and giant platters with samplings of all the local catches.
Enjoy the local produce at a fancy dinner
By November, you-pick season in Virginia Beach has just about finished for the year -- but that doesn't mean fresh, local produce is out of grasp. Butternut squash, sweet potatoes, and more from Cromwell's Produce (and a half-dozen other Virginia farms) are on the menu at Terrapin, an upscale restaurant led by chef/owner Rodney Einhorn. Einhorn, who has cooked at New York's James Beard House twice, most recently as part of their Virginia Craft: Heritage Eats dinner, changes the menu almost daily based on what local ingredients he can source. Our recommendation: order the tasting menu, it's only $58 per person.
Indulge in some local sweets
The Town Center of Virginia Beach is in the heart of the city's business district, and offers plenty of dining options in addition to shopping. To satisfy a sweet craving, check out The Royal Chocolate, run by two local women who have been creating tasty confections since 2006, from decadent chocolate- and caramel-dipped apples to gourmet truffles. The store will also host chocolate fondue parties for up to 20 people, complete with all the stuff for dipping. Yeah, you should definitely save room for dessert.