Everything they eat in Orange Is the New Black: a case study
This past weekend, Netflix dropped a new season of Orange Is the New Black. And while some of you were watching for that recurring eggplant joke as you binged, we were tirelessly cataloging the many things consumed in Litchfield and beyond. It turns out this was a Herculean task, as the show is just as obsessed with food as it is with Laura Prepon's librarian glasses. But we streamlined all our culinary findings, from the pilot episode to the season two finale, in this handy list below.
Anything obviously not eaten (i.e. the infamous tampon sandwich) was left out, and we pushed all the season two stuff towards the bottom in case you're still catching up. We promise we won't tell you anything major, like Pornstache's unexpected pregnancy (oops), but if you only wanna reminisce on season one, look out for that spoiler warning.
Netflix
Food: Roast pig
Episode: S1E1, "I Wasn't Ready"
Things start off with a bang with an entire roast pig, served at Piper's going-away dinner. Things then go downhill alarmingly fast.
Netflix
Food: Chinese take-out
Episode: S1E1, "I Wasn't Ready"
Larry's parents are comforting him with Chinese food when Piper's first call from the clink comes through. The meal is a nice gesture on their part, but everyone knows Jason Biggs' go-to comfort food is apple pie.
Netflix
Food: King Cone
Episode: S1E2, "T** Punch"
A fight breaks out when Flaca messes with Taystee's half-eaten ice cream. To be fair, it was a King Cone.
Netflix
Food: Betty feast
Episode: S1E2, "T** Punch"
Betty the freezer kicks the bucket, and the inmates reap the rewards with a going-out-of-business lunch.
Netflix
Food: Pretzels
Episodes: S1E2, "T** Punch"; S1E3, "Lesbian Request Denied"
Between Larry smugly snacking on them while he watches Mad Men without Piper, and Polly eating 'em as she delivers bad news about their business, pretzels are a veritable portent of doom for this show.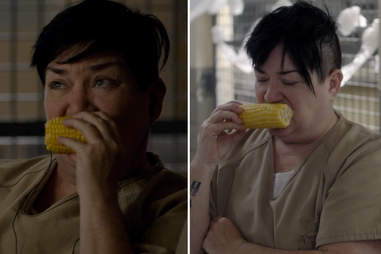 Netflix
Food: Boo's corn
Episodes: S1E2, "T** Punch"; S1E4, "Imaginary Enemies"
Corn is a supporting player in many OITNB episodes, but we had to single out its particular importance to Litchfield's number one dog wrangler, Boo. Corn on the cob -- with salt! -- is the lady's favorite, so much so that she'll even smuggle it under her shirt into movie night. We all have mysterious ways of coping with Dane Cook flicks.
Netflix
Food: Campaign snacks
Episode: S1E6, "WAC Pack"
In an attempt to woo prospective voters for her WAC (Women's Advisory Council) bid, Morello whips up the prison version of tartlets. Intriguing, but we'd like to know what the prison version of bacon-wrapped scallops looks like.
Netflix
Food: "Soft foods"
Episode: S1E6, "WAC Pack"
Trying to get back on track after a disastrous cheat day, O'Neill eats only soft foods throughout one glorious episode. It all culminates in him sneaking Gogurt behind a door, like so many men before him.
Netflix
Food: Donuts
Episode: S1E7, "Blood Donut"
The WAC that's eventually elected sells out its constituents in 10 seconds flat for a few fresh treats from Dunkin', proving that people will really do anything for a Boston Kreme.
Netflix
Food: Awkward Healy dinner
Episode: S1E7, "Blood Donut"
It's a little hard to tell what exactly Healy, his Russian mail-order bride, and his Russian mother-in-law are eating. But it seems pretty obvious it could use more sides. And wine.
Netflix
Food: Thanksgiving feast
Episode: S1E9, "F***sgiving"
Out in the free world, the typical turkey and trimmings are on the table. In jail, there's significantly sadder turkey with potatoes, green beans, and tiny pumpkin pies. Also no gravy, because, as usual, someone peed in it.
Netflix
Food: Chocolate and a carrot
Episode: S1E10, "Bora Bora Bora"
In a flashback, Tricia steals some fancy chocolate and a carrot from Whole Foods. And hey look, there's that hooker from House of Cards. Netflix synergy!
Netflix
Food: Wake offerings
Episode: S1E11, "Tall Men with Feelings"
As Tricia's prison family clears her bunk, representatives from each of the major crews arrive with edible tokens of condolence. Some oranges here, some freshly microwaved Chef Boyardee there, and some contraband candy to complete the meal. All pair excellently with Poussey's prison hooch, which is also brought out for the memorial.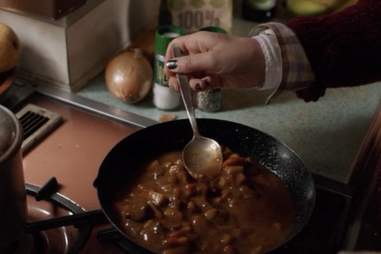 Netflix
Food: Camp stew
Episode: S1E12, "Fool Me Once"
What we can only assume is a stew of upstate New York's finest squirrels, brought to you by Piper's hippie brother and his girlfriend.
 
***SPOILER ALERT***
Season Two
Netflix
Food: Snow cone
Episode: S2E2, "Looks Blue, Tastes Red"
In Taystee's origin story, we learn she earned her nickname thanks to her enthusiasm for "tasty" snow cones as a child. This makes us grateful we never got nicknames based on our kiddie food obsessions, because we'd be going by Dunk-a-Roo Totino's.
Netflix
Food: Job fair brownie
Episode: S2E2, "Looks Blue, Tastes Red"
The job fair brownies are only spied briefly, but they look pretty delicious, and well-read on their prospective employer.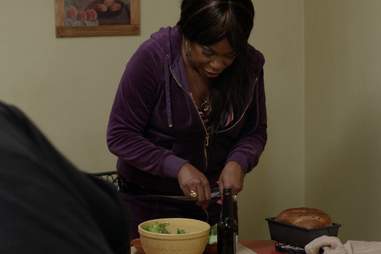 Netflix
Food: Vee's family dinner
Episode: S2E2, "Looks Blue, Tastes Red"
Back in simpler times, Vee made Taystee and her other surrogate kid a balanced meal of butternut squash soup, salad, and bread with flaxseed. What an awesome drug-dealing mom.
Netflix
Food: Funfetti cake
Episode: S2E3, "Hugs Can Be Deceiving"
To get her girl Taystee back, Vee obviously goes for the dessert no mortal can resist: Funfetti cake with chocolate icing.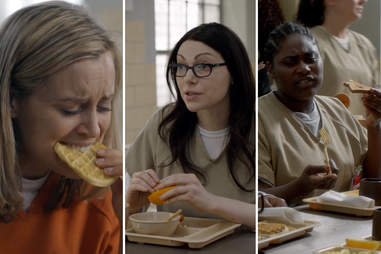 Netflix
Food: Breakfast
Episodes: Several
We know it seems like a cop out to count "breakfast" as one food, but there are no points for variety when it comes to the most important meal of the day at Litchfield. Most of the time, you'll see waffles, maybe some toast, maybe some oatmeal, plus an orange. Special shout-out to the spicy eggs everyone loved so much in the season one finale, and the Cheerios that Pennsatucky ate while telling the story of how her brother ate a bald eagle.
Netflix
Food: Hot dogs
Episodes: Several
Franks are also kind of a celebrity on this show -- on top of gracing many cafeteria lunches, they pop up at Cal's camp, better known as the site of horrible trend piece ideas.
Netflix
Food: Disgusting mac 'n cheese
Episode: S2E5, "Low Self Esteem City"
Betrayal in prison always bites, but never worse than when it's coming from your beloved, reliably delicious mac 'n cheese.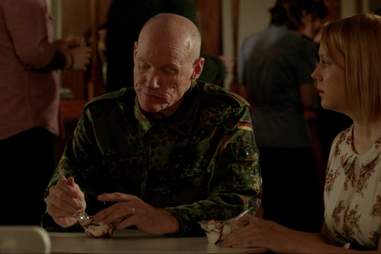 Netflix
Food: Bigot ice cream
Episode: S2E6, "You Also Have a Pizza"
This German dude is enjoying a nice sundae, and he has no right to, because he was mean to teenage Poussey. But he also looks like a more-battered John Malkovich, so maybe he's been punished enough.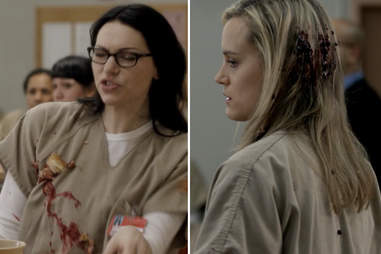 Netflix
Food: Pie
Episodes: S1E2, "T** Punch"; S2E9, "40 Oz of Furlough"
Pie is enjoyed by the inmates in non-airborne forms as well, but it's twice proven itself to be a powerful silencing tool.
Netflix
Food: Lettuce
Episode: S2E9, "40 Oz of Furlough"
Because everyone knows lettuce is a vital grieving snack.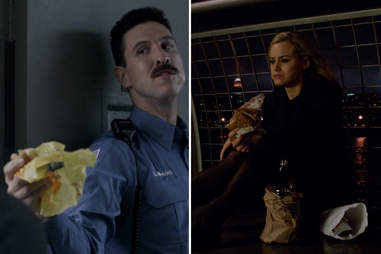 Netflix
Food: Fast-food burgers
Episodes: S1E2, "T** Punch"; S2E9, "40 Oz of Furlough"
It wouldn't be true to life if a man dubbed Pornstache wasn't eating a greasy drive-thru burger, but Piper also gets in on the action during her funeral furlough.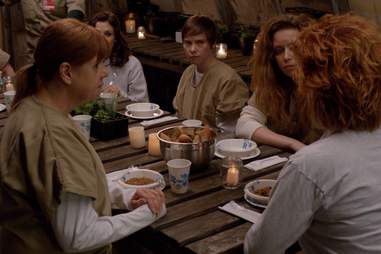 Netflix
Food: Red's atonement dinner
Episode: S2E9, "40 Oz of Furlough"
The family meals from scary matriarchs keep on coming as Red serves up apology stew, bread, and even nice prison libations to her children.
Netflix
Food: Pizza
Episodes: S2E11, "Take a Break from Your Values"; S2E12, "It Was the Change"
Frankly, it's a little weird it took this long for pizza to show up to the party, but it makes the most of its time with back-to-back appearances in late season two.
Netflix
Food: Slider
Episode: S2E12, "It Was the Change"
Behold the seediest part of Fig's embezzlement scheme: the secret slider fund.
Netflix
Food: Cookies
Episodes: Several
Whether they're Oreos or inappropriate Valentine's Day creations, cookies are a constant presence in the OITNB universe. Sadly for everyone involved, we've yet to spy any Thin Mints, but we're sure Red's working on funneling those in with the next shipment of Biore pads.
Netflix
Food: Sandwiches
Episodes: Dear lord so many
When Piper accidentally stole a screwdriver, sandwiches were there. When Red was recuperating, sandwiches were there. When basically anything on this show ever happened, sandwiches were there. The most ubiquitous food by a long shot, sandwiches are the glue that holds Litchfield together. May they always be adequately stuffed, and never go stale.
Kristin Hunt is a food/drink staff writer for Thrillist, and is taking a furlough from Orange Is the New Black until the cafeteria hallucinations end. Follow her at @kristin_hunt.