Visual Proof That Everything Is Better With Avocado on It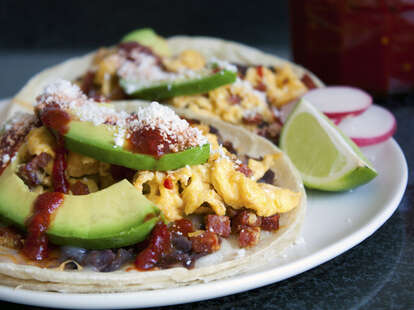 Perry Santanachote/Thrillist
Perry Santanachote/Thrillist
Breakfast sandwiches, tacos, toast -- all of these foods are totally fine, but something pretty damn special happens when you pile them high with avocado. That oblong, green fleshy-bodied fruit instantly upgrades any ole foodstuff into something worth taking a picture of and uploading onto an online mobile photo-sharing, video-sharing, and social-networking service, where it will eventually be discovered by an internet writer and included in a scrumptious list.
Breakfast sandwiches are obviously better with avocado on them
Tacos are totally improved by the addition of avocado
The avocado bun is visual proof that everything is better when it's on avocado
These cornmeal waffle breakfast nachos... are better with avocado on them
This green shit is 100% better with avocado on it
This veggie burger is superior to other veggie burgers without avocado on them
Even Jean-Georges' roasted carrots are better with avocado on them
Couscous is super lame! Until you put avocado on it, of course.
This ceramic bowl? SO much better with 'cado on it.
Sign up here for our daily Thrillist email, and get your fix of the best in food/drink/fun.