These Photos Capture the Magic of Dogs Eating Peanut Butter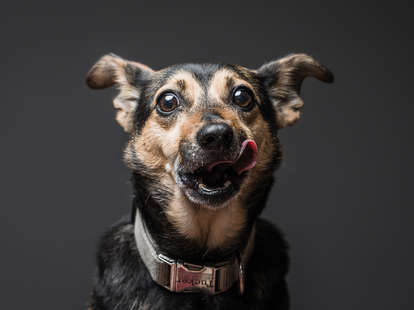 Dogs will eat just about anything resembling food. Sometimes even stuff that doesn't resemble food. But while they're not always the most discerning of beasts, there's one thing dogs agree with humans on: running around without at leash is great.
Also, that peanut butter is delicious.
To that end, Cleveland-area photographer Greg Murray began snapping photos of dogs enjoying peanut butter in a series called, "For the Love of Peanut Butter." In it, Murray captures the snout-licking ecstasy a variety of breeds exhibit upon tasting the creamy stuff, with no kongs required. But more importantly, Murray is hoping to bring the images to a coffee table near you -- in the form of a photo book currently up on Kickstarter.
As of March 30, Murray's Kickstarter page has already raised more than $5,200 toward the initial goal of $3,750, and thus far, the list of breeds photographed extends from Chihuahuas to Great Danes. As Murray explains, "As of March 22nd, 2016 I've photographed 47 dogs. That's only taken about 5 weeks as I'm photographing 5-8 a week! My plan is to photograph about 30-40 more over the next two months. The waiting list is long."
You don't get voted "Cleveland's best pet photographer" for nothing.
Aside from photographing fun photos of pups, Murray also advocates for responsible pet adoption; the majority of the dogs he's photographed are shelter rescues.
"If you plan on going to a breeder, please ensure that you do your research so that you are not supporting puppy mills. Also know that there are breed specific rescues out there," Murray said.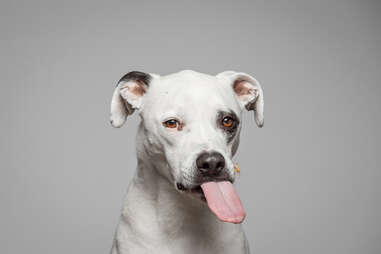 Murray quit his decade-long corporate career two years ago to turn his avocation into a vocation, according to Cleveland.com. Additionally, as of this article's publishing, Murray has about 6,000 Instagram followers, too, which features even more silly photos of dogs eating peanut butter. Look for yourself.

In a phone conversation, Murray told Thrillist he was preparing for several television interviews in the next few days. Those, combined with the online media blitz, will likely blow up Murray's accounts and business by orders of magnitude.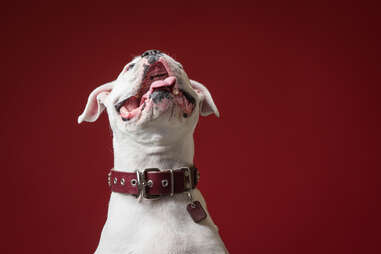 If there's one thing this book and Kickstarter should teach you: figure out a way to get people to pay you to talk about dogs. People are crazy about their pets.
And peanut butter is delicious.
Check out more of Murray's work below.
Sign up here for our daily Thrillist email, and get your fix of the best in food/drink/fun.
Ryan Craggs is Thrillist's Senior News Editor. He lives with a French bulldog, his brother is director of a dog rescue non-profit, and he grew up outside Cleveland. This story hits close to home. Follow him @ryanrcraggs.