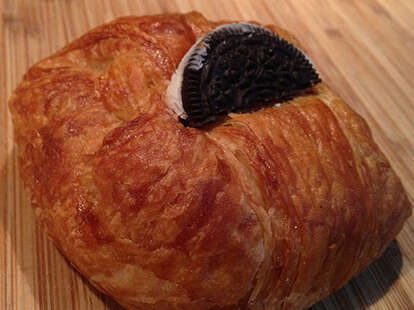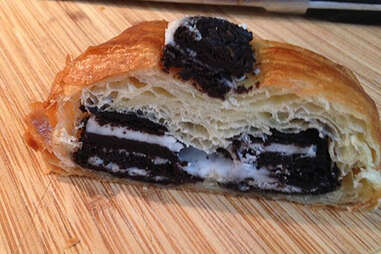 Wrong! It's a croissant with crushed Double Stuf Oreos and icing sugar packed inside the dough, then baked with half an Oreo on top. And when you bite in? It's "creamy and sweet, with the cream wrapping itself in the croissant dough and a crunchiness from the Oreo bits," says Olivier Jansen-Reynaud, Clafouti owner and baker.

Here's how this baked beauty came about: Toronto-based publication The Grid TO approached Jansen-Reynaud with an organized chef challenge to create a new dessert using two classic but different ingredients. Oreos became French-born Olivier's favorite cookie when he arrived in Canada years ago, and everyone loves shoving things into croissants. It took several tries to get the shape correct so that the oozy Oreo cream stayed within the flaky pastry layers, but now customers have been ordering the perfected dessert by the half-dozen, and Jansen-Reynaud says that production will ramp up along with the demand.

Toronto! It's good for more than just Wendel Clark in NHL '94.