Sure, Whole Foods has a whole arsenal of herbal supplements that may or may not be great for partying. But for nearly 5,000 years the Chinese have been combining herbs to treat everything from back pain to hepatitis.
To help explain how these herbs can help you, we enlisted acupuncturist and Chinese medicine specialist Karen Greathouse of Turtle Dragon Herb & Tea Co. in Austin, TX to share her 20yrs worth of knowledge on some of the most common herbs in the Chinese canon.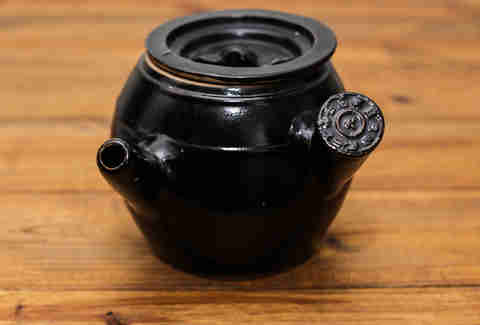 Be warned: Before you go mainlining pretty purple fields of Baikal skullcap flowers, know that most practitioners combine 10-20 herbs into a tea or powder that's fine-tuned to the root causes of each patient's specific symptoms in conjunction with acupuncture treatment.
If you're not willing to go under the needle (which is actually quite pleasant and nap-inducing), a knowledgeable herb shop clerk should be able to recommend a standardized formula to help cure what ails you. Here are some common ingredients:
Common name: Japanese honeysuckle flower
Chinese name: Jin Yin Hua
Uses: Antibiotic, anti-inflammatory, and antipyretic (fever) properties; treating respiratory infections, gastrointestinal woes, skin sores, and ulcerations and abscesses
The lowdown: More invasive than its American cousin, Japanese honeysuckle vines can grow up to 10ft in height. It's one of the oldest medicinal herbs in the world and a favorite of both acupuncturists and hummingbirds.
Common name: Scutellaria or Baikal skullcap
Chinese name: Huang Qin
Uses: As an antibacterial aid, antioxidant, and anti-inflammatory agent; treating allergies and hepatitis; to help with bile production and liver protection
The lowdown: In laboratory studies on mice, extract of Huang Qin suppressed the inflammation and swelling associated with allergic reactions, so the Brain's eyes would be way less Pinky. It can also help antibiotics combat methicillin-resistant staph infections.
Common name: Eleutherococcus or Siberian ginseng
Chinese name: Wu Jia Shen
Uses: As an immunostimulant; treating fatigue, low appetite, lower back pain, poor concentration, stress, altitude sickness; to help sleep cycle regulation and endurance
The lowdown: Samurai actually planted this bush around their master's castles as fencing due to its thorny properties. And Soviet Olympians reportedly used this during training. They're kind of like the Soviet samurai, but with furry hats instead of top-knots.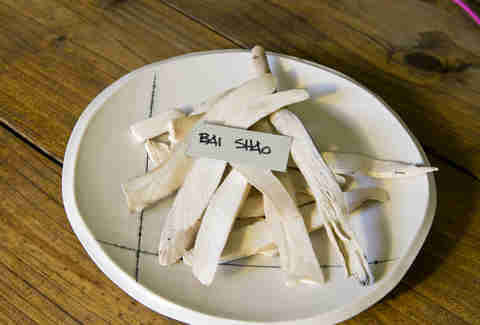 Common name: White peony root
Chinese name: Bai Shao
Uses: Treating PMS, painful menstruation, twitching, peptic ulcers; relaxing intestines and uterine muscles; as a pain reliever 
The lowdown: It is often used in gynecological formulas for PMS, painful or irregular menstruation, and other things that might be bothering your lady during that time of the month. The etymology of peony comes from the Greek figure Paeon, who was doctor to the gods. He angered the god of medicine, and the only way to save him was for Zeus to turn him into the flower which bears his name. Now he's picked on by acupuncturists rather than vengeful Greek gods.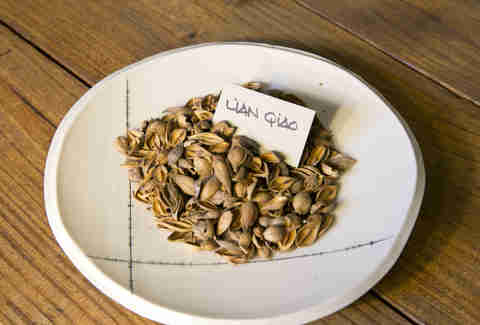 Common name: Forsythia
Chinese name: Lian Qiao
Uses: Treating common colds, skin sores, flu and respiratory problems, burning urination; as an antibacterial and anti-inflammatory
The lowdown: The slender sticks of the plant are also used to play the Ajaeng, a Korean stringed instrument that sounds similar to a cello with a sore throat. Maybe because it's not used to treat strep.
Common name: Corydalis
Chinese name: Yan Hu Suo
Uses: Treating chronic pain; as a muscle relaxant and anti-inflammatory
The lowdown: The scientific journal Current Biology recently released a study that corydalis can help alleviate pain characterized as chronic, but sources close to Dr. Dre say you that we'll probably never know how about it's Detox-ification effects.
Common name: Lycium fruit or goji berry
Chinese name: Gou Qi Zi
Uses: Treating blurry vision, dizziness, lower back pain, impotence, premature grey hair
The lowdown: It was named by the Roman author Pliny the Elder, who also named a beer that would've made our top IPA list if it wasn't a double IPA. The berry is also used in pretty much every smoothie.
Common name: Citrus peel
Chinese name: Chen Pi
Uses: Treating nausea, loose stool, loss of appetite; as an expectorant 
The lowdown: The digestive properties of citrus peel are responsible for it making its way into Chinese cooking. Also, the meat of the fruit is very effective at replenishing energy during youth soccer games, but only when cut into triangles.
Common name: Mint
Chinese name: Bo He
Uses: Treating upper respiratory conditions, gastrointestinal problems (diarrhea, indigestion, flatulence), headaches, rashes
The lowdown: There are over 500 species of mint, not just the three that are used to make gum (peppermint, spearmint, Doublemint). The National Institute of Health recommends it as a remedy for upset stomachs. And a study in the medical journal Phytomedicine showed that recurring herpes outbreaks respond positively to treatments of mint balm oil, though probably not to mojitos.
Common name: Hawthorne fruit
Chinese name: Shan Zha
Uses: Treating hypertension, reducing cholesterol, improving cardiovascular health (blood flow, abnormal heart rhythms)
The lowdown: According to legend, Joseph of Arimathea drove his staff into the ground once in Somerset, England, and a Hawthorne tree sprouted full of berries that probably would've helped relieve the abnormal heart rhythm caused by this magical feat of nature.
Dan Gentile is a staff writer on Thrillist's national food/drink team who recently purchased a very nice toaster oven and is excited about exploring the world of crispy reheated food. He also enjoys hating mustard. Follow him to pots of gold/Twitter at @Dannosphere.