Applebee's Is Giving Away Free Food so You'll Eat There
All photos courtesy of Applebee's
Eating at chain restaurants can be a mixed bag, depending on the location you visit and the time of day. To combat this public perception, and in celebration of its newly revamped menu, Applebee's has announced that July 21st will be "Taste The Change Day," meaning every customer will receive two free sampler plates with their meal: Sriracha Shrimp and Churro S'Mores.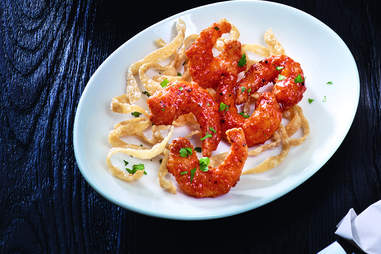 The Sriracha Shrimp is exactly what it sounds like: shrimp, coated in a flaky crust and tossed in a Sriracha Chile Lime sauce. The Churro S'Mores, meanwhile, are twisted bits of cinnamon churro pastry served with a warm marshmallow and chocolate dip.
Like all giveaways, though, there are some caveats. The free samples will be served at most (but not ALL) Applebee's locations, and are available to dine-in customers only.
Additionally, it's limited to one sampler per party -- so unless it's just you and a date (at Applebee's?!), you'll probably only get a few bites. Still, who are you to turn down free food? The samplin' goes down on the 21st, from 11am until closing.
Gianni Jaccoma is a staff writer for Thrillist, and he never knew he wanted Churro S'Mores this badly. Follow his diabeetus on Twitter @gjaccoma, and send your news tips to news@thrillist.com