How to Score Free Food for the Next Year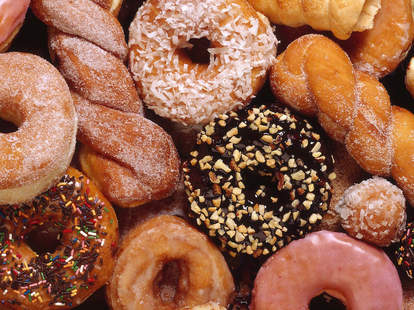 <a href="https://www.flickr.com/photos/68711844@N07/15821835951" rel="nofollow" target="_blank">Michael Stern/Flickr</a>
Probably because of magic, free food always tastes better than food you paid for. To endeavor to give you this fabulous feeling of satiation sans spending money as often as possible, we compiled an entire calendar year of dates when you can walk into stores and franchises around the country and demand free donuts, ice cream, and more -- and actually get them. Feast your eyes and (eventually) your gullet below.
<a href="https://www.flickr.com/photos/beleaveme/5915890913/" rel="nofollow" target="_blank">Bob B. Brown/Flickr</a>
July
Dying one's tongue unnatural colors in the summer is a God-given right and American tradition, which is why we're pleased to say 7-Eleven is continuing their 7/11 Day in July, celebrating by handing out a free small slurpee to everyone down to paint the tongue red.
Chik-fil-A is also dishing out summer goodies for Cow Appreciation Day on July 14th for a weird, not-monetary price -- brave bovine souls get a free meal for dressing up as cows. 
And, if two months of free ice cream isn't enough, Carvel is also giving out BOGO soft serve cones on July 19th.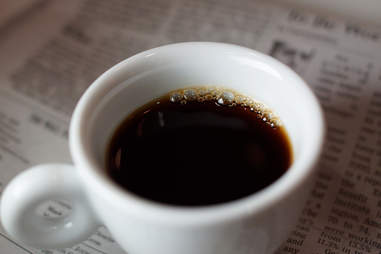 <a href="https://www.flickr.com/photos/trophygeek/7309925740/" rel="nofollow" target="_blank">trophygeek/Flickr</a>
September
Although summer is basically over, Krispy Kreme is keeping the free doughnut spirit of June alive on September 19th in observance of  Talk Like A Pirate Day -- talking like a pirate gets you one free glazed doughnut, and dressing like a pirate gets you one dozen free doughnuts. 
Also, for National Coffee Day on September 29th you can hit up Krispy Kreme (again!) for a free small brewed coffee, no purchase necessary.
<a href="https://www.flickr.com/photos/rrrrred/5133730545/" rel="nofollow" target="_blank">Erica Minton/Flickr</a>
October
Besides going from house to house for free candy, you can instead head over to Chipotle on Halloween in costume and grab a $3 burrito for their annual Boorito day, and then pop by Krispy Kreme (still in costume!) for one doughnut of your choice -- a much more satisfying version of trick-or-treating.
 
November
Veterans Day pulls out all the stops free food-wise if you're a veteran -- at Applebee's, they get a free entree, which can be followed up with a free doughnut and small beverage at Krispy Kreme.
 
December
Insomnia Cookies comes through with a sweet way to end the year thanks to National Cookie Day on December 4th, giving out a free chocolate chunk cookie with any purchase (we recommend just getting some milk to accompany said cookie).
<a href="https://www.flickr.com/photos/elvissa/684020747/" rel="nofollow" target="_blank">elvissa/Flickr</a>
February
If you're in a loving relationship, your freebie for February might just be candy on V-Day. But if not, there's always froyo. National Frozen Yogurt Day is in February, and Yogurtland is honoring it with free yogurt from 4 to 7pm on a yet-announced date.
There's also IHOP's National Pancake Day, which floats between February and March. This year it fell on March 3, 2015, but in the past it's also occurred as early as February 5th, so stay tuned for the announcement of when it's going down for real in 2016! Expect a free short stack of (three) buttermilk pancakes when you show up.
<a href="https://www.flickr.com/photos/roboppy/14431203270/" rel="nofollow" target="_blank">Robyn Lee/Flickr</a>
March
Shaking a brave fist at March's blustery nonsense, Rita's Italian Ice is continuing their tradition of handing out free Italian ice on March 20th to welcome the first day of spring.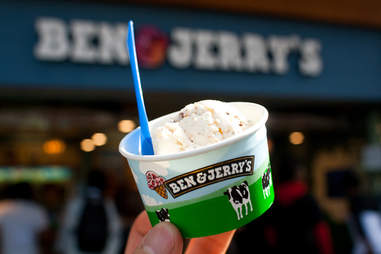 <a href="https://www.flickr.com/photos/ben-jerry-france/4560574394/" rel="nofollow" target="_blank">benjerry.fr/Flickr</a>
April
Ben & Jerry's is continuing their Free Cone Day on a yet-announced April 2016 day, giving out a free small cone to ice cream acolytes. April 15th is -- yes, Tax Day, but also a motherlode for free/discounted food deals to soothe the battered souls and wallets of Americans across the country.
 
May
Of course the only thing better than one free cone day is another Free Cone Day hosted by Häagen Dazs this upcoming May. Similar to Ben & Jerry's, the company is still mum on the exact day and details, but seeing as this past May saw one-scoop cones handed out no charge, expect a similar deal next May.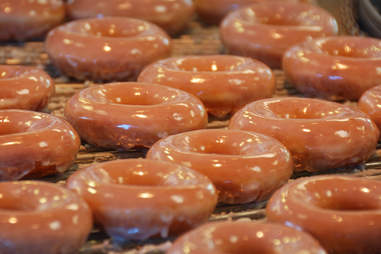 <a href="https://www.flickr.com/photos/ableman/2952225573/" rel="nofollow" target="_blank">Scott Ableman/Flickr</a>
June
What better way to welcome summer than with excessive amounts of fried dough? Thanks to National Donut (Doughnut? Doenuht? Whatever) Day, you can do just that on June 3rd, courtesy of Krispy Kreme, Dunkin' Donuts, and frankly, probably a whole host of other fine local donut purveyors. Krispy Kreme is definitely giving out one free doughnut of any variety at participating locations, whereas Dunkin' Donuts is participating for sure, but has yet to firm up the details of their deal -- this past year the deal was one free donut with the purchase of any beverage.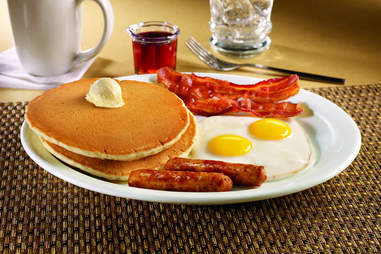 Courtesy of Denny's
And the most important free food holiday of all...
Ya birthday! Here's the rundown of how you can pig out fo' free all day. Many of these places send their deals in coupons via email, but some you can just show up and flash an ID for.
At Denny's you just need to show up with a valid ID to get their Grand Slam Breakfast, and Wendy's provides a gratis frosty with a coupon you'll find in your inbox. Similar to Wendy's, Applebee's will award you a free dessert (or entree! Depending on the restaurant), with a coupon whereas lunch is on Au Bon Pain. Baskin Robbins sends a free ice cream email, as does Ben & Jerry's, and Dunkin' Donuts gives you a free medium drink. IHOP will send you the coupon for a free full stack of Rooty Tooty Fresh 'N Fruity pancakes (it's okay if you need a minute before ordering).