An age-old maxim states that the best things in life are free, but that wasn't really true until the mid-20th century when Lou Mitchell started giving away Milk Duds.
Everyone loves it when a restaurant goes above and beyond free bread and butter and offers diners something more substantial to snack on. To honor their generosity, we've compiled a list of 15 restaurants that shower their patrons with gifts ranging from humble cornbread muffins to mussel-topped bruschetta. Read on for a list of free eats that will have you asking for seconds, and let us know what freebies we're missing out on in the comments.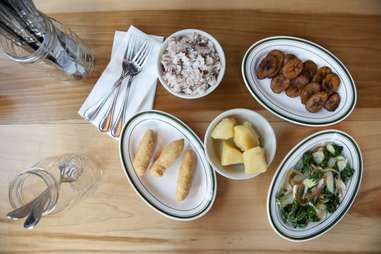 Pickled pineapple and coconut ice cream
Glady's
New York
This Crown Heights hot spot has embraced the hood's Caribbean roots with a menu full of jerk and festival bread, but the meal starts and ends on irie notes with free pickled pineapple and coconut ice cream.
Seaweed-dusted popcorn
Ruxbin
Chicago
Ruxbin is lauded as one of Chicago's best BYOB spots, but before you pour yourself a very reasonably priced Merlot to accompany their Mission fig lamb saddle, you'll be getting down on handfuls of popcorn coated in the oceanic umami.
Hush puppies
L&E Oyster Bar
Los Angeles
Seafood in Silver Lake doesn't get much better than at L&E, but before picking from over 100 varieties of rotating oysters, you best believe you'll be digging into some spice-sprinkled hush puppies.
Green chile beans
The Owl Cafe
Albuquerque
This archetypical New Mexico diner is best known for their green chile cheeseburger and the owl sculpture perched atop their building, but the cherry on top of every meal is a sample of their savory green chile beans with crackers.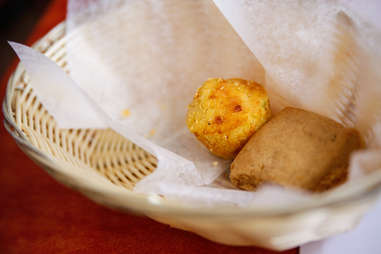 Jalapeño cornbread and cinnamon biscuits
Hoover's Cooking
Austin
Before cutting into a massive chicken-fried steak at one of the best soul food restaurants in the country, you'll have a hard time not filling up on the free skillet-baked jalapeño cornbread muffins. But if you manage to save them, they're great for sopping up gravy.
Seafood tostada
Mariscos El Veneno
Atlanta and Chicago
Each meal at Mariscos begins with a surprisingly large seafood tostada made with the catch of the day, which varies from a grab-bag ceviche to lump crab. The bonus bites makes it downright criminal not to tip the mariachi band that moves from table to table.
Edamame and hot sake
Ginza
Narberth, PA
Just outside Philadelphia, this sushi joint takes some of the bite out of your bill with a free bowl of edamame and two gratis pours of hot sake if you say the magic word (please!).
Cinnamon rolls
Ann Sather Restaurant
Chicago
Ann Sather passed away in 1996, but the matriarch of this Swedish diner's spirit lives on with each plate of steaming cinnamon rolls. Not that you're eating her spirit...
Rasam soup
Udipi Cafe
Houston and Richardson, TX
This mini Texas chain of vegetarian Indian hole-in-the-walls prepares diners for an onslaught of spice with a hot bowl of tamarind and tomato-based rasam soup.
Chocolate pudding and fortune-telling fish
The Mermaid Inn
New York
Known for their Sunday Lobsterpalooza and fried clam sliders, every meal at Mermaid Inn has a happy ending thanks to chocolate pudding and a fortune-telling fish... the latter of which you probably shouldn't eat, since they're plastic and not Swedish.
Next-level focaccia
Giovanni Rana Pastificio & Cucina
New York
The basket of warm focaccia that arrives with every meal isn't your Grandmother's Olive Garden breadsticks. The bread is topped with garlic confit oil and imported Parmigiano Reggiano, served alongside reserve extra-virgin olive oil and a bowl of fancy salt from a British company that's been making it for over a century, which is just about as long as Granny has been getting down on those breadsticks.
Homemade bread
Damon Baehrel
Earlton, NY
No other upscale amuse bouches made this list, but we'd be remiss not to include at least one. The hefty price tag for the tasting menu at this exclusive upstate NY eatery means you're certainly paying for this, but it may just be the best bread you'll ever break. The self-taught chef bakes it using flour he grinds himself from ingredients on-site, including pine nuts and acorns.
Killer garlic rolls
C&O Trattoria
Los Angeles
Known for 20+ years of serving "gargantuan proportions" of classic Italiano, every meal at C&O starts off with a plate of garlic rolls whose addictive qualities were compared to crack by our LA editor Jeff Miller, who has smoked more than his fair share of them.
Bruschetta with mussels and fried zucchini
Il Mulino South Beach
Miami and New York
Stomaching the price tag of $50 ravioli can be tough, but Il Mulino does its damnedest to please with a parade of free eats starring bruschetta and fried zucchini.
Milk Duds, donut holes, and ice cream
Lou Mitchell's Restaurant
Chicago
Milk Duds originated in Chicago, and the founder was a regular customer and buddy of Uncle Lou himself. Thus began the tradition of passing the candy out to every woman and child. As if that weren't enough, they also offer free freshly baked donut holes and a scoop of ice cream.
Dan Gentile is a staff writer on Thrillist's National Food and Drink team. He can confirm that several cornbread muffins were harmed in the making of this story. Follow him to suspiciously bulgy pockets at @Dannosphere.