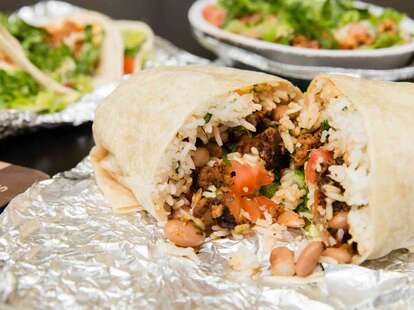 Cole Saladino/Thrillist
Cole Saladino/Thrillist
As a kid, the concept of Halloween was relatively mind-melting: You show up at a stranger's house, and they literally hand out free candy, just for asking and dressing up like your favorite Power Ranger or Colombian drug lord. Imagine if you could do the same at, say, your local Krispy Kreme?
If the thought of adult trick-or-treating tickles your innards, I'm about to drop a nugget of knowledge that may or may not cause you to break into "Monster Mash"-esque convulsions. This Halloween, there are myriad ways to score free (or heavily discounted) food, without going door-to-door. In fact, many of your favorite food chains are offering cheap eats on and around the 31st -- and we're about to tell you how to snag 'em.
The deal: You can purchase a specially priced $3 burrito, expertly coined "Boo-rito." All you have to do is wear a costume with an unnecessary additive (like a vampire costume with a handlebar mustache, or a Donald Trump costume with an actual sense of self-awareness). It's all a statement about the surplus of unnecessary additives at dining establishments that aren't Chipotle (get it?).
When: Halloween, from 3pm to closing time
The deal: One free donut to anyone in costume -- and it has to be a real costume. You can't dress normally and claim to be an "off-duty fireman."
When:All day, son
The deal: One free "Scary Face" pancake. But there's a catch: It's only for kids under the age of 12. So, hopefully you know a kid you can borrow, or you just have boyish good looks as a result of vigorous daily moisturizing, like me.
When: From 10am to 7pm on October 31st
The deal: Nothing screams Halloween like half-priced corn dogs, obviously -- so Sonic made its trademark meat-on-a-stick 50 cents a pop in honor of Hallow's Eve. I mean... I'm not complaining.
When: October 31st, all day
The deal: Snag a scoop of ice cream for a mere $1.31, and a chance to win free ice cream cakes for a year with its Piñata Pumpkin Patch Cake Promotion (yes, it's really called that).
When: All day, Halloween
The deal: Buy a $1 coupon booklet from America's favorite redheaded burger-schlepper, receive five Junior Frostys, also support foster care services -- everyone wins.
When: All day, Halloween
The deal: Everyone's favorite casual Australian-themed restaurant (or at least top five, right?) is jumping on the Halloween bandwagon by offering a pretty legit deal: 15% off an entire check (only for dine-in customers) from open till close. Don't forget to print out the coupon!
When: All day, Halloween
Sign up here for our daily Thrillist email, and get your fix of the best in food/drink/fun.
Wil Fulton is a staff writer for Thrillist. He thinks fortune favors the bold. And also the rich. Follow him @wilfulton.