French Onion Soup

| Photo courtesy of the Odeon
French Onion Soup

| Photo courtesy of the Odeon
French onion soup is a classic for a reason—it's a supremely satisfying and belly-warming comfort dish that requires only a few ingredients to prepare. Onion soup has actually been made since ancient Roman times around 8,000 years ago, but the first versions of the modern soup we know and love today originated, where else, but in 18th-century France.
Since its inception, French onion soup has been a staple of classic brasserie menus and is actually the favored hangover cure for many households all over France.
When tasting a properly prepared French onion soup, the first thing you're hit with is the salty flavor and oozing texture of either Comté or Gruyère cheese—a thick slice of which should be found melting atop each individual soup crock, and helps differentiate the soup recipe from most others. (I think we can all agree that cheese-topped soup is always better than non-cheese-topped soup.) Next, you'll taste the toasted bread croutons, which will have soaked up massive amounts of flavor from the rich veal broth and caramelized onions below.
Helping to make the case for French onion soup supremacy is the ability to tweak your recipe to your liking and still be rewarded with a delicious end product. For example, vegetarians could easily swap veal or beef broth with mushroom stock for a meatless soup with a similar umami, or mouthfeel. If you don't have Comté or Gruyère on hand, try grating Parmesan on top of your soup crocks instead, or even meltable vegan cheese.
"French onion soup is very versatile," says chef Andy Xu, who serves as executive chef of the Odeon in New York City. "It could serve as the perfect starter, or if you're not as hungry it's also heavy enough for you to call it a meal, with some bread and a glass of wine."
Tips for making the perfect French onion soup at home
Chef Xu says that the trick to making great French onion soup at home is to master the art of onion caramelization, which is really all about patience. The sweet flavor from caramelizing the onions makes up a bulk of your soup's flavor, so it's also important to start with the right base. While you're gathering your supplies from the grocery store, make sure to pick a sweet onion like the vidalia variety, rather than a more harsh or acidic white onion.
After adding your butter and chopped onions to the pot, Xu also points out to us that the key is to just leave it alone. Sometimes it can be hard to dissuade yourself from stirring, especially if you see some brown bits starting to form, but it's important to allow the onions to begin the caramelization process for at least 10 minutes before you scrape the bottom of the pan and give it an initial stir. Overall, you're looking at just about an hour for the onions to reach a perfect deep brown color, so don't be afraid to pour yourself a glass of wine and flip on a show while you wait—just don't forget to return to the pot to stir occasionally.
Depending on how soft or crunchy you want your bread to be, you can choose to bake slices of baguette or cut your loaf into smaller cubes. The smaller the cube the more golden, toasted surfaces there will be.
When it's finally time to ladle the soup into individual ceramic crocks or bowls, make sure the oven is on and ready to finish the process of melting the slices of cheese, as the soup itself won't warm up much during those last few minutes in the oven, and this soup is best served piping hot. Alternatively, you can melt the cheese without even sticking it into an oven if you have a brulée torch handy.
"A key element to French onion soup is the level of salt," Xu says. "You want to season it, but a little less than you would for normal soup because the cheese itself is salty. If you salt it correctly for the level of other soups, it might become too salty once the cheese is added."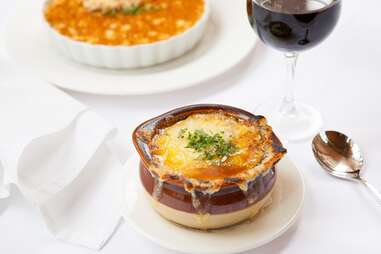 The Odeon's French Onion Soup Recipe
Yield: Serves 4-6 with possible leftovers
Ingredients:
• 8 sweet vidalia onions, thinly sliced and caramelized
• 2 qts chicken stock
• 3 qts brown beef stock
• 2 kitchen spoons Dijon mustard
• Salt and black pepper
• 1 cup sherry wine
• Sliced Gruyère cheese
• Croutons of your choice
Directions:
1. Add about 3 tablespoons of unsalted butter to a heavy bottomed pot, then add your thinly sliced onions
2. Leave for around 10 minutes and then stir occasionally, with more regular stirring required towards the end of the process
3. Deglaze your caramelized onions with sherry wine
4. Slowly add both chicken and beef stock
5. Simmer on low for 1 hour
6. Season with salt, pepper and Dijon mustard to finish
7. Divide your soup into crocks, and cover the tops with croutons followed by cheese
8. Broil for 3-5 minutes, or until the top of your cheese begins to look golden
Note: While some French onion soup recipes call for flour, the Odeon's does not require it as long as you use the directed amount of onions. If you would like a thicker soup consistency, feel free to add one tablespoon of all-purpose flour between steps 3 and 4—stirring and allowing 2-3 minutes for the flour to dissolve before adding your broth.
Austa Somvichian-Clausen
is a freelance food and travel writer, who lives in Brooklyn with her girlfriend and two fur babies.