The Minnesota State Fair has long been famed for creating some of the world's most creative and calorically impossible gut-bombs, and this year was no different. And even though the textbook-Scandinavian paralyzing fear of outsiders leads said 'Sotans to call it the "Great Minnesota Get-Together", our man on the ground assures us that you're allowed to go, too...

... if you can handle a deep-fried Monte Cristo on a stick, that is. Check out that and nine of this year's other champions of cholesterol.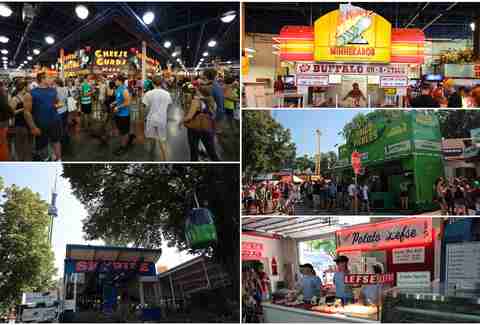 From all-things-possible on a stick, to a veritable cheese curds factory, to a stand devoted solely to Norwegian potato tortillas, for the two weeks leading up to Labor Day each summer, the MNSF is, without question, the greatest/greasiest eating destination in the world.
Breakfast Sausage Corndog
Hansen's Foods
Sure the fair's got regular corndogs, pronto pups (potato instead of corn batter), and cheese on a stick (cheese instead of a dog), but now there's this totally balanced breakfast: sausage links dipped in a pancake-y corndog batter and served with a side of maple syrup.
Deep-Fried Monte Cristo (On A Stick)
The Sandwich Shop
Because Monte Cristos weren't calorically dazzling enough just the way they were, some dudes decided to stick an entire ham, turkey, Swiss, and American triple-decker into a deep fryer, jab a stick through it, and cover it in powdered sugar.
Dough-Sant
French Meadow Bakery
Just when you thought the Minnesota State Fair wasn't sophisticated they go and drop a powdered sugar-dusted, deep-fried donut on the world. Dominique Ansel clearly needs his own state fair.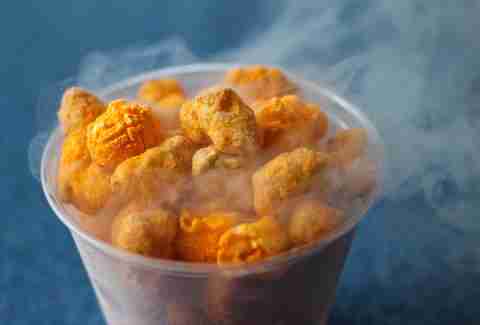 Comet Corn
Blue Moon Dine-In Theater
Mix caramel puffcorn and cheese popcorn together, stick a ladle-full in a vat of liquid nitrogen, and what emerges is a steaming cold cup of bizarreness that, if eaten within 10sec of its liquid nitrogen bath, will actually freeze to your tongue. Maybe wait 11.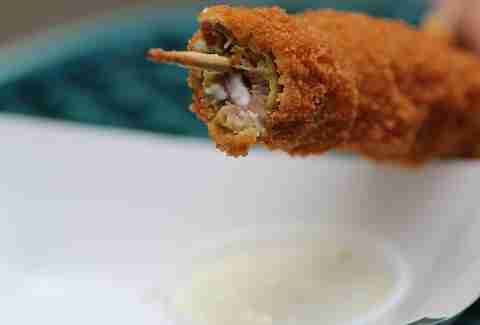 Deep-Fried Olives
Fried Fruit
Stick five robust, cream cheese-stuffed green olives on a stick, dip them in a seasoned batter, and deep-fry them to salty perfection, please. Goes great in flash-fried martinis.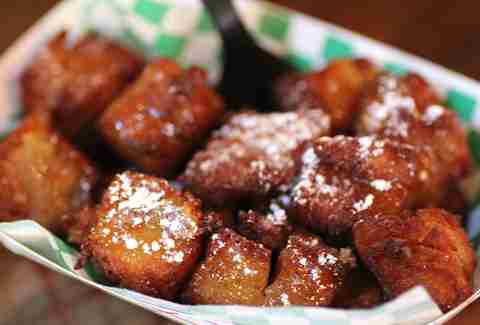 Deep-Fried Bread Pudding
O'Gara's
Ranking high on the likely-to-vanish-in-under-35-seconds-except-for-all-the-stuff-on-your-shirt scale, this is pretty much exactly what it says it is: deep-fried cubes of scratch bread pudding topped with caramel sauce and powdered sugar.
Lift Bridge Brewery's Mini Donut Beer
Ballpark Cafe
Served in a glass rimmed with the eponymous mini donut coverings of cinnamon and sugar, MN craft brewery Lift Bridge's sweet, malty beer tastes, no kidding, almost exactly like the Tom Thumb mini donuts that're sold right down the street.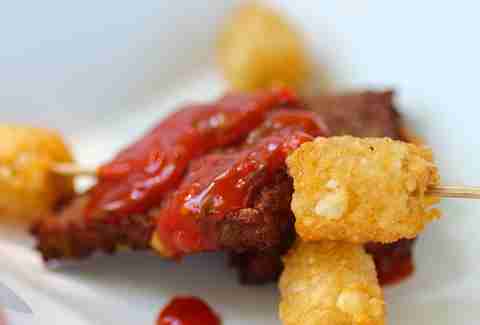 Wine-Glazed, Deep-Fried Meat Loaf
Minnesota Wine Country
Moms across America have been trying to make meatloaf interesting since approximately 1952, and the folks at MN Wine Country finally did it by skewering their loaf with tots, deep-frying it, then glazing it with a red pepper wine sauce.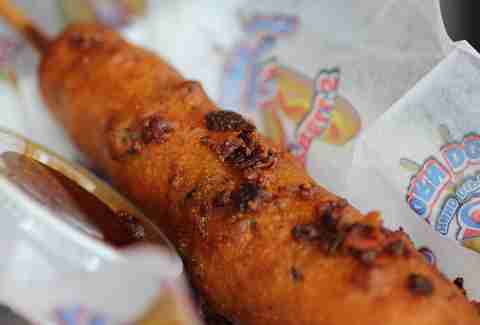 Double Bacon Corndog
Flavored Corndogs
Doubling down on the traditional c-dog, these guys dip a bacon-wrapped wiener in corndog batter loaded with bacon bits, deep-fry it, and serve it with maple syrup. That last part is all-natural -- nothing to worry about here.
Candied Bacon Cannoli Dipped in Chocolate
Ole's Cannoli
Last but not least: pieces of caramelized bacon wrapped with a shload of ricotta cheese filling, all in a crunchy, choco-dipped pastry shell. You've got six days to get there.