Fried Pizza Is the Italian Creation America Was Destined to Love
It's as Neapolitan as buffalo mozzarella.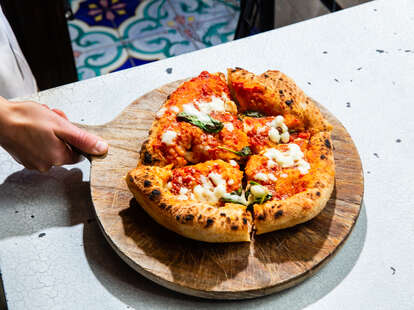 Cole Saladino / Thrillist
Fried pizza is as Neapolitan as buffalo mozzarella.
It's been sold in Naples, Italy by restaurants like Fiorenzano and Pizzerie Starita, for decades and decades. The owner of Pizzeria Di Matteo once even claimed the fried version was more popular than the baked kind until the 1950s, and it still accounts for a third of the restaurant's sales. Gino Sorbillo, who has been described in the American press as the most famous pizza man in Naples, has made a signature of it. In fact, Sorbillo served fried pizza in New York (the second capital of the holy amalgamation of tomato sauce, cheese, and dough) before he did the classic baked pies. About a decade ago, New York pizza got back to its roots as a Neapolitan pizza wave washed over the city like a spilled jar of tomato sauce creeping over a cutting board. This brought with it Naples' puffy crusts, minimalist toppings, and... fried dough.
It sounds at first, as others have remarked, like a quintessentially American food you'd find at a carnival or which, a la the hard-shell taco, should have formed the foundation of a fast food empire. But it isn't.
In Naples, fried pizza is an essential street food that comes in more than one format. The most basic is pizze fritte, which looks, essentially, like a fried calzone or more sophisticated pizza pocket: Very thin dough turned bubbly in the oil is wrapped around tomato, cheese, and meat. It's not blitzed in the oil until crunchy and golden brown, but more gently fried like fritto misto. Sorbillo says that at Zia Esterina—which is named for an aunt—in Milan and Naples, he fries his pizza in oil for only about 40 seconds. (He briefly had a location Zia Esterina in New York, and will start soon serve fried pizza at his eponymous restaurant Sorbillo).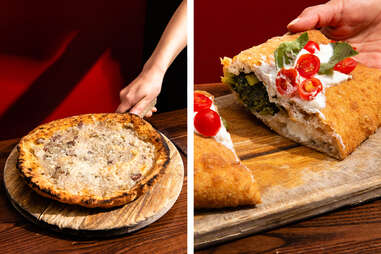 The style that first made noise in New York was not the classic pizze fritte, however. It was the montanara, a higher achievement in the art of fried dough. The word means "coming from the mountain," an apparent reference to street food eaten by people from, well, the mountains. Montanara is distinct in that the dough is double-cooked and un-stuffed. It's first flash-fried, then the sauce and cheese are applied, and finally, it gets baked at a ripping hot temperature. The mozzarella melts, and the bread is not oily but does have the faint sweetness of fried dough. Still, the result is more delicate than brash: airy and even pillowy.
The montanara seems to have first landed in the States in 2011 courtesy of an individual named Giulio Adriani, a Naples native who calls fried pizza "my reason for a green card." The double-cooking combined with the quickly baked toppings, he says, is what makes it so special. Adriani is also a globetrotting pizza man, the sort who wins industry competitions and is certified by the divisive Associazione Verace Pizza Napoletana. It was at Forcella, in 2011, that he first served the double-cooked montanara to New York.
"You have to come up with the product at the right moment, when the customer is ready. I was pretty lucky that the day I had fun trying the montanara in New York. Adam Kuban of Slice was present," Adriani says. "He was the first to taste it in the United States, probably, at least done in that way of frying then baking."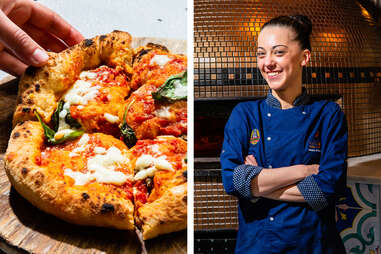 The pizza instantly became a curiosity in New York. Adriani opened a short-lived fried pizza only shop, La Montanara. PizzArte opened in Midtown. Kesté's Robert Caporuscio and his daughter Giorgia partnered with Naples' montanara maker Starita to open Don Antonio by Starita, where they offer the montanara and other pizze fritte. The openings were the subject of a 2012 column by New York Times critic Pete Wells, who saw the city taking to it because its obscure Italian origins were "both traditional and novel." The montanara has since fanned out from New York to other cities, pushed along by that novelty Wells spoke to: Denver in 2012, at Racca's (nee Marco's); Dallas, where it's an occasional special at Cane Rosso; Austin, at Quattro Gatti; Saint Paul, where it's the only kind of pizza served at Mucci's; Chicago, at Panino's; and elsewhere.
Americans, the ancient axiom goes, will eat anything if it's A) fried or B) a sandwich. Does that mean that fried pizza will inevitably be in every American home, available at the touch of an app and delivered by Domino's? Maybe, maybe not. Americans eat Neapolitan pizza because it's good but also because it's "authentic," and fried pizza, however old school, might not sound legit to them. Cane Rosso's former executive chef Dino Santonicola says he's been surprised to have trouble pushing even the lightly fried montanara in Texas. It probably doesn't help that the montanara also lacks the visual appeal of, say, Detroit-style pizza with its crispy cheese crust, because it is only lightly fried.
"To be honest with you, the fried pizza didn't really take off. It's strange because they eat everything fried here, especially with the state fair we do once a year. You would hope it did better than it actually does," Santonicola says. He then echoes Adriani about timing. "When I first started serving Neapolitan pizza in America, in 2004 in Seattle, it was hard to sell. Today it's easier. Sometimes it's not the time, you're too early, or it's not the area."
Others, though, think it is the time. And, Sorbillo says that as fried pizza has been making inroads into the wide world of American pizza, it's also been enjoying a renaissance in Italy. With his Zia Esterina in Milan, he opened, he claims, the first fried pizza shop outside of Naples. Adriani concurs, saying the double-cooked montanara has been given a shine, too. While the individuals who have brought it to New York are men, it's a street and home food reportedly more commonly associated with women. Like barbecue in America, the most famous pizza cooks coming out of Italy all seem to be men. One of the most famous fried pizza makers in Naples right now is Isabella de Cham, who has also partnered with the chain Rossopomodoro, which has a location in New York. (This is a familiar repetition of the dynamic where men are chefs, women cooks; Sorbillo, through his translator, didn't hesitate to say this is because they don't have to use big, heavy paddles).
"Well, because of the success of the montanara in New York, it's reflected also in Naples. More and more places have started to do it. Before I remember Starita, de Matteo—those three, four, five places," Adriani says. "Now, it's more commonly on most menus. There's been an explosion also in Italy. Word of mouth arrived to Naples and people said, 'Oh, this can do well in Naples as well.'"
Adriani is still betting big on the dough that got him his green card and (green) dough. He's migrated south to open the first Local Pizzaiolo in Atlanta and plans to open more not only in Atlanta but in Los Angeles and, eventually, New York. And of course, he's bringing the montanara with him. The only question is whether or not Americans want their pizza fried the Neapolitan way or if they'd prefer beer-battered—or not at all.
Sign up here for our daily Thrillist email and subscribe here for our YouTube channel to get your fix of the best in food/drink/fun.
Chris Crowley is a staff writer for
New York
's Grub Street whose favorite Hi-Chew flavor is green apple. He grew up outside of New Haven, where the pizza is topped with clams—not fried. Follow him @chrisecrowley