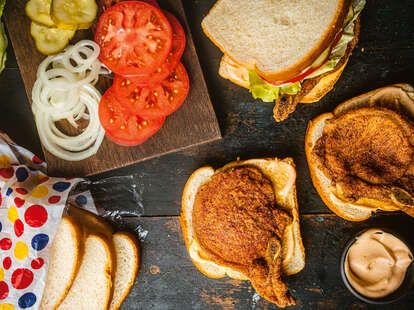 Whether you're in charge of slow-cooking meats, flipping burgers, or crafting sides like potato salad and baked beans, barbecues are a summer rite of passage. They represent community, sharing, and, of course, delicious comfort food, accompanied by memories that keep us satisfied long after the weather turns.
For pitmaster Kevin Bludso, the childhood summers he spent in Corsicana, Texas, cooking alongside his Aunt Willie Mae Fields (whom he refers to as "Granny") helped fuel his adult aspirations.
"As a chef, your family are your guinea pigs before you go out into the world and think that you can serve the world barbecue or food," says Bludso, who opened his Bludso's BBQ as a takeout stand in his hometown of Compton, California, in 2008. "You have to become a great chef in the family and everyone in the family has their role. Auntie always does the potato salad, uncle is always on the grill. When you have those types of roles and levels of importance in the family, you create high expectations for yourself."
The flagship Bludso's Bar & Que in Hollywood is still going as strong as ever, and he's even expanded across the globe with San Antone, a restaurant and bar in Melbourne, Australia. Bludso's Bar & Que is frequently featured on America's best barbecue lists and has earned the chef appearances on Food Network's Diners, Drive-Ins, and Dives series, in addition to serving as judge on Netflix competition show The American BBQ Showdown.
As one of the chefs responsible for establishing LA as a legit barbecue destination, loyal diners have been begging Bludso for a cookbook for years. They finally got their wish with Bludso's BBQ Cookbook: A Family Affair in Smoke and Soul, which he co-authored with Noah Galuten, a James Beard Award-nominated cookbook author and the former executive chef at Bludso's Bar & Que, who trained under the pitmaster at his original restaurant in Compton.
The cookbook provides valuable advice for novice and expert grillers, plus recipes for a variety of rubs and sauces, classic meats, seafood plates, side dishes, breakfast items, desserts, and even holiday spreads. As the title suggests, it's a tribute to Bludo's entire family, with stories of his upbringing peppered alongside treasured recipes. As a proud Compton native and mentor to a new generation of slow-smoking chefs, Bludso also shouts out his favorite LA restaurants and pitmasters to pay attention to—even highlighting a few of their recipes in the book.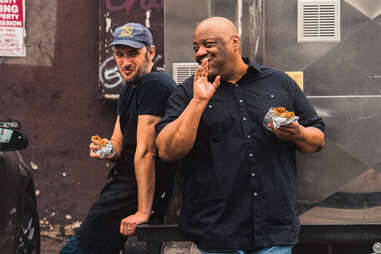 In anticipation of grilling season, Bludso shared two highly coveted recipes from his new release, including tips for mastering his recipes, the memories that are attached, and why family is so integral to his business.
"The fried pork chop sandwich was my mom's staple," Bludso says. "We'd have it at least once a week. When I was little, I'd always ask, 'What about the bone in it?' and she'd just say, 'Eat around it, boy!'
Today it's easy to find pork chops without the bone, but Bludso prefers to follow in his mom's tradition. "Anything on the bone is way more flavorful," he defends.
When preparing the sandwich, Bludso emphasizes that, "it has to be a good pork chop. It doesn't have to be a center cut, but get some with a lot of fat in it. Don't go too thick, get a chop that's medium thick, and if you want a little pinch, just add a little Sriracha to the sauce."
As far as sides, Bludso stresses that a simple potato salad always does the trick. "You surely can't put any raisins, pecans, Fruit Loops, and all of that crazy stuff in it," Bludso says, shivering in disgust.
"You have to become a great chef in the family and everyone in the family has their role. Auntie always does the potato salad, uncle is always on the grill."
Bludso promises his potato salad recipe as a crowd pleaser. "You'll do wonders when you season your potatoes while they're hot," he says. "If you season the potatoes while they're warm, the seasoning mixes in way better than when they cool off and get cold and starchy."
He also clarifies that you have to taste at every step, from when you add the seasoning to when you add the mustard. Last but not least, make sure you buy a good relish. "If you're using cheap, bootleg relish, your potato salad is going to taste bootleg," he says. "If you can get a hold of Del Monte Sweet Relish, that's the best for potato salad."
While Bludso's Granny instilled a lifetime of wisdom during the countless afternoons they spent cooking together under the hot Texas sun, there's one piece of advice he still utilizes every time he steps into the kitchen.
"She always said, 'Cook like you're cooking for your mother,'" he recalls. "She also told me 'People have to taste your food and say that's the best thing they've ever tasted way before you even think about opening up a restaurant.'"
Bludso's expression turns wistful as he recalls his great-aunt's guidance, but it only takes a moment for his signature grin to return. He chuckles, saying, "There are other behind-the-scenes things she told me, but that's for the second book!"
Fried Pork Chop Sandwich Recipe
Yield: 4 servings
Ingredients:
• Vegetable oil for deep-frying
• 4 bone-in center-cut pork chops, each about 1⁄2- inch thick, untrimmed
• About 1 cup Seasoned Flour
• 1 cup mayonnaise
• 2 tablespoons Sriracha
• 8 slices white bread, or 4 soft hamburger buns, split
• Thinly sliced white onion, tomato slices, sweet or spicy sliced pickles, and/or iceberg lettuce
• leaves for topping
Directions:
1. In a deep-fryer or deep, heavy skillet, pour vegetable oil to a depth of about 2 inches, making sure that the pork chops will be fully submerged, and heat to 350°F.
2. Set a wire rack on a large baking sheet or line a large plate with paper towels and place near the stove.
3. To make the mayo: While the oil is heating, in a small bowl, combine the mayonnaise and Sriracha and stir until well mixed. Generously spread the mayo on one side of each bread slice or on the cut sides of the hamburger buns.
4. Have the onion, tomato, and pickle slices and lettuce leaves close by. Put the seasoned flour in a large bowl.
5. Working with no more than two pork chops at a time, depending on the size of your deep-fryer, rinse the pork under cold running water just to moisten and then season very lightly with seasoning salt—like a shadow. One at a time, dredge the chops in the flour, making sure to coat them completely, then shake off any excess flour.
6. Gently add a pork chop to the hot oil and fry until golden brown, about 6 minutes. Using tongs, transfer the chop to the prepared baking sheet to drain. If the pork chop is on the thick side, it may still be a little pink on the inside; if you let it sit for a minute or two, the residual heat will cook it a bit more.
7. Put the pork chop on a bread slice or bun and top with onion, tomato, pickle, and/or lettuce. Close the sandwich with a second bread slice or bun top, mayo-side down.
8. Fry the remaining pork chops, always allowing the oil to return to 350°F before adding the next chop. Make the remaining sandwiches and enjoy.
9. Fried pork chops are best when eaten right away, but will keep in an airtight container in the refrigerator for up to 5 days
Potato Salad Recipe
Yield: 8-10 servings
Ingredients:
• 6 pounds russet potatoes, peeled
• 2 tablespoons seasoning salt
• 2 teaspoons ground black pepper
• ¾ cup yellow mustard
• 2 cups finely diced celery
• 2 bunches green onions, thickest green part discarded, sliced
• 10 hard-boiled eggs; 6 peeled and chopped or mashed, 4 halved
• 3¾ cups sweet relish, or to taste
• 2½ cups mayonnaise
• Sweet paprika for finishing
• Chopped fresh parsley for sprinkling
Directions:
1. In a large pot over high heat, combine the potatoes with water to cover by 2 inches and bring to a boil, then turn the heat to a steady simmer. Some people like the texture of their potato salad to be soft and mashed, and some like it chunky. I like mine with a little of both, so I cook the potatoes until they are tender but not falling apart—until a knife pierces through the center without much resistance—30 minutes to 1 hour, depending on the size of the potatoes.
2. Drain the potatoes and transfer to a large bowl. Allow to cool until you can handle them easily with your hands. Just make sure they are still warm. Season the potatoes with the seasoning salt and pepper, tasting as you go. Don't just dump it all in. Then mash the potatoes with a potato masher until they have a varied texture and the seasoning is fully integrated. They should taste good just from the seasoning of salt and pepper.
3. Add the mustard to the potatoes, a little at a time, mixing with your hands and tasting for the desired tartness. Once again, it should almost taste great as is. Then add the celery, green onions, and eggs and mix by hand, getting it all good. Now add the relish. This is the component that makes a wet potato salad versus a dry one. I like my potato salad a little wet. Too much relish and it will be soupy, but too little and it will be like fucking clay. Mix it all the way through. Then add the mayonnaise and mix thoroughly.
4. Finish with the sliced eggs, some paprika, and a sprinkle of parsley on top.
5. Cover and refrigerate until chilled before serving. It is at its best on the second day but will keep for 1 week. (It shouldn't last that long if it's any good.)
Reprinted with permission from Bludso's BBQ Cookbook: A Family Affair in Smoke and Soul. Copyright © 2022 by Kevin Bludso. Photography Copyright © 2022 by Eric Wolfinger. Published by Ten Speed Press, an imprint of Penguin Random House.