The Surprising, Secret Origins of Fruit Roll-Ups
Children of the '80s and '90s might be inclined to think that Fruit Roll-Ups, the tearable, chewy snacks you wrapped around your thumb and gnawed on in grade school, were born in a boardroom. But the lunchbox treats have a surprising pedigree. The product originated as an apricot fruit leather called amardeen, which was being enjoyed in the United States as early as the turn of the 20th century in a small Syrian community in New York City.
There, you could buy amardeen at the sweets shop George Shalhoub & Son, located on 65 Washington Street in the mostly Arab-Christian neighborhood. George Shalhoub imported massive, sticky sheets of apricot paste from Syria, and for just a few cents, a clerk would snip off a piece and hand it to you. "People called it shoe leather, because it was tough as shoe leather," says Ray Shalhoub, the great-grandson of George, who now runs Joseph Shalhoub & Son, the maker of Joray Fruit Rolls, the country's first fruit roll-up.

Unfortunately, Little Syria was razed in the early 1940s to make way for the Battery Tunnel. Many of the neighborhood's Arab-owned businesses, including Shalhoub's, relocated to Atlantic Avenue in Brooklyn, which remains a Middle Eastern enclave today. Around this time, Joseph, George's son, enlisted the help of 12-year-old son Louis, and renamed the shop Joseph Shalhoub & Son. "Louis became the master baker, and from what I would understand he was very good at it," Ray says.
Louis left the business in 1950 to serve in the Korean War, and returned with two Bronze Stars and a desire to get out of retail. "My father got tired of it," says Ray. That's when Louis started experimenting with adapting amardeen to single-size, individually packaged rolls -- something Sunkist would later model closely.
"He rented a basement down the block," says Ray. "While Ma was pregnant with me, they would buy a few pounds of apricots at a time, go down there, he would use a little hand press to press them out into the little pie shapes, and Mom would hang them on clotheslines and let them dry." They then wrapped them around dowels, rolled them, and sealed them. And the fruit roll was born.
After Joseph passed away, Louis closed the retail store and dedicated his business entirely to manufacturing fruit rolls. He named the brand Joray, a combination of his sons' names, and sold their first fruit roll in 1960. In the beginning, he and his wife Madeline were still making them by hand. "It was a very slow process," says Ray. "They had a small space. He built drying trays, put the candy on trays. He'd turn the heat up, he'd go home, he'd come back, maybe they'd be dry, maybe they wouldn't."
Soon enough, Louis introduced mechanized equipment to increase productivity. "My dad met someone who built a very primitive machine and over the years I've improved it," says Ray. During the 1960s, Joseph Shalhoub & Sons expanded to three storefronts, two basements and "a lot of steps." In 1982, after Ray and his younger brother, Joseph, joined the company, they upgraded to a larger facility in the nearby Windsor Terrace neighborhood. This is where the fruit rolls are still manufactured today, and where Louis worked until his death in 2003. Joseph passed away in 2014, and Madeline died earlier this year. Now, Ray runs the business with his wife, Jayne.
Though the process continues to be refined and seven new flavors have been introduced over the years, the fruit roll, at its core, is the same as it was in the early days. The base is still made from dried sweet-tart Turkish apricots, which are ground into a paste with other ingredients, pressed onto sheets of cellophane, dried and packaged in colorful wrappers. Joray fruit rolls are cold-pressed and dried at cool temperatures, which Ray says helps maintain a faithful flavor and a pleasant chew.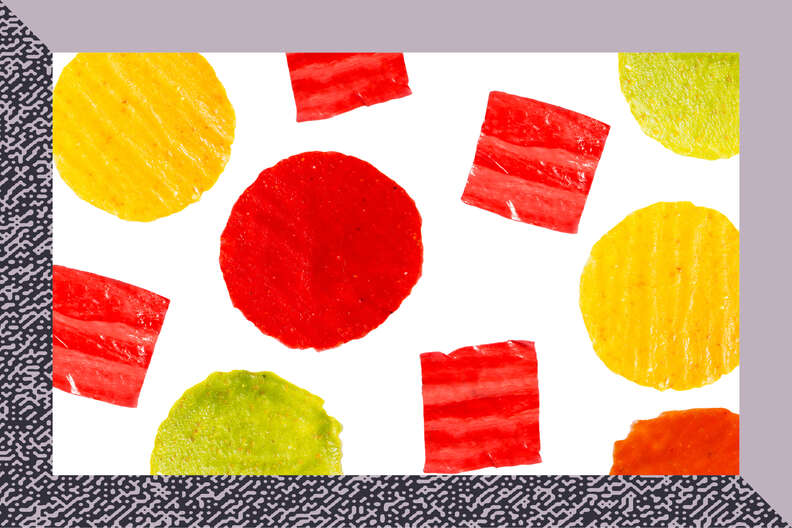 Before the move to Windsor Terrace, in the early '70s, an unexpected setback occurred. Louis blamed it on an article that had been written about Joray called "The 'Leathery' Treat from Lebanon," which had been published in a cellophane trade publication. (The place in Syria where the Shalhoubs were from had become a part of Lebanon.)
"Unless they are from the Middle East or have traveled in that part of the world, there are few Americans who have ever heard of a Lebanese delicacy called amardeen," went the story. "Until a few years ago, when they were handmade, the candied treats were somewhat scarce. But they'll soon be on hand in local supermarkets across the nation, thanks to the ingenuity of a Brooklyn candy maker, Louis Shalhoub, who has created 'fruit leather,' a faithful reproduction of amardeen." In the accompanying photo, Louis poses with an unfurled fruit roll, a shiny, orange disk adhered to a layer of cellophane. Also in the picture is the machine he created to make the fruit rolls, a process that is described in the story in fairly intricate detail.
Following the publication of the article, the fruit-roll trend started to build momentum, only Joray wasn't in on the action. Joray had been producing private label fruit rolls for a brand called A. Sahadi, which had been bought by Knox gelatin, which decided to make the fruit leather on their own. Knox was soon purchased by Lipton, which licensed the Sunkist name to market those fruit rolls.
That was terrible news for Joray. When Sunkist came out, Joray lost all of their grocery store accounts almost instantly. Even though they had created the snack, the small family-run business struggled to go neck-and-neck with a major corporation. "You can't compete against a national company with 40 items when you have just one," says Ray.
To stay in business, the Shalhoubs quickly rethought who they should be selling their product to. "I was talking to my dad and I was like, 'Dad, look, it's a traditional Middle Eastern treat for Arab people, but Arabs aren't a growing population,'" says Ray. "'We have to do something different.'" By his assessment, the growing populations were Jewish and Hispanic. Ultimately, they went after kosher business because of some cultural and geographical commonality with the Arab population. A friend introduced the Shalhoubs to Kof-K Kosher Supervision, then a budding certifier of kosher foods, now an international powerhouse whose clients include Pepsi and ConAgra. "We were one of their first accounts and we've been with them since 1977," says Ray.
Joray found its footing, and has since become synonymous with kosher treats, Jewish delicatessens, and specialty shops. "Once you develop a reputation and trust within the kosher community, people are very loyal," says Ray. As for their competitors, when General Mills started a test run of Fruit Roll-Ups in 1979, with national distribution following in 1983, they effectively knocked Sunkist out of the market.
Fruit Roll-Ups' first lineup included apricot (the flavor of amardeen), apple, cherry and strawberry flavors. When asked if he thought Sunkist or Fruit Roll-Ups would have existed without Joseph Shalhoub & Son, Ray replied, "Dad was the guy who got the idea to put it on an individual sheet." He did give one concession: "When General Mills came in, they did the advertising, they made sure everybody knew what a fruit roll is. They say a rising tide lifts all ships? It became more popular for us, also."
When asked if Joray fruit rolls inspired the original flavor lineup of Fruit Roll-Ups, particularly the apricot, a spokesperson for General Mills replied: "None of the people who created the product are still around."
Since introducing its first product line in 1979, Fruit Roll-Ups have moved dramatically away from its fruit leather roots. In a lawsuit filed by the Center for Science in the Public Interest, General Mills was taken to task for calling their snack "fruit rolls" when there was actually no real fruit in them. Joray, on the other hand, is swinging in the other direction and doubling down on real fruit. The company just released their first new product in 12 years -- a line of non-GMO fruit rolls, free of refined sugar called Fruit IQ. Maybe one day, the large corporations will again follow suit.
Sign up here for our daily Thrillist email and subscribe here for our YouTube channel to get your fix of the best in food/drink/fun.