16 Things You Didn't Know About Chipotle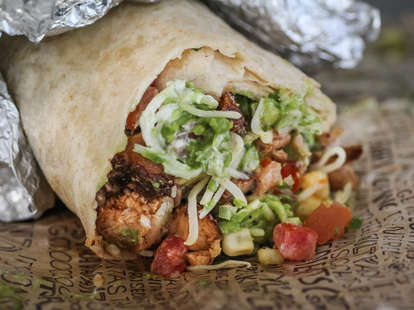 Sara Norris/Thrillist
Sara Norris/Thrillist
Impossibly, Chipotle has long been the restaurant that lets us feel healthy while eating burritos the size of a baby. We decided to further investigate the chain's roots to better understand its mystique, and turned up some facts you definitely didn't know.
Read it all before debating whether you should order the Patron margarita.
1. The founder is a very serious chef
Chipotle founder and CEO Steve Ells wasn't just a businessman spitballing fast-casual restaurant concepts -- he went to the Culinary Institute of America before starting Chipotle, meaning he got the same schooling as Roy Choi, Duff Goldman, and that wiseass Anthony Bourdain.
2. Ells started the flagship Chipotle in an abandoned ice cream store in 1993
Specifically one of Colorado's once-hopping Dolly Madison Ice Cream shops. (In case you were wondering about the namesake, First Lady Dolley Madison served ice cream at her husband James Madison's 1813 inaugural ball and is generally credited with popularizing the treat.)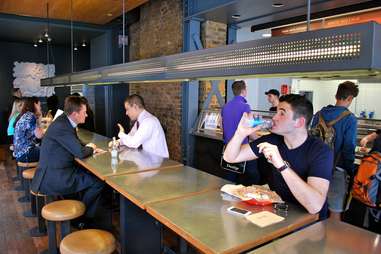 3. Chipotle's bare-bones architecture reflects its humble beginnings
Ells got a lot of the initial decor from local hardware stores -- for example, the light fixtures were the product of metal junction boxes and porcelain lamp holders containing single halogen bulbs. So basically, you should be hoarding those Lowe's giftcards from grandma.
4. The commitment to antibiotic-free meat didn't come right away...
It started when Ells read an article by Ed Behr in The Art of Eating about some Iowa farmers who were raising their hogs in super-regulated environments. He asked for a sample, made some carnitas, and thought they tasted way better. Thus began, in earnest, his crusade for higher-quality ingredients. (This also all happened in 1999, so frankly we're surprised Y2K preparations weren't his first concern.)
5. ... But they aren't kidding around now
Our main man Steve even testified before Congress in 2009 demanding legislation to spur more hormone- and antibiotic-free proteins. Take that, Mr. Smith.
6. McDonald's does NOT own Chipotle
A lot of people mistakenly believe that Mickey D's runs Chipotle. Here's what actually happened: McDonald's invested in the chain back when it was only a big deal in Colorado and helped take it national. They even increased their stake to majority shareholder down the line, but completely divested by 2006. Possibly because Happy gave them some bad advice.
7. Some people just don't get their sense of humor
In 1998, Chipotle ran an ad featuring a wadded-up ball of foil with the text "Free Cat Toy with Every Purchase". People actually came in asking about the cat toy, proving that cat ladies really need to eat more burritos.
9. Chipotle awards its best managers with $10,000 bonuses
The elite restauranteur program recruits general managers who have a knack for grooming new talent and awards them: a) an initial bonus, b) stock options, c) $10,000 for each of their crew members who become GMs, and d) unlimited refills, we assume.
10. There's a secret menu
It's really just the Quesarito, but it'll change your life.

11. They are particular about their music
Chipotle's "music identity" is curated by a Brooklyn dude who pays mind to the brand's vibe and even the acoustics of the concrete floors. He once made the mistake of using Radiohead's Kid A as an example of a song that doesn't make sense at the chain, and hipsters flipped their trilbies thinking the band was universally banned. It wasn't, but OK Computer is better anyways.
12. Their pizza partner went to hilarious lengths to disguise their deal
Looking to help out another Denver business, Chipotle invested in Pizzeria Locale. But the founders were determined to create their own reputation, and thus took extreme measures to keep the partnership under wraps at the onset. Just how extreme? When they didn't have a convincing fake backstory for why Chipotle's development director Carl Behler was hanging out, they christened him their "Uncle Carl from Florida" and even printed business cards for the dear uncle.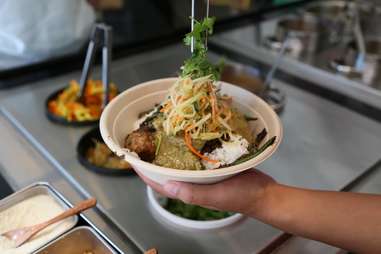 13. Its Asian counterpart is set for world domination
ShopHouse Southeast Asian Kitchen has been around since 2011, but Chipotle didn't really start working it until the past year. Originally launched in DC, ShopHouse has now set up in Bethesda, Maryland and California, as well. Seeing as it takes the same concept and applies it to Asian food -- with customers choosing bowls of rice or noodles, satay, curry sauces, chilies, and more -- it's destined to gain control of our stomachs next.
14. It was the site of a competitive eating feat
The #2 eater in the world, Matt "Megatoad" Stonie, scarfed down four Chipotle burritos and a ton of Diet Coke in under three minutes inside one of the shop's hallowed halls. Watch and feel bad about your inability to finish a single burrito.
15. Chipotle hired a lauded chef to bring you Sofritas and other innovations
They tapped Nate Appleman, the James Beard Award-winning cook of A16 and Pulino's fame, to work up some new moves. He runs a test kitchen outta one of the Manhattan spots now, and worked on those tofu burritos that are all the rage with your healthier friends.
16. You can score free burritos every day for a year... if you're famous
Chipotle makes custom cards for its celebrity fans, with two notable examples being Nationals outfielder Bryce Harper and this aging hippie Steven Tyler. Though some people (looking at you, Harper) have touted them as "for life" cards, they're really just for 365 days. But that's one burrito every day for one magical year, which is way more value than a lifetime of Kraft mac.
Sign up here for our daily Thrillist email, and get your fix of the best in food/drink/fun.
Kristin Hunt is a food/drink staff writer and has brazenly been ordering guac on all Chipotle burritos for the past two years. Follow her at @kristin_hunt.
This article originally published on June 2, 2014.