13 Things You Didn't Know About Sonic
Lee Breslouer/Thrillist
Lee Breslouer/Thrillist
From the insane bacon double cheeseburgers to the wondrous array of shakes, there are more than a few reasons why Sonic rules the old-school drive-in game. But to many, it's a mystery, and not only because of their commercials that air in markets far from the actual locations. To break through the mystique and into a pile of tots, we rounded up 13 crazy-cool facts to Blast you with knowledge.
1. Root beer is basically responsible for its existence
It all started when founder Troy N. Smith, Sr. and his business partner purchased a piece of land in Oklahoma with a log house and a root beer stand. They turned the crib into a steakhouse and kept running the root beer stand, already named the Top Hat, where they also sold hamburgers, hot dogs, and fries. Turned out the stand was way more lucrative, so dude bought out his partner, focusing his attention on the stand.
2. The roller-skating servers were really a business strategy
Inspired by another drive-in that had car-side speakers for ordering, Smith thought he could bring in the big bucks by doing the same, plus throwing in some carhops to deliver the food, as opposed to the Top Hat's previous park-and-walk-up method. He was very, very right.
3. There's a seriously badass beach location in Florida
Sonic's Miami location is called Sonic Beach, and while it does have the classic drive-in, it also sits right on the sand. There's even an air-conditioned dining room offering beer and wine. We're not sure which Merlot pairs best with hot dogs, but this is the place to find out.
4. They have a crazy system-wide skate-off
Known for their waiters/waitresses on wheels, Sonic teams up with Dr. Pepper and RC Sports to host an annual skating competition to determine the best-skating carhop in its system. In 2013, Autumn Green from Store 1318 in White House, TN took first place.
5. You actually can still order discontinued items most of the time
Since Sonic's big thing is customizing your order, if they have the ingredients at the drive-in, they'll pretty much make you whatever you want. Fallen items like Extreme Tots (tots, chili, cheese, onions, jalapeños, and ranch) and the Ring Leader Loaded Burger (a cheeseburger with grilled onions and bacon that's topped with an onion ring) aren't technically on the menu anymore, but are still readily available if you know to ask.
6. They were a legit NASCAR sponsor
The chain was at one point involved in NASCAR when they sponsored Dale Earnhardt, Sr. during the 2001 race season. After his fatal crash, they kept up their sponsorship with replacement driver Kevin Harvick until the end of the 2003 season.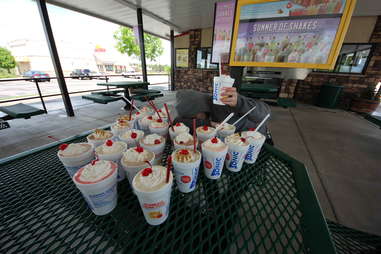 7. They're basically the milkshake masters... seriously
There are seven standard Real Ice Cream Shake flavors (chocolate, vanilla, strawberry, pineapple, fresh banana, caramel, and hot fudge), but customers can mix and match 'em to come up with crazy concoctions like chocolate-covered strawberry or caramel pineapple shakes. In Summer 2013, they deemed it the Summer of Shakes and busted out 25 different flavors (and we made our editor try them all), including cheesecake and peanut butter/bacon. Lucky for you, this Summer will be equally shake filled, as they're adding a whole new slew of insane flavors. We can't say what this year's peanut butter/bacon will be, but our sources say it will be spicy.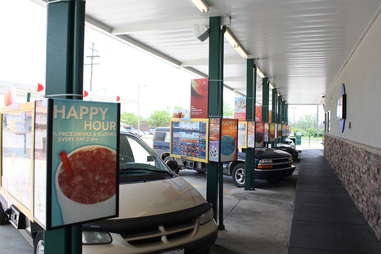 8. They have one of the best booze-less happy hours ever
From 2-4pm daily, they offer a drink happy hour, which lets you grab all drinks and slushes for half price. And they recently introduced a limited-time snack happy hour during the same time slot, which includes four onion rings, a small tots, two mozzarella sticks, or a corn dog for $.99.
9. They're in almost every US state
Most people in the country can get their hands on some Sonic since there are locations in 44 of the 50 states. And now a moment of silence for Alaska, Hawaii, Maine, New Hampshire, Rhode Island, and Vermont. Your day will come.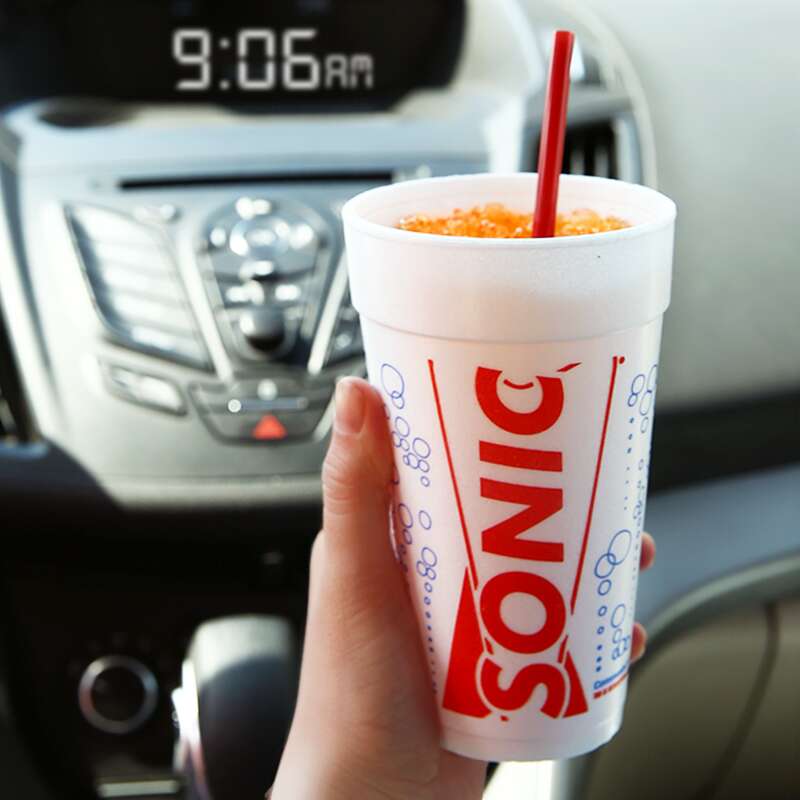 10. You can get your drank on in a ridiculous number of delicious ways
Sonic boasts more than 1,063,953 drink combinations between their fountain drinks and slushes. Some of the most popular flavor combinations include the Dr. Van Limer (Dr. Pepper with lime and vanilla), Orange Creamsicle (Sprite with orange syrup and cream), and Purple Sprite (Powerade, lemonade, Sprite, and cranberry juice). So that's 1,063,953 reasons to eat there even more frequently and try them all. In case you needed more reasons. Which you didn't, because burgers.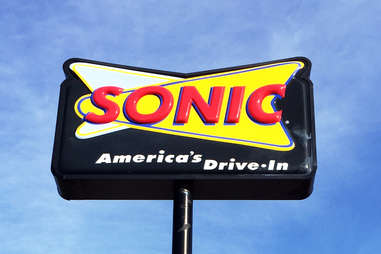 11. The name "Sonic" was slogan inspired
Sadly, the name "Top Hat" was already trademarked, so in 1959 they changed it to Sonic, since it matched their "Service with the Speed of Sound" slogan.
12. The two guys in all those commercials put on a publicity stunt
The two Sonic dudes in all those commercials are improv actors T.J. Jagodowski and Peter Grosz. They starred in the ads from 2002-2010, and in 2012, they uploaded a bunch of supposedly self-made commercials demanding their jobs back. But, really, all the videos were just a big publicity stunt by the company to re-promote the brand and the duo. Well played, Sonic, well played.
13. They used former teen idols to up their fast-food cred
From 1987-1993, Sonic aired one of their most recognized ad campaigns starring 1950s teen heartthrob Frankie Avalon. Because everyone loves a little formerly boyish charm with their burger. Avalon starred as the Teen Angel in Grease and is also mentioned in the System of a Down song "Old School Hollywood". Because it's probably important that you know at least one of these two facts.
Sign up here for our daily Thrillist email, and get your fix of the best in food/drink/fun.
Rachel Freeman is a food/drink editorial assistant at Thrillist. She cries a little too often over how there is no Sonic in NYC, because she would probably live off Sonic Blasts and Ched 'R' Peppers if the option was there. Writing this article did not help her sadness. Follow her into the abyss at @rachelifreeman.