Gawk at an entire 12-course meal in one disgusting can
While we spent many childhood nights wishing and hoping and begging and praying for the three-course dinner gum from Willy Wonka to become real, even we can't stomach the thought of a 12-course meal in one can. But a sadistic artist by the name of Chris Godfrey certainly can, as you can see from this concept he designed straight out of our nightmares.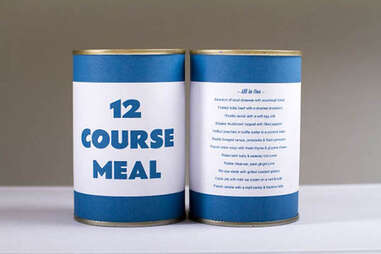 Here's exactly what's in this (praise the Lord) fake meal can:
Selection of local cheese with sourdough bread
Pickled Kobe beef with charred strawberry
Ricotta ravioli with soft egg yolk
Shitake mushroom topped with filled peppers
Halibut poached in truffle butter in coconut crepe
Risotto foraged ramps, prosciutto, and fresh parmesan
French onion soup with fresh thyme and Gruyere cheese
Roast pork belly and celeriac root puree
Palate cleanser, pear ginger juice
Ribeye steak with grilled mustard greens
Crack pie with milk ice cream on a vanilla tuile
French canele with a malt barley and hazelnut latte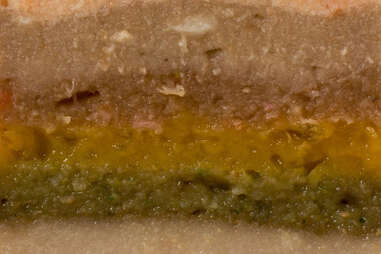 Stare in fear, and let the voms flow through you.