GE and Thrillist Are Developing an Apocalyptically Hot Hot Sauce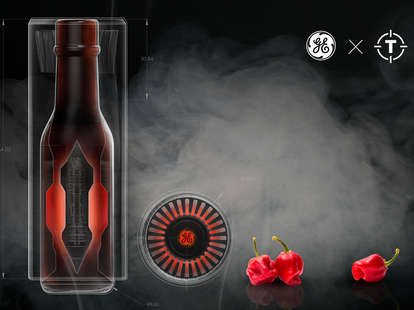 GE/Thrilist
GE/Thrilist
You read that right. Correctly, even. Together with GE, we're ushering into existence what's sure to be one of the world's hottest hot sauces, a limited-edition formula that will draw on some of America's finest thermodynamic minds to redefine the relationship between culinary excellence and lingual sadism.
The project marries Thrillist's fiery fanaticism (we reallylovehot sauce) with GE's next-gen know-how: they've devoted over 3000 scientists to the study of advanced materials that can withstand nearly 3000 degrees, revolutionizing jet engines, locomotives, and turbines (so just imagine what they can do for condiments).
To develop the goods, GE and Thrillist have teamed up with Hot Sauce Hall of Fame founder (and NYC/CA Hot Sauce Expo show-runner) Steve Seabury, whose High River Sauces line has produced such mild styles as Tears of the Sun and Grapes of Wrath. The infernal creation -- which we'll unveil in early Spring -- will be based on two of the world's most unforgiving peppers, the Carolina Reaper and Trinidad Moruga Scorpion. Cutting edge GE materials (silicon carbide, nickel-based superalloys) will be incorporated directly into the packaging, because when you mess with heat of this magnitude, you need the most impervious stuff on Earth to contain it.