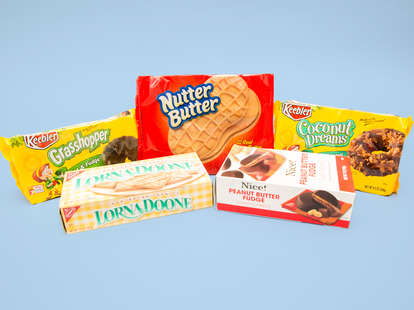 Cole Saladino/Thrillist
Cole Saladino/Thrillist
Girl Scout Cookie hoarding is a chump's game. You might say you're going to carefully pace out those 14 boxes of Tagalongs you bought during the selling season throughout the year, but we all know those treats won't see the summer.
So what are you supposed to do during the dreaded GS Cookie off-season? Easy: scan the supermarket. These twelve off-brand replacements for each of the cookies on the current Girl Scout Cookie roster are simpler to find than you think, and actually taste damn close to the originals.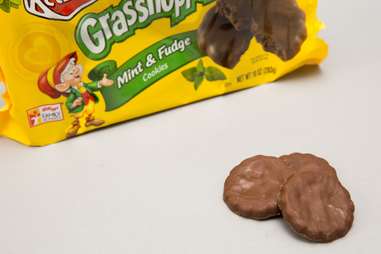 Thin Mints
Grocery store alternative: Keebler Grasshoppers
You're going to see Keebler pop up a lot on this guide, but it's not because we're taking bribes from those shady elves. One of the two bakers the Girl Scouts use for their famous cookies is Little Brownie Bakers, and that company is a subsidiary of Keebler. So it stands to reason Keebler knows what it's doing with these Thin Mint knock-offs, which are usually stocked in the snack aisle. Along with...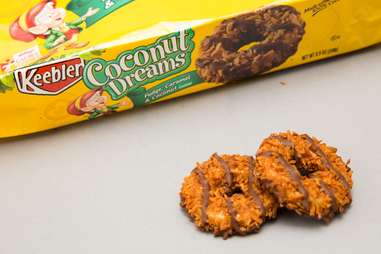 Samoas/Caramel deLites
Grocery store alternative: Keebler Coconut Dreams
Yep, Ernest J. Keebler and his pals took care of Samoas, too. (Did you know that old elf had a name? Because he does.)

Lemonades
Grocery store alternative: Pepperidge Farm Lemon
If you're cruising Amazon for lemony shortbread, Pamela's Products has the cookies you seek. As far as your best brick-and-mortar bet, though, Pepperidge Farm makes an almost-there Lemonades that's easier to find in stores.
Do-si-dos/Peanut Butter Sandwich
Grocery store alternative: Nutter Butter
Nutter Butter and Do-si-dos are different beasts to be sure, but at the end of the day, they're both just damn delicious peanut butter cookie sandwiches.

Cranberry Citrus Crisps
Grocery store alternative: Trader Joe's Cranberry Orange Cookies with White Chocolate Chips
Several grocery chains have a house spin on cranberry orange cookies (that's what "cranberry citrus" means when you're blunt about it), but the Trader Joe's version has something even the Girl Scout version doesn't: white chocolate chips. Proceed accordingly.

Savannah Smiles
Grocery store alternative: La Panzanella Dolcetini
If you're serious about buying lemon cookies with a powdered sugar coating, these are the real deal. Just look at that ritzy Italian name! Wal-Mart.com has them (unclear if the actual stores do as well), but they're only in bulk for $58.50. If you can compromise your artistic vision, there are much cheaper frostedlemon cookies at your disposal.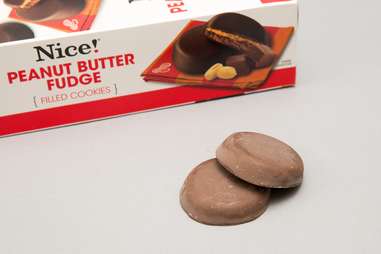 Tagalongs/Peanut Butter Patties
Grocery store alternative: Nice! Peanut Butter Fudge
While Keebler does make a Tagalong copycat -- that'd be Keebler JIF Peanut Butter Cookies -- those treats are significantly harder to find than Grasshoppers or Coconut Dreams. Luckily, Walgreens is also on the GS game, and pumps out its own Peanut Butter Patties through its Nice! brand. You can find those in Walgreens or Duane Reade shops nationwide.

Rah-Rah Raisins
Grocery store alternative: Kashi Oatmeal Raisin Flax
The thing that sets these oatmeal raisin cookies apart is also, unsurprisingly, the hardest thing to replicate: the Greek yogurt chunks. Those just aren't on the typical grocery store cookie inventory, but you can still grab an oatmeal raisin cookie with a little extra sumpin' from Kashi. Its extra sumpin' is flax. Hopefully you're a fan.

Thanks-A-Lot
Grocery store alternative: Keebler Fudge Shoppe Stripes
We return to the Keebler well for a replacement for the GS fudge-coated shortbread original. Keebler's version might not have "thank you" emblazoned on each cookie, but it does have extra fudge striping. And besides, didn't that message always seem a little sarcastic?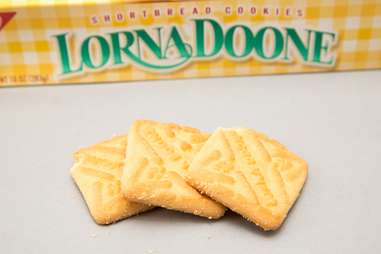 Trefoils/Shortbread
Grocery store alternative: Nabisco Lorna Doone
Look, a shortbread cookie is a shortbread cookie. You could get that from Keebler (in the form of Sandies), Pepperidge Farm (in the form of... Shortbread Cookies), and so many others. But Nabisco's Lorna Doone is always in the aisles.

Toffee-Tastic
Grocery store alternative: Walkers Gluten-Free Shortbread
Sooo here's the deal. Keebler has a play here with Sandies Toffee Shortbread, but those aren't gluten-free, which is kinda the whole reason Toffee-Tastic exists. Walkers has a gluten-free shortbread cookie that's fairly easy to hunt down, but it does not have toffee. Add your own?

Trios
Grocery store alternative: Pamela's Products Peanut Butter Cookies
You'll have to get back on Amazon and buy those Pamela's Products. Sorry, gluten-free folks. The world is still difficult for you.
Sign up here for our daily Thrillist email, and get your fix of the best in food/drink/fun.
Kristin Hunt is a staff writer for Thrillist, and is currently looting the Keebler section of the grocery store. Follow her at @kristin_hunt.