Girl Scout Cookies are a limited-edition snack food, so it's no surprise that Nestlé Crunch Girl Scout candy bars are also a limited-edition snack food. The difference is that those candy bars are in stores right now, whereas the Girl Scouts have taken time off from selling cookies to do things like perform community service. Question: What greater service is there than providing the community with cookies? We got you there, Girl Scouts of the USA.
Let's dig into these candy bars and see if they're worthy of the Girl Scout seal of approval.

Recommended Video
Send Foodz: New York City Wine & Food Festival
The Three Bars
We tested all three bars available, which are, not coincidentally, also the three most popular cookies put out by the Girl Scouts: Caramel & Coconut (Caramel deLites/Samoas), Peanut Butter Crème (Peanut Butter Patties/Tagalongs), and Thin Mints (also Thin Mints).
Heads up: Each package is split up into two mini bars, making it super easy to share with someone. Not that you'll do it, but you have the option.
Peanut Butter Crème
Flavor: Throw out the idea of getting any cookie-like textures when you bite into one of these. All three are covered in chocolate and filled with "cookie wafers". It's almost like a Reese's Stick and a Lance Toast Chee fell in love in the snack aisle, and this was their baby. I miss the pillowy goodness of the Girl Scout Tagalong, but the flavor wins points.
Score: 6 out of 10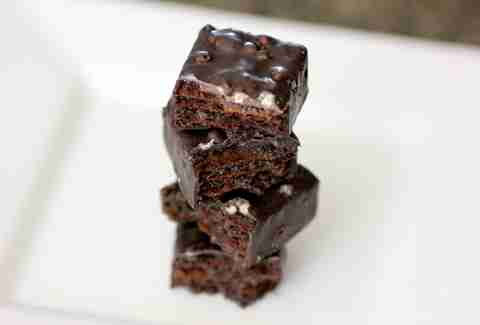 Thin Mints
Flavor: This might be an improvement on the original cookie, as you get layer after layer of Thin Mint flavors. The wafer enhances the mint flavors here, unlike the negative effect it had on the Tagalong. Like the cookie, you'll want to eat a case of these while you're crying on a Friday night because no girls want to go to the 8th grade dance with you. Also, this candy bar might bring up some memories of 8th grade. 
Score: 8 out of 10
Caramel & Coconut
Flavor: While there is toasted coconut in the candy bar, it's basically ground up and shoved inside, as opposed to being heavily layered on top of it like the cookie. As a result, it isn't as coconut-y as the real thing. And that's what makes the cookie stand out to me. On the bright side, if you've run out of Samoas, this is a solid approximation.
Score: 6 out of 10
Conclusion
Unless you hoard Girl Scout Cookies all year long (and congrats on having more self-control than I do!), these candy bars are an easy way to capture the magic of those flavors in a different medium. Just make sure to buy them if you see them, because these suckers flew off the shelves after they debuted in 2012.
If you have to get one, make it the Thin Mints. And get a few boxes -- it's basically like giving to charity!
Lee Breslouer writes about food and drink for Thrillist, and would buy a double-stuffed Thin Mint (a Fat Mint?). Follow him at @LeeBreslouer, because you can't make up a name that good.