Eat
Sponsored By
Give the Gift of Travel: Ultimate Foodie Dreamlands
Sponsored By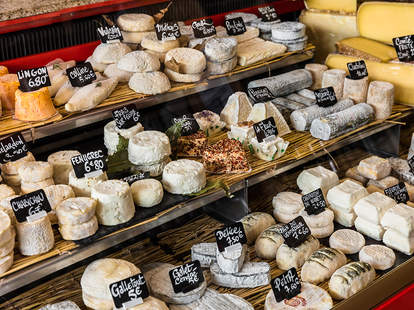 Hands down, the best vacations are the ones where your itinerary is built around your dinner reservations. That's because sampling local dishes and delicacies is the only way to get a real taste for a city, and that's especially true of these six destinations. From sipping mezcal in Oaxaca to dreaming up your perfect okonomiyaki in Osaka, these destinations are true foodie paradises -- and worth a visit for their regional fare alone. When it comes to figuring out where to stay, here's a pro tip: The IHG® Cyber Sale gives you the chance to save 20% on the best flexible rate at participating hotels, with opportunities to save even more when you're an IHG® Rewards Club member. To make planning your trip easier, we've included the best hotel to book at each destination. So, read on, and get planning:
Paris, France
The foodie city that started it all is still worth a visit, and you can do it without falling into a tourist trap. While the city is globally renowned for its wine (duh), skip the traditional Burgundy for a few glasses of locally grown natural wine varieties -- some of which have become just as famous as the traditional stuff.
Bar a vins
like
Aux Deux Amis
and
La Buvette
are known for their natural wine lists, which are stocked with unusual, cloudy, fizzy varieties of organic, sulfur-free vino. Of course, the wine isn't the only funky thing you should try: Parisian cheeses like Roquefort and Brie are a must-have, and can be found at
fromageries
, many of which age the cheese themselves to the perfect ripeness. Sadly, you can't live off wine and cheese alone (debatable, though?), so make sure to order a classic steak frites before you head home. Check out the version at
Le Relais de Venise L'Entrecôte
-- it's so good, it's the only entrée they serve.
CYBER SALE PROPERTY TO BOOK:​​​​​​​
Holiday Inn Paris Opera - Grands Boulevards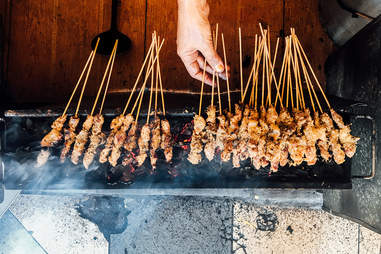 Shutterstock
Bali, Indonesia
Search for stock images of "island paradise" and you'll likely end up looking at photos of Bali. But this island isn't all tropical beaches and zen meditation getaways. Here, cooking is serious business -- so serious that even home cooks are usually preparing meals all day. Take, for example,
bebek betutu
, or slow-cooked duck. Typically, it needs to be ordered a day in advance, and it's covered in spices and wrapped in banana leaves or husks before it's cooked for hours. For a quicker meal, head to a
warung
(essentially Bali's version of a fast-casual restaurant) or a night market to try
sate
, aka meat on a stick. Of course, Indonesian coffee shops are a must (
Seniman Coffee Studio
is a local favorite) and those roasts pair perfectly with
laklak
, a small Indonesian cake that's like a mix between a pancake and dessert.
CYBER SALE PROPERTY TO BOOK:​​​​​​​
InterContinental Bali Resort
Asheville, North Carolina, USA
Hot take: Smaller US cities like Asheville can hold their own against big metropolises like NYC and LA -- especially when it comes to food. Perfect for a long weekend getaway, North Carolina ranks ninth in the nation for breweries per capita, with many situated right in Asheville. Try the most craft varieties (and do so safely) by hopping on a brewery tour, where you can be whisked off to three or four of the most popular craft breweries in the area. Besides beer, Asheville is in the South, after all, so you'd be remiss to visit without tasting freshly made biscuits.
Homegrown
serves theirs with fried chicken at breakfast and dinner. Lastly, don't leave without sampling Carolina barbecue, particularly the whole-hog style, which
Buxton Hall
does with locally-raised hogs from nearby Vandele Farms.
CYBER SALE PROPERTY TO BOOK:
Holiday Inn Asheville East
Courtesy of IHG Hotels & Resorts
Lyon, France
France's third-largest metropolis packs nearly as much punch as Paris when it comes to food, but does it at a more affordable price point -- and with fewer tourists. Here, offal dishes like
foie gras
are a specialty, and you'll find it on the menus of
bouchons --
casual bistros serving traditional dishes -- throughout the city.
Bouchons
are known for their Lyonnaise salads, too, with bitter greens and bacon slices all tossed in a warm vinaigrette and topped with a poached egg. Another namesake dish you shouldn't leave without trying: the
Tarte Lyonnaise
, a praline tart that is sweet and impossible to miss as the bright pink pie lines shelves at many of the city's
pâtisseries
.
CYBER SALE PROPERTY TO BOOK:​​​​​​​
InterContinental Lyon – Hotel Dieu
Shutterstock
Osaka, Japan
Osaka is Japan's third-largest city, but it ranks first as a food destination -- even to those who call Tokyo or Kyoto home. Here, street food abounds (thanks in part to Osaka's roots as a merchant city), and the most popular item to try is
takoyaki
. Deep-fried balls traditionally filled with sliced octopus, ginger, spring onions, and tempura crumbs, these snacks run cheap and can be found at vendor stalls throughout the city.
Wanaka
's
takoyaki
is one of the most popular, with several locations around the city -- but be prepared to wait in a long line. Osaka is also known for its
okonomiyaki
, which literally translates to "as you like it," a savory pancake that can be customized with any fillings you like, from vegetables to seafood and meat. At Okaru, the chef will personalize your dish even further, with a mayo doodle drizzled on top of each pancake. Last, udon noodles, rather than soba, are the more popular choice in Osaka, so be sure to try them in a bowl of
kitsune udon
, a brothy soup that originated here before taking over the country.
CYBER SALE PROPERTY TO BOOK:​​​​​​​
InterContinental Osaka
Oaxaca, Mexico
Oaxaca has it all: 70 miles of Pacific coastline, stunning colonial architecture, and enough
mole
and mezcal to have you daydreaming about canceling your return flight.
Mole
, the region's signature dish, comes in seven different varieties here -- ranging from traditional negro (made with Oaxacan chocolate and spices) to harder-to-find
estofado
made with olives and onions. Wash it all down with mezcal, tequila's smoky sister, at a
mezcalería
-- aka, a pub that specializes in the stuff. You'll find the region teeming with options, from high-end
Mezcaloteca
, which requires a reservation for a tasting to enter, to stalls that offer varieties from nearby regions at local markets. Don't leave without ordering suckling-pig tacos, though.
Tacos de
lechon
are a popular late-night food, with locals and visitors alike flocking to street stands after 8pm.
CYBER SALE PROPERTY TO BOOK:​​​​​​​
Holiday Inn Express Oaxaca-Centro Historico