That one time you watched Mad Money probably didn't teach you anything, except that Jim Cramer is very skilled at yelling. But lately, you've heard your finance friends dropping stock names that you actually recognize -- like "Chipotle" -- and you want to know if your wildest dreams are finally going to come true and it's time you should buy stock in those burritos that keep you going. We're not the people to ask, but Alexander Mele is.
The investment advisor for Capital Income Advisors, Mele took us through a few solid food stock options. In general, he stresses it's important to buy into a company for its financials, not because you really love its burgers. Also, as he is legally bound to mention, these are his opinions, not those of everyone at Capital Income Advisors. I currently do not have positions in these stocks nor plan to. Buying stock involves risk and you should consult your financial professional before investing. Here are his picks, and, if you do really love burgers, you'll be sad to see which major Northeast chain he recommended you don't buy.
[Editor's Note: All prices as listed on Nasdaq.com at close of trading on August 6th, 2015.]
Chipotle
Trades as: CMG
Stock price: $750.24
Why you should buy: "I don't think the competition has caught on yet, compared to McDonald's or Burger King, who have heavy competition, and have been around for a while. It's not cheap to buy, but there's no one who can really match them right now in the market share."
McDonald's
Trades as: MCD
Stock price: $99.44
Why you should buy: "I watch NBC and Bloomberg all day and McDonald's has obviously been taking some hits. But I would still trust them long-term. They have items like the Happy Meal, something that Chipotle doesn't have, and a strong customer base worldwide."
Tyson
Trades as: TSN
Stock price: $42.06
Why you should buy: "The best choices aren't the flashy names -- they're the food producers. Like Tyson. They make low-cost chicken breasts you can find in any grocery store."
Cal-Maine
Trades as: CALM
Stock price: $54.16
Why you should buy: "They're one of the largest egg producers in America. When are people ever going to stop buying eggs?"
Hershey's
Trades as: HSY
Stock price: $92.20
Why you should buy: "I imagine their sales go up seasonally, but those items are always there at the checkout. You're impulse buying chocolate whether you like it or not. And s'mores are around all year."
Kraft
Trades as: KHC
Stock price: $79.76
Why you should buy: "Most of the time during the day, you're using a Kraft brand. Whether it's ketchup, mayo, cheese, it's probably being produced by Kraft."
And now, one stock to absolutely avoid...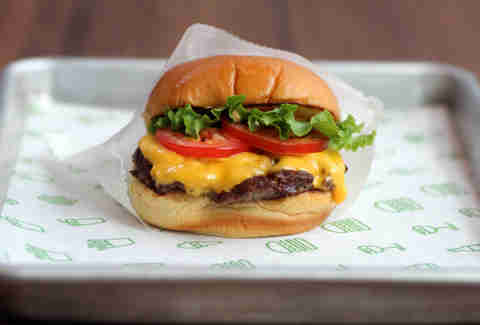 Shake Shack
Trades as: SHAK
Stock price: $64.66
Why you should not buy: "That stock is talked about so much, but it's not one I would trust at all. It seems like a fad. It's just a burger company and it could die at any moment."
This should not be considered a solicitation to purchase or sell any investment or service, and should not be relied upon as such.
Securities offered through Securities America, Inc., Member FINRA/SIPC. Advisory services offered through Securities America Advisors, Inc. and Arbor Point Advisors LLC. Capital Income Advisors, Securities America, Inc., and Arbor Point Advisors LLC are separate entities.
Sign up here for our daily Thrillist email, and get your fix of the best in food/drink/fun.
Kristin Hunt is a staff writer for Thrillist, and thinks it'd be really meta to buy stock in Swanson chicken... stock. This is why you shouldn't take financial advice from her. But follow her at @kristin_hunt.