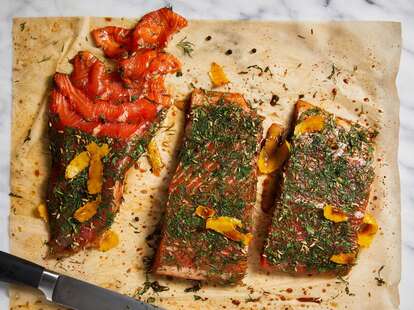 Photo by Christine Han
Photo by Christine Han
In Eating From Our Roots, registered dietician and nutritionist Maya Feller explores a curious phenomenon that first-generation Americans readily relate to: Why is it, when our grandmothers cook a meal for us, there's this intuitive feeling that it must be healthy? The cookbook, out January 24, uncovers the traditional foods from cultures around the world that are built on nutrient-dense, whole, and minimally processed ingredients, yet somehow left out of the dominant health conversation.
Born to Afro-Caribbean academics, Feller spent much of her childhood traveling to and from the Caribbean, as well as Benin, Nigeria, Australia, and Hawai'i. "We wouldn't stay in hotels. We would stay with families and go to local markets," Feller explains. "There wasn't this hierarchy around food like we have here, or a dominant wellness culture. People purchased produce, animal proteins, and then they made the foods based on what was available."
These foods, served without judgment, were made from ingredients that a food scientist would characterize as antioxidant-rich or free-range. Upon returning from these trips, Feller became increasingly aware of the disconnect between American food and its origin. "We've become a really industrialized society," she explains. "And some of it is to our own detriment, because with faster living, we have faster, and thus fewer, interactions with food."
To help create some of the recipes, Feller turned to chefs with roots from or connections with various regions: chef Silvia Barban for European, chef Hong Thaimee for Thai, and chef Priyanka Naik for Indian, to name a few. "I remember interviewing this one chef in particular, who wasn't from the U.S. They said they had been warned that once they came here, they would get sick," Feller explains. "I said, 'What does that mean?' And they said, 'Well, people are really separate from their food here.'" It's a tough transition from weekly market visits in one's home country to already prepared food in the U.S.
Feller's book, though, doesn't exclude the heritage foods of the U.S. You'll find a recipe for fried chicken, for example, not only because Feller believes comfort foods should be savored and enjoyed, but also because it has a history of sustaining and nourishing Black Americans in the South. "It was something that took time to make," she says. "The challenge is that, now, we have it really whenever we want, in that very fast way. Then when you add in social determinants of health, like structural inequities and racism, you have neighborhoods that have a disproportionate access to those particular foods all the time."
Feller aims to restore the nutritious foods of marginalized cultures to their rightful place. And in doing so, she hopes to expand our understanding of what a healthy pattern of eating could look like. The oh-so-trendy Mediterranean diet, she points out, is often whittled down to a few European cuisines, when in fact, there are twenty-two nations around the Mediterranean sea, including sections of Africa and the Middle East. "We still cherry-pick what we want to be the gold standard," she says. "So, for example, pasta is absolutely not on the list, even though it's a heritage food in Italy."
"We've become a really industrialized society...with faster living, we have faster, and thus fewer, interactions with food."
On a recent trip to Iceland, Feller became inspired by a variety of seafood—fishes like herring, which perhaps missed out on the tinned fish trend here in America. "I thought, Wouldn't that be amazing, if people in the U.S. would lean into herring? Because it's just so good for you. But the flavors are still on the outside of what we're accustomed to here," she says.
Nordic seafood makes its way into Eating From Our Roots, in the form of gravlax, a cured salmon. It's similar to lox in that it's not a smoked salmon, but instead of using a simple salt brine, it calls for various herbs. One of Feller's closest friends, Marsa, who is of Finnish-Austrian descent, shared the recipe with her, along with stories of making homemade mustard in the kitchen with her family.
"When the two of us are in the kitchen, there's always a salad packed with herbs," Feller says. "In this country, people are not seasoning their salads. We're not adding dill and parsley and thinking, 'Ooh, that's flavorful.' We dress our salads, but we're not seasoning them." Luckily, this gravlax recipe boasts a multitude of herbs—dried fennel, fresh dill, tarragon—but Feller urges cooks to honor their unique palettes. Salmon and dill don't necessarily have to go together here.
Though she doesn't believe in "health-ifying everything," Feller notes that salmon is an excellent source of omega-3 fatty acids EPA and DHA, which support blood vessel health and reduce systemic inflammation. Large quantities of tarragon on a regular basis helps the body to sensitize insulin.
Feller recommends procuring salmon that's responsibly sourced over, say, one labeled farm-raised or wild-caught. You can work with an entire filet, a smaller piece, or even frozen salmon, but "you really have to defrost it in the refrigerator before you start that process of curing it," she says. And the cure time is flexible, falling within a 24- to 30-hour range. "If you want a super buttery one, you could just go for 24 hours, and it'll be excellent," Feller assures. "But if you want more of a hard, cured texture, get closer to that 36."
Once your salmon is cured and you're ready to carve off a slice, be careful not to cut the skin, which can serve as a protective barrier during storage. "If you're using that huge filet, you can take whatever the excess skin is and fold it over the top to keep it moist," Feller explains. "That's the technique I learned from my Scandinavian friends."
The best part about making your own gravlax is it keeps in the fridge for up to 7 days, lending itself to endless snacking iterations. "I love it on a seeded cracker, always with cucumber," Feller says, adding that she most recently paired it with her husband's homemade spelt farmer bread. This Nordic delight is the ultimate grazing snack, a nice hunk of protein to continuously take bites out of each time you visit your fridge.
Gravlax
Serves 14
Ingredients:
• 2 ½ cups coconut sugar
• 3 ¾ cups kosher salt
• ⅓ cup dried fennel
• ¼ cup whole black peppercorns
• 1 (4- to 5-pound) filet of salmon
• 2 bunches fresh dill
• 2 bunches fresh tarragon
• Fresh peels from 1 lemon
Directions
1. In a medium bowl, combine the sugar, salt, fennel, and peppercorns. Sprinkle about a third of the mixture at the bottom of a parchment-lined baking pan.
2. Place the salmon filet skin-side down on top of the mixture. Top it with the dill, tarragon, and lemon peels.
3. Wrap the salmon tightly with parchment paper, cover the dish, and refrigerate for 24 hours. Check the salmon at the halfway mark and drain and discard any liquid that may have accumulated.
4. To serve, thinly slice the gravlax on an angle with a very sharp knife, taking care not to cut the skin. Cover any part of the remaining gravlax with the excess skin and store in the refrigerator for up to 7 days.