The Only 11 Canadian Foods You'll Ever Need to Eat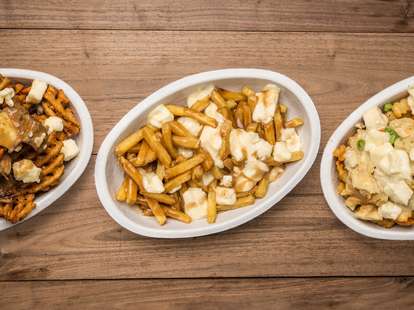 Drew Swantak/Thrillist
Drew Swantak/Thrillist
Despite the fact that we constantly tease them for their Bryan Adamses and politeness and lack of gun violence, Canada is a country that has given us many gifts, from ice-cold Molson to the warm smirk of Ryan Reynolds. Also, poutine. And bagels that are arguably better than New York's. These are the 11 most delicious Canadian contributions to the food world. Your welcome. Eh.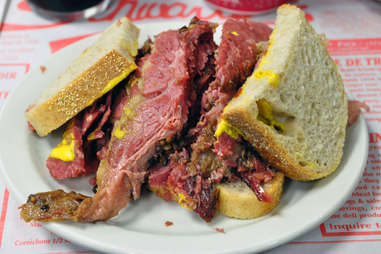 Montreal smoked meat
Our northern neighbors' answer to pastrami, Montreal-style smoked meat differs from Katz's signature meat in a number of ways. It's all brisket, gets marinated for much longer, has way more peppercorn and way less sugar, and is significantly thinner than its beefy counterpart. Those who eat it all the time are just as fat as us, though.
Why Canadians love it: Bold, smoky flavors and minimal work for your jaw (it's supposed to practically melt in your mouth).
Where to find a great example: Schwartz's Montreal Hebrew Delicatessen
BeaverTails
Lots of Canucks whip up their own homemade versions, but the BeaverTail is the eponymous dessert from BeaverTails Pastry, a Canadian institution since 1978. The fried dough is stretched to look like the bucktoothed rodent's tail and then topped with magical fixings like Nutella, caramel, bananas, M&M's, crushed Oreos, and more.
Why Canadians love it: Do you know how many gooey, delicious combinations are possible here?
Where to find a great example: Any of the BeaverTails locations, which're all over Quebec and also dam up arteries in Ontario and New Brunswick.
Pâté Chinois
This meat treat is pretty similar to shepherd's pie, but instead of crediting it to a sheep-herder, the Canadians name-check the Chinese -- "pâté chinois" literally means "Chinese pie" -- for reasons that are still unclear. Murky origins aside, your standard pate chinois contains layers of beef, creamed corn, and mashed potatoes.
Why Canadians love it: This is good, old-fashioned comfort food, and given how basic it is, it's hard to screw up.
Where to find a great example: Le Binerie Mont-Royal, a spot that's been pumping out traditional Quebecois cuisine since 1938.
Bloody Caesars
This warped cousin of the Bloody Mary ditches tomato juice for a crucial ingredient: Clamato, a blend of tomato and clam juices produced by Mott's. Legend has it that when the cocktail's inventor, Walter Chell, first served the drink as a "Caesar", his British customer exclaimed, "That's a bloody good Caesar!", as British people are wont to do. The name stuck.
Why Canadians love it: They insist the less-thick-than-tomato-juice Clamato makes for a more refreshing cocktail.
Where to find a great example: The Westin Hotel in Calgary, where this boozy brunch staple originated.
Montreal bagels
From a distance, these Canadian breakfast treats are just a little smaller than ours, and rocking bigger holes. But the Montreal-style bagel is guarded by a set of standards as strict as Mr. Feeny's. Every single one has to be handmade, poached in honey-infused water, and cooked in a wood-burning oven. Though we suppose that last part isn't too hard, since 75% of Canada's population is made up of lumberjacks.
Why Canadians love it: The guidelines ensure they're getting a quality, hand-crafted disc of dough every time. Also, honey-infused water.
Where to find a great example: Fairmount Bagel or St. Viateur Bagel
Nanaimo Bars
Taking their name from the city in British Columbia, these no-bake bars are probably what Bryan Adams was writing all those tender love ballads about. They consist of three layers: a crunchy base that might feature graham cracker crumbs and chopped nuts, a custardy middle part, and a chocolate top. Some people even get crazy with the icing in the middle, adding mint, mocha, or maple mousse peanut butter flavors.
Why Canadians love it: It's basically like eating fudge, with some bonus crunch and creaminess to make it a real party.
Where to find a great example: If you're going to do this right, you should go to their birthplace, and luckily the city of Nanaimo put together a convenient Nanaimo bar trail full of superior stops like Java Expressions.
Butter tarts
Once you've ruined half your teeth on Nanaimo bars and BeaverTails, launch an attack on your pancreas with another signature Canadian dessert, the butter tart. This pastry has a flaky exterior and a sugary filling that can skew either gooey or semi-solid, depending on the chef's preference. Usually they have raisins, but walnuts or pecans are also fair game.
Why Canadians love it: They're sweet and, owing to their size, infinitely snackable.
Where to find a great example: The Sweet Oven, which serves nothing but tasty butter tart varieties.
Poutine
Sometimes bastardized as disco fries by us Yankees, poutine is the star attraction of Canadian cuisine. Even if you can't pronounce "Wayne Gretzky", you know and love these gravy-and-cheese-curd-topped fries.
Why Canadians love it: It's gravy and cheese and fries. They're only human.
Where to find a great example: Poutini's House of Poutine has a ton of cred, as do the rest of these places.
Ketchup chips
By far the most puzzling pick of the bunch, ketchup chips enjoy a remarkable popularity in the Great White North. A ton of brands mass produce 'em, and whenever overly ambitious American chip barons try and fail to launch them stateside, the Canadians welcome the haul with open arms.
Why Canadians love it: They liken them to better, less acidic salt and vinegar chips. With a hint of tomato!
Where to find a great example: Grocery stores across the border.
Tourtière
When it comes to this meat pie, there are no rules -- just like in the more desolate areas of Canada! Or at least not many. Tourtière will almost always have pork, as well as onions and spices like cinnamon and cloves. But you can add in veggies or potatoes or bonus meats, just so long as it goes in a pie crust, which is where everything should be anyway.
Why Canadians love it: The tourtière allows for plenty of personal variation, yet no matter what, you're getting a hearty dinner.
Where to find a good example: The crazy historic Aux Anciens Canadiens, which knows its meat pies.
Timbits
In Canada, Munchkins are just members of the Lollipop Guild, not the bite-sized donut holes from Dunkin' Donuts. They have Timbits instead, and they are of course made by Tim Hortons. Notable differences: more varied Timbit flavors like apple fritter and blueberry, plus many wager the Timbits are slightly larger.
Why Canadians love it: Tiny donuts are loved by everyone, but especially by people who require tons of hot coffee, owing to that whole living in a frozen tundra business.
Where to find a great example: Tim Hortons, duh.
Sign up here for our daily Thrillist email, and get your fix of the best in food/drink/fun.
Kristin Hunt is a former food/drink staff writer for Thrillist. Before that, she ran a massive Dunk-a-Roo cartel out of her college dorm room until the game got too rough. Follow her at @kristin_hunt.