Photo by Henry Hargreaves
Photo by Henry Hargreaves
Danny Bowien is figuring things out. It's been a tumultuous time: The pandemic wreaked havoc on restaurants across the world while a reckoning at Mission Chinese hit closer to home. Despite the hurdles, Bowien just wants to be himself—a Korean-American adoptee from Oklahoma, a chef, and a people-pleaser who wants to make others smile through food.
"I was drawn to becoming a chef because your job is to really make people happy with food, to be accommodating," Bowien explains. It's partially why he's really dove deep into vegan cooking, and why veganism is at the center of his new cookbook, Mission Vegan: Wildly Delicious Food for Everyone, which hits shelves August 23. "The restaurants that I ran, I would try to have a menu that catered to everyone. It would be a surprise to people with dietary restrictions that I had a totally separate menu that was vegan."
To Bowien, veganism is intertwined with the gratification he gains by being able to serve everyone, but it is also a challenge. And Bowien, who concedes that chefs love to make things harder for themselves, loves a challenge. "Through my cooking career, I've learned it's much harder to do more with less," he says. "The more you take away, the simpler things become and the more confident you have to be, the more comfortable you have to be with yourself, to succeed."
Although Bowien has been experimenting with vegan food for years (without necessarily referring to his culinary creations as vegan), the tipping point came after traveling to South Korea with chef Emeril Lagasse to film a segment for an episode of Eat the World With Emeril Lagasse. In the episode, Bowien meets chef Jeong Kwan, a Korean monk and vegan chef, who provides him a perspective that allows him to view himself as a worthy Korean chef.
"Here I was speaking to this person and I'd never cooked Korean food a day in my life, hadn't even had it until I was 19 years old," Bowien reminisces. "I told her I was too scared to cook Korean food, that I felt like I didn't even belong, and she told me, 'You'll always be Korean. You should find your heritage, find your way through food.'" The fact that this came from a vegan Korean monk morphed his sense of identity and gave him the encouragement to pursue both Korean and vegan food more wholeheartedly.
Bowien doesn't deny that his identity may make people uncomfortable. What does it mean to have a Korean-American adoptee from Oklahoma, who was raised by two white parents, whose first cookbook was rooted in Chinese cuisine, develop recipes? "I don't have a box that I can put myself into," Bowien laughs, "but I don't think we have to be so definitive. I've always thought that as long as you come from a place of respect, curiosity, and obsession, food can be a medium or a gateway of discovery."
"I was drawn to becoming a chef because your job is to really make people happy with food."
While Bowien's first cookbook, The Mission Chinese Food Cookbook, focused solely on his restaurant, Mission Vegan is a journey of self-discovery and an exploration of identity through the lens of vegan food.
Take the recipe for chilly green chili noodles, an electrifying dish that plays with the dichotomy of the senses. "The flavor profile of green chili has lived through so many different periods of my life," Bowien says. The sauce made for this dish reminds him of growing up in Oklahoma and visiting Chileno's, a Mexican chain in Oklahoma that serves a poblano-based salsa. It also speaks to years spent in San Francisco living down the street from Green Chile Kitchen, a New Mexican restaurant that served green chile burgers.
Green chili paste is a culmination of Bowien's lived experiences and a condiment always stocked in his fridge; adding it to noodles became a natural progression. "I love that exhilaration of heat and cold," Bowien explains, noting that noodles are the perfect canvas because they allow the roasted green chili paste to really shine.
"With this cookbook, I wanted to come from a place that was honoring technique but still have recipes that I would want to cook and eat," Bowien says. "I definitely want to get this right, but my approach is that I'm not your expert. I am going to find out as much as the reader and you guys can come along and discover with me."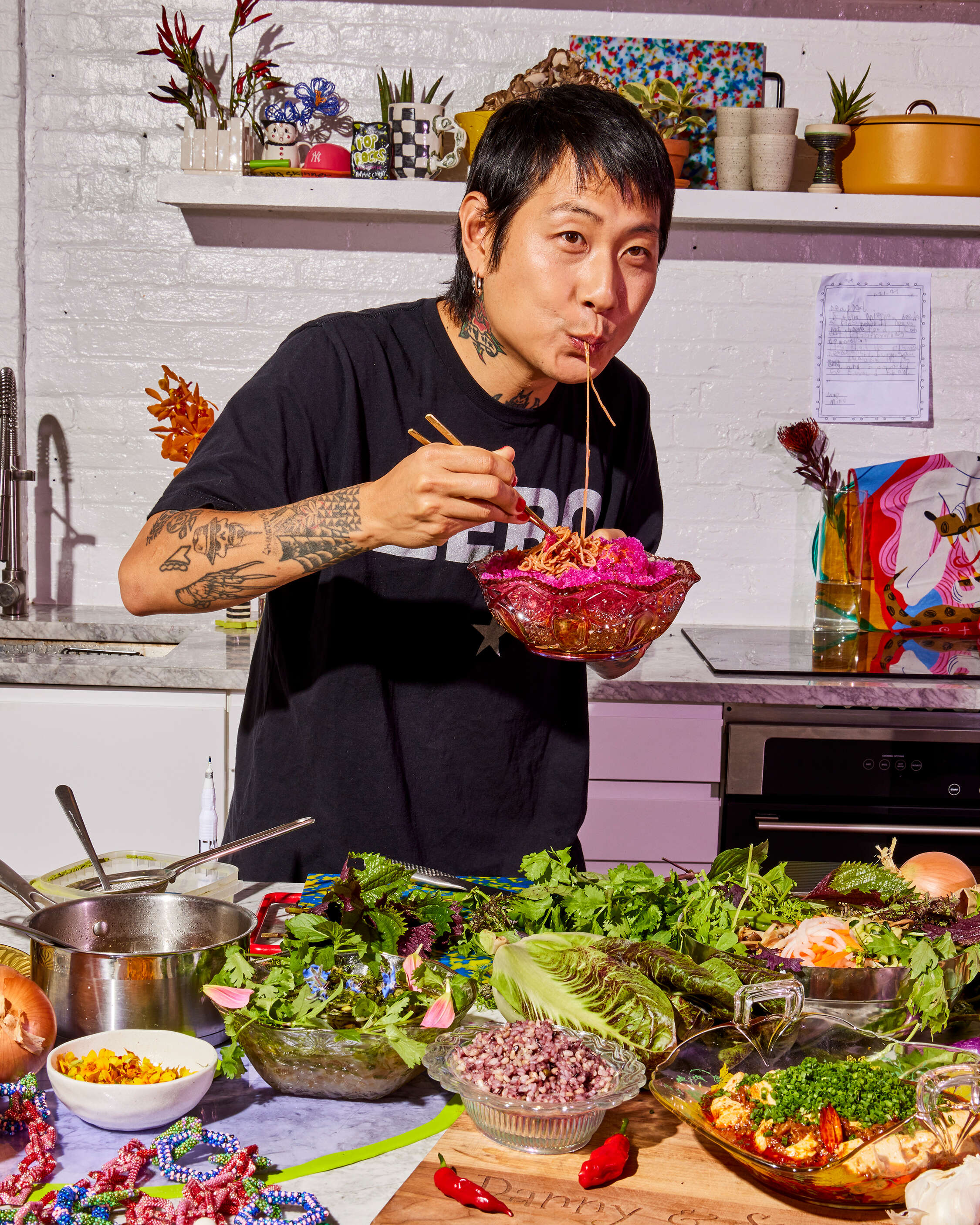 Chilly Green Chili Noodles Recipe by Danny Bowien
Ingredients:
For the noodle dough:
2½ cups semolina rimacinata (very fine semolina flour), plus extra for dusting OR
1¼ pounds of fresh Japanese ramen or spaghetti
¾ cup lukewarm water

For the dish:
Kosher salt
Sichuan peppercorn powder
2 cups Charred Green Chili Paste (below)
2 cups mixed herbs, such as Thai basil leaves, mint leaves, and cilantro
½ cup extra-virgin olive oil
1 lemon

Directions:
Make the noodle dough:
1. Sift the semolina flour onto a clean work surface, form a pile, and make a well in the middle. In a thin, steady stream, pour about 1/2 cup lukewarm water into the well while stirring with a fork to incorporate the liquid into the flour as it's added. Bring the dough together, then add 1/4 cup lukewarm water and use your hands to bring the rough dough together, making sure you've incorporated all the flour.
2. Knead the dough until it's smooth and springs back slightly when you poke it, about
5 minutes. Transfer it to a bowl, cover, and let it rest at room temperature for 30 minutes.
3. Cut the dough into two equal-ish pieces. Dust a work surface with semolina flour and use a rolling pin to roll out each piece to a thickness somewhere between 1/4 inch and 1/8 inch. Dust each one with a little more semolina flour. Fold each one into thirds and cut into noodles that are somewhere between 1/4 inch and 1/8 inch thick. Gently toss to separate the noodles and dust once more with a little semolina flour.
4. To freeze the noodles, divide them into four tangles, put them on a plate or tray, and freeze, uncovered, until solid. Transfer to freezer bags, forcing out the air as you close them. There's no need to thaw before cooking.
Make the dish:
1. Bring a large pot of generously salted water to a boil. Fill a large mixing bowl with water and a bunch of ice and set it aside. Add the noodles to the boiling water and cook to al dente, 3 to 5 minutes. Drain the noodles, then add them to the icy water and stir until they're chilled. Drain again really well.
2. Dump out the water and wipe the large mixing bowl dry. Add the noodles, chili paste, olive oil, and salt to taste, and toss really well. Divide among plates, garnish with the Sichuan peppercorn powder and herbs, then grate on the zest of the lemon. Cut the lemon into wedges and serve with the noodles.
Charred Green Chili Paste Recipe by Danny Bowien
Ingredients:
1/4 cup unseasoned rice vinegar
1 tablespoon mushroom seasoning powder, homemade or store- bought
1 pound poblano chilies (about 5)
1/2 pound serrano or small jalapeño chilies (about 15)
2 tablespoons extra-virgin olive oil

Directions:
1. Stir together the vinegar and mushroom seasoning powder in a small mixing bowl.
2. Position an oven rack about 4 inches from the broiler and preheat the broiler. Put the chilies on a sheet pan, drizzle with the oil, and toss well to coat them. Arrange them in a single layer and broil, turning over the chilies once about halfway through, until they're blistered and blackened, 8-10 minutes for the red chilies and about 20 minutes for the green chilies. Let them cool a bit.
3. Pull the stems off the chilies, but don't deseed them or remove the skins. Add the chilies to a food processor and pulse until fairly finely chopped, then add the vinegar mixture and pulse until well mixed but still a little chunky.
Note: It keeps in the fridge for up to 1 month.
From Mission Vegan: Wildly Delicious Food for Everyone by Danny Bowien with JJ Goode. Copyright 2022 by Danny Bowien. Excerpted by permission of Ecco, an imprint of HarperCollins Publishers.
Kat Thompson is a senior staff writer of food & drink at Thrillist. Follow her on Twitter @katthompsonn.