Gregory Gourdet Shares Tips on Conquering Holiday Grocery Shopping
The 'Top Chef' star also provides a recipe for his ultimate potluck dish, poule nan sos.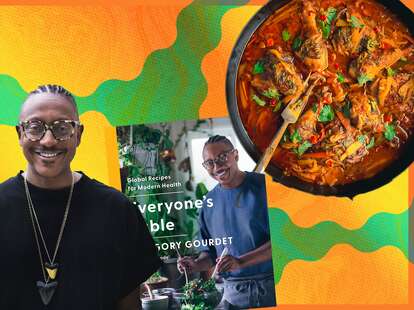 Photos: Eva Kosmas Flores; Design by Chineme Elobuike for Thrillist
Photos: Eva Kosmas Flores; Design by Chineme Elobuike for Thrillist
The key to a great holiday cooking, according to Top Chef star and cookbook author Gregory Gourdet, is a stocked pantry. Flavored salts, chili oils and pastes, and different types of fat ranging from coconut oil to olive oil are all necessary for flavor. "I truly think a solid pantry is the foundation to easily make great food," says Gourdet, who recently debuted his latest Portland restaurant, Kann.
In his cookbook, Everyone's Table: Global Recipes for Modern Health, which was released last May, Gourdet devotes an entire section on how to properly fill a pantry. He always has coconut milk on hand and three different fish sauces at home. To ensure he's ready for holiday cooking, his refrigerator is also loaded with its own perishable pantry: pickles, kimchi, lime juice dressing, and an array of sauces are always readily available. "Stocking up with a lot of those ingredients [will] add a lot of flavor and a lot of depth," he says. "It's really a great way to get a dinner cooking on the fly."
For Gourdet, the holidays are all about gathering—spending time with family and community—and not wading through the chaos that is grocery stores during the days leading up to Thanksgiving. "I would suggest stocking your pantry before the holidays with a lot of these ingredients—your canned goods, your pumpkin, your canned sweet potatoes, your maple syrup, your whole cinnamon," he says. "All the things that you know you're going to use and just have that ready to go." When it comes closer to the actual day you're celebrating, Gourdet says a quick trip to get proteins and produce is all you'll need, guaranteeing you get in and out quickly.
At the center of Gourdet's friends and family potlucks is typically poule nan sos, which translates to "chicken in sauce" in Haitian Creole. It's warm and comforting—a perfect dish for when the temperature drops—and consists of ingredients Gourdet usually has available. "For potlucks, I always want to make something that's interesting, while still keeping it somewhat casual and communal," he explains. "Something cultural is special and my chicken in Creole sauce is one of my favorite recipes from the book."
The recipe carries signature Haitian flavors: sweet and spicy Scotch bonnets, juicy citrus, and fragrant bell peppers that commingle with plenty of garlic and fresh thyme. "It's just a really delicious braised chicken dish, which is always a crowd pleaser," he says, adding that its versatility allows it to be served with rice, salad, or even mashed potatoes. Plus, it reheats without fuss.
One of the most important parts of the Haitian community, according to Gourdet, is sticking together. This facet of his community reveals itself in gatherings that may consist of family and extended relatives, but also friends. "We definitely have huge dinner celebrations and parties, especially around Thanksgiving, which is always a collection of Haitian dishes and, like, lasagna," he laughs. "There's always a collaborative spirit—as well as fried plantains and lasagna on the same table. But that's America."
Gregory Gourdet's Poule Nan Sos
Serves 4
Ingredients:
For the chicken marinade
3 pounds mixed bone-in chicken thighs and drumsticks, rinsed and patted dry
3 tablespoons kosher salt 1 juicy orange, halved
1 juicy lime, halved
1 juicy lemon, halved
2 medium yellow onions, cut into ⅛-inch half-moon slices
8 garlic cloves, roughly sliced
2 Scotch bonnet or habanero chiles, cut in half and sliced thin
¼ cup fresh thyme leaves
For the dish
⅓ cup extra-virgin olive oil
½ cup tomato paste
1 tablespoon kosher salt
2 red bell peppers, seeded and deveined, cut into long, thin slices
2 yellow bell peppers, seeded and deveined, cut into long, thin slices
2 cups chicken stock, salted homemade or store-bought
Small handful roughly chopped parsley sprigs

Directions:
1. Put the chicken pieces in a large bowl and season with the salt. Squeeze the citrus halves over the chicken, then spend a minute or so rubbing the cut sides of the citrus against the chicken. Add the onions, garlic, chile, and thyme and toss well, rubbing the chicken as you do.
2. Cover and marinate in the fridge for at least 12 hours or up to 48 hours.
3. Preheat the oven to 375°F.
4. Remove the chicken from the marinade, guiding any stuck-on aromatics back into the bowl. Set a strainer over a small mixing bowl. Pour the marinade through the strainer, reserving the solids and liquid. Pat the chicken very dry with paper towels.
5. Heat the oil in a wide, heavy, ovenproof pot (I use a 3½-quart braiser) over medium-high heat just until shimmery. Cook the chicken, skin-side down, occasionally turning the drumsticks but not the thighs, until the skin is deep brown, about 8 minutes. Transfer the chicken pieces to a plate.
6. Reduce the heat to medium-low, add the tomato paste and salt, and cook, stirring often, until it turns several shades darker, about 3 minutes. Add the bell peppers and the reserved solids from the marinade, and cook, stirring occasionally, until the peppers soften slightly and take on a little color, about 8-10 minutes.
7. Return the chicken to the pan, skin side up and in a single layer, then take a minute to pile the peppers, onions, and other aromatics on top of the chicken. Then evenly pour in the reserved liquid from the marinade along with the stock. Cook in the oven, basting every 15 minutes to coat the chicken with the peppers and sauce, until the sauce has thickened slightly and the meat pulls off the bone with a gentle tug from a fork, about 1 hour. Garnish with the parsley and serve.
From the book EVERYONE'S TABLE by Gregory Gourdet and JJ Goode. Copyright ©2021 by Gregory Gourdet and JJ Goode. Published by Harper Wave an imprint of HarperCollins Publishers. Reprinted by permission.
Kat Thompson is a senior staff writer of food & drink at Thrillist. Follow her on Twitter @katthompsonn.