Grilling is most associated with the late afternoon and early evening, a time when burgers are on people's minds, cornhole bags are ready to fly, and cold beers are bountiful. But if you're only firing up the grill during sunset, you're missing out, because those same hot coals can do amazing things to your breakfast game.
Not only can grilling coax maximum flavor out of everything from sausage to fruit and even French toast, it also gives you an excuse to head outside in the morning air as the summer winds down. Below are 13 suggestions for grilling breakfast. And if you want to pair them with some pre-noon beers and cornhole, well, we're not judging.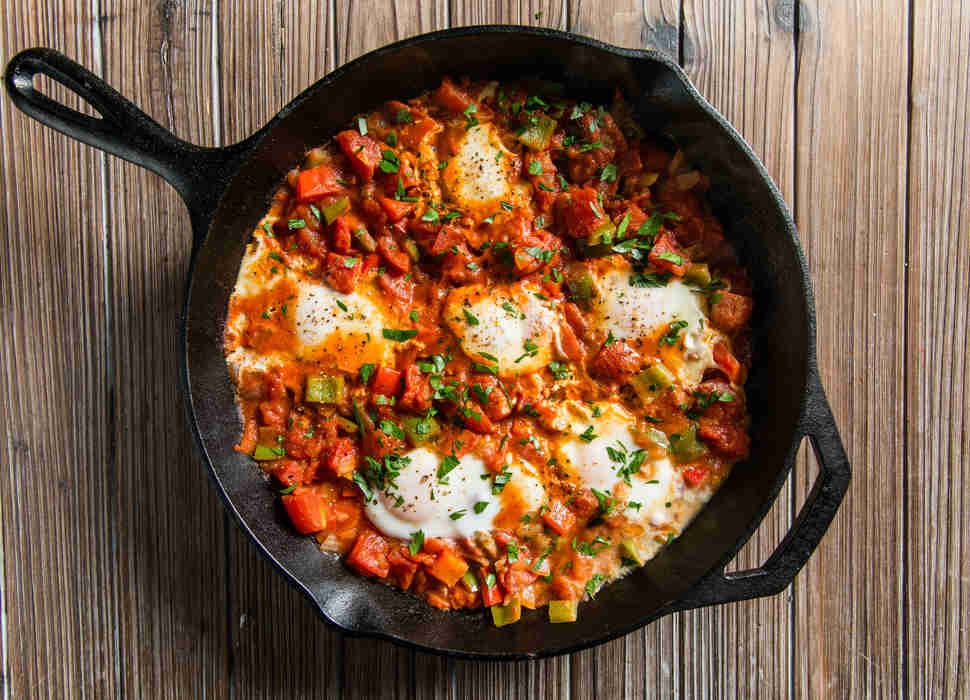 Cast-iron shakshuka
There's a reason why eggs are Alton Brown's favorite food. They're magical. Quick and full of flavor in a pinch, these versatile bad boys live to take on bigger and bolder flavors, especially when they're thrown in a great shakshuka. It's a lot easier to do than most fancy brunch spots let on. Just throw eggs, tomatoes, and harissa into a cast-iron pan along with whatever herbs and spices you've got on hand, put it on the grill, and walk away. You'll end up with a much more delicious breakfast than you would have ever expected from your hungover self. If that's not enough protein for you champ, feel free to throw in whatever meat tickles your fancy. Might we suggest some nice lamb sausage, chorizo, or even a nice piece of salmon?
Making your own shakshuka on the grill with a cast iron is totally doable. Here's how.
Argentinian stuffed flank steak
Steak and eggs is an American breakfast staple, but you can do so much better with your breakfast, and Argentinians can lend us a hand in this arena. Argentinian-style steak (usually flank) is often paired with bright, fresh flavors like chimichurri --  an acidic sauce made from coriander and mint -- before being grilled to perfection. Bring the spirit of Argentina to your backyard by whipping up a matambre, aka stuffed flank steak with hard-boiled eggs, peppers, and herbs rolled up inside that's cooked and thinly sliced.
Stop drooling on the coals and get the recipe here.
Grilled breakfast sandwiches
Your boring old breakfast sandwich deserves to be made on the grill for a few reasons. First, making your breakfast sandwiches on the grill imparts flavor on more than one level. You've got your bread nice and buttered (or mayo'd), which hits the grill and immediately starts browning. Browning, as Guy Fieri would say, is the first step on the journey to Flavor Town. Flavor level two starts when the smoke starts to perfume whatever you've piled on under those buns, flavoring that in its own seductive fashion. Finally, opting to add in cheese means that everything melts together in a truly splendid fashion to give you an ooey, gooey sandwich that got most of its flavor with little to no effort on your part.
We know what you really want: that salty, sweet, melty trifecta. Find it with this super easy yet deeply satisfying grilled peanut butter, bacon, and banana sandwich.
Grilled bacon and herb grit cakes
The great poet Andre 3000 has spent considerable time extolling the virtues of grits, typically paired with fish and pimp shit. These grit cakes ditch the fish for bacon,  but remain certifiably pimp when they're cut into wedges and thrown on the grill. They're wholly satisfying on a deep, comfort-food level while remaining a show-stopper at the breakfast (picnic) table. 
It's surprisingly simple to make these. Here's how.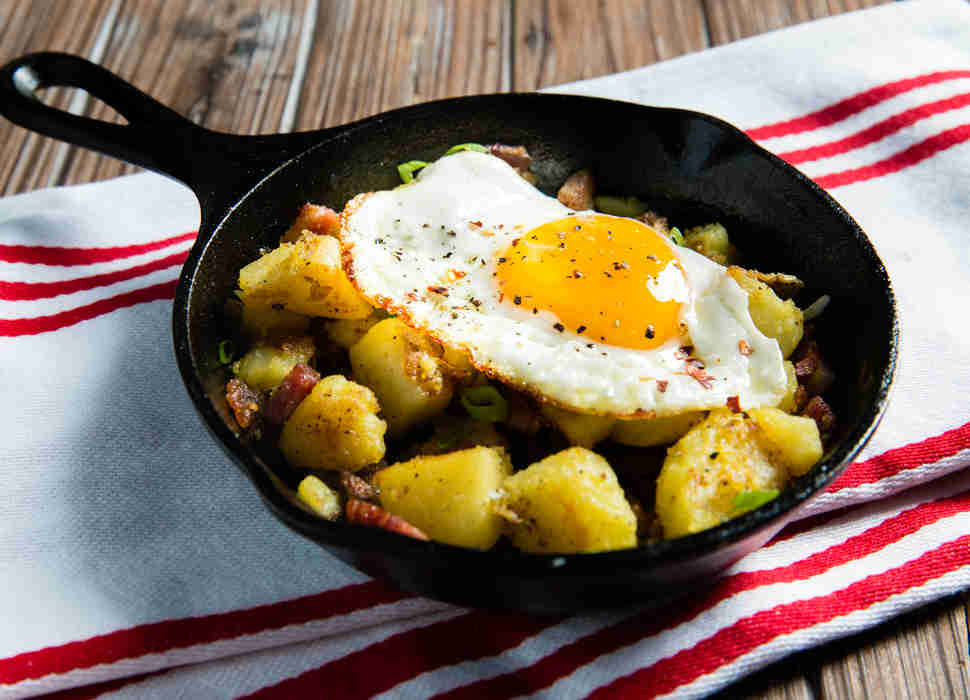 Hash
Often doomed to toil away as an unforeseen side on a great, big breakfast plate, plain ol' hash finds redemption when it meets a cast-iron skillet. A cast iron's ability to conduct heat evenly means higher temperatures, which means more caramelization and browning, which translates to more flavor in your mouth. Potatoes will develop a nice char rather than a sad boil here, and taste much better for it.
An easy grilled (or campfire) hash is so easy a caveman could do it: with only six ingredients, it's the perfect thing to throw on the grill the morning after a debaucherous evening. Did we mention everything is cooked in bacon drippings?
Head on here to get the recipe from none other than Queen Martha herself.
Grilled fruit
The sad, dying bane of brunch buffets at Sizzlers everywhere doesn't have to be so painfully boring. Swap out boring grapefruit halves in favor of their leveled-up version made on the grill. Adding fruit to the grill caramelizes the natural sugars in the fruit, which concentrates its flavor. Meanwhile, the char from the grill adds another dimension of flavor to the fruit, as does whatever oil you use to grill it with. The possibilities for experimentation are endless, though fruits that hold their shape better like apples and pears are more ideal since they won't turn to mush on the grill.
But you can do even better: Adding in some extra meat like prosciutto -- whose flavor works remarkably well with many fruits, including melon -- quickly turns this into a healthy, well-rounded breakfast meal.
Get to wrapping with these prosciutto apricots with this recipe.
Grilled French toast
Grilling French toast is a great way to elevate a humble piece of bread. The char marks from the grill give the bread a nice texture and caramelizes the outer sugars, while the addition of any grilled fruit evens out the party with a little extra sweetness. You can try using anything from toast to brioche mixed with whatever's in season -- berries work especially well for this purpose -- for endless combinations on the beloved classic.
Got 15 minutes? Michael Symon has your breakfast on lock with this recipe for challah French toast with berries, rosemary, and balsamic right here.
Grilled breakfast pizza
Grilling pizza is easier than it looks, and you don't need to resort to cold slices for breakfast to get a great fix in the morning.  Just about anything from sun dried tomatoes to mushrooms and prosciutto or eggs works will suffice to put a breakfast spin on pizza, but you can always fancy it up by adding in some grilled fruit, too. Even better, you can skip making your own dough in favor of the store-bought stuff (it's early, after all), making grilled breakfast pizza as easy as it is deliciously unexpected.
Find everything you want on a breakfast pizza with this incredible recipe.
Grilled sausage with eggs and kale
What's breakfast without plenty of sausage? If you can't hear the sound of the fat happily rendering away as the birds chirp, then you're missing out. Honor the breakfast gods with a grilled spin on the traditional sausage/eggs/veg combo. Grilling your sausages gives them a nice bite, and makes for a more complex flavor thanks to the infusion of all that smoky flavor. This simple dish of grilled sausages with eggs and kale is jam packed with flavor and just about every nutrient you could think of, uses only a handful of ingredients, and can be easily adapted so you can use whatever veggie you've got on hand.
Take a look at this early morning sausage fest here.
Grilled portobello bruschetta
A great alternative for those who abstain from meat but still want something rich and hearty for breakfast, portobellos are the alpha males of the fungal set. Cooking them on the grill chars the outside while the mushroom itself remains nice and juicy, and their firmness ensures they won't fall apart. Their rich, earthy flavor means they can stand up to just about anything you care to fill them with, plus they're also pretty healthy and pretty low cal as far as breakfast foods go. They're also the perfect ingredient for a breakfast take on bruschetta, which is essentially a fancy toast to begin with, and those are all the rage right now.
Bring Italian apps back to breakfast with this recipe.
Grilled espresso-glazed coconut donuts
How could you possibly hope to make a donut better than it already is? By kissing it with the warm touch of the grill, of course. These grilled espresso-glazed donuts use coconut milk, chocolate, and espresso to yield the kind of sophisticated donut that leaves all those artisan hipster joints on your Instagram in the dust. The heat from the grill caramelizes the sugar, giving it a nice toffee flavor, while the coconut prevents it from being too sickly sweet. You get the nice texture of the char which plays really well with the coffee, and thus the perfect breakfast food for those with a sweet tooth is born.
Have your coffee and donuts without the need to dunk with the recipe right here. Find the recipe here.
Avocado eggs
First off, if you aren't grilling avocados, you're not doing life right. Second, if you aren't cracking an egg into the egg-sized hole left in a halved and pitted avocado, shame on you. Third, you can do both those things at the same time, with wonderful results and with very little time investment. 
It's remarkably easy to do this if you follow the recipe at The Daily Meal. 
Eggs Benedict burger
If Carl's Jr has taught us anything, it's that the aggressive sexualization of fast food does very little to help people differentiate between it and Hardee's. But if it taught us two things, it's that burgers are excellent for breakfast. And in terms of breakfast burgers, this one is the king. It's everything you love about eggs Benedict -- the hollandaise, the extra blast of salty meat, the underutilized-in-burgerdom English muffin -- and throws it together with a nice grilled beef patty. The recipe below calls for crispy bacon, but you can (and should) go with Canadian bacon or ham. You're already messing with tradition by grilling Benedict, after all, so might as well hold something sacred. 
Get the entire recipe at the Brewer & the Baker. 
Sign up here for our daily Thrillist email, get Eatmail for more food coverage, and subscribe here for our YouTube channel to get your fix of the best in food/drink/fun.