In Defense of Grilling with Propane
"I work for a living. And I mean real work, not writing down gobbledygook! I provide the people of this community with propane and propane accessories!" -- Hank Hill
Sure, Hank Hill said a lot of what we do here at Thrillist isn't "real work," but we forgive him because he loves propane and propane accessories. And so do we, dang it! Grilling with propane (and propane accessories) is looked down upon by many BBQ enthusiasts, as it doesn't impart any flavor onto the meat in the same way that charcoal does. But after speaking to chefs around the country, we've found some who valiantly defend the use of propane. This is why you should grill with Hank Hill's favorite naturally occuring gas.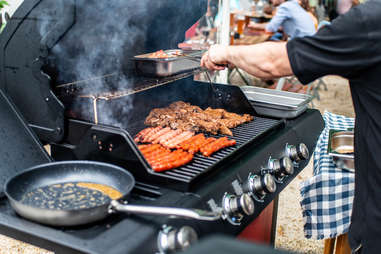 It's convenient, like a 7-Eleven
If this article were the big board on Family Feud, the No. 1 survey answer would be: "It's quick and easy!" All the experts we spoke to love charcoal. But on the flipside, it's so easy to start a propane grill, "you can do it with a beer in your hand, and that alone is a pretty good defense of propane," said chef/owner Teddy Bricker of Austin's Soursop. "Plus, lighting charcoal is a huge pain in the ass."
Dan Zuccarello, the executive food editor of nooks at America's Test Kitchen, sums it up perfectly. "I find grilling with gas much more straightforward for basic weeknight grilling -- it's quick to set-up and quick to clean-up," he said.
That's echoed by Top Chef alum Bryan Voltaggio, who cooks over live fire at MGM National Harbor's Voltaggio Brothers Steak House, but gets why you wouldn't want to. "If you're a weekend grill warrior and your days are filled with other activities, the time saved using a propane grill is beneficial," he said. "You just light it and wait for the temp to rise versus building a fire and keeping a watchful eye on it."
Don't let propane's reputation stop you from embracing it. Even a James Beard Award-winning chef rediscovered the joy of grilling with it. "I used it for nine months while my kitchen was under construction, and I even added a steel plate for sauce pots and sauteing," said Chef Christopher Gross of Phoenix's The Wrigley Mansion.
Head butcher and chef Rob Levitt of Chicago's Publican Quality Meats says propane is great if you want an "easy-going cookout." Charcoal is not a set it and forget it type deal. "There's no loading of the grill or meticulously organizing coals and wood to evenly create hot zones," he noted. "Plus, during the cooking process, it's much easier to adjust your temperature as needed without having to poke the embers (and probably singe your favorite shirt in the process!)." Perhaps that's another benefit to propane grilling: You can wear your hilarious Big Dogs T-shirt and have No Fear that it'd get destroyed.
Heat zones make grilling a snap
If you're going to make the effort to grill, you're probably wanting to whip up a few different proteins and vegetables. Propane grilling makes this a snap. "It's harder to control heat levels with charcoal, but with propane you can cook a whole meal on the grill," said chef/owner Lisa Schroeder of Portland, Oregon's Mother's Bistro. "Higher heat on one side for grilling burgers, steaks or hot dogs, and lower heat on the other for buns or veggies like asparagus, eggplant and zucchini."
Should your backyard buffet include big ol' slabs of beef, it's quite a bit simpler on a propane grill. "If I want to sear steaks I can warm 'em on the grill on high heat, but then when I want to slow the cooking process, I can achieve this by lowering the temperature," explained chef/owner Melissa Eboli of Via's Kitchen. "With charcoal, I have zero temperature control and when the flames get too hot or too high, it literally burns all the food. The flames can also get out of control, which could cause a major safety issue for anyone grilling." Eboli's right, but no matter which grill you're using, stay safe out there!
Vegetables are extremely propane-friendly
"I have a really nice propane grill and I use it all the time!" said Pierre, an Elite Chef at Cozymeal who goes by one name. He's allowed: He's cooked for a few Presidents. Pierre likes carrots, tomatoes, lemons, asparagus, yellow and green zucchini and bell peppers tossed with thyme, olive oil, and chopped garlic, and grilled for three minutes on each side. "Just make sure there's no flame on the vegetables as they're grilling or they'll get a bad taste and burn marks," he said. "Position them at ten o'clock and then switch them over to two o'clock and you'll have perfect x's on your vegetables."

Plus, the smoky flavors imparted by charcoal aren't always welcome. "While it's harder to develop smoky flavor profiles you get from wood [on a propane grill], that same smokiness can also be a disadvantage by overpowering certain foods that are more delicate, like seafood or vegetables," said chef Luis Cuadra of downtown Los Angeles' District.
Smoking is still an option
As you might imagine, Alex Benes, the culinary director for SoCal's Wood Ranch BBQ, will defend grilling over wood and hardwood charcoal until the end. But he admits there's a way to get smoky flavors from a propane grill. "Many of the newer grills have smoke boxes that allow you to put in wood chips that create flavorful smoke," he said. "So you can actually smoke, say, a pork shoulder on your propane grill. It's not optimal, but you can get good smoke flavor into the meat."
For those without a new propane grill, Levitt has a trick you can use. "If you feel like you're missing true smokiness, you can always take hickory or cherry wood chips and wrap them in aluminum foil," he recommended. "Poke a couple of holes in the top, and they'll smolder on the grill to fill it with smoke, achieving that desired extra flavor element followed by a two-second clean-up." No big deal, as you were headed back to the grill for seconds regardless.
Sign up here for our daily Thrillist email, get Eatmail for more food coverage, and subscribe here for our YouTube channel to get your fix of the best in food/drink/fun.