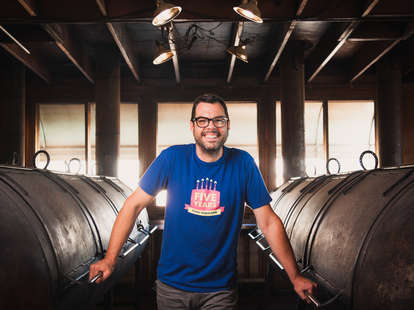 Thomas Allison/Thrillist
Thomas Allison/Thrillist
BBQ Legend Aaron Franklin on Backyard Cookouts, Bad Brisket, and Long Lines
Welcome to Grillist, our annual celebration of all things smoke and fire. Join us all summer long as we get up in your grill with expert BBQ advice, insightful interviews, and bad grilling puns -- but mostly those first two.
By the time I show up to meet Aaron Franklin in his natural environment, his day is half-finished and an orderly horde of BBQ fiends, including some who've been kicking it in lawn chairs since before dawn, is already waiting in line for the restaurant to open. It's 7:30am. That's what it's like six days a week at Franklin Barbecue, the Austin powerhouse he opened in 2009 that, thanks in part to raves from the likes of Anthony Bourdain, The New York Times, and Barack Obama, is on any self-respecting meat-eater's bucket list.
Franklin has become a food celebrity in his own right, too. Since opening the restaurant in 2009, he's starred in a Chase Sapphire card ad, appeared on countless cooking shows, filmed a cameo alongside Robert Downey Jr. and Scarlett Johansson in the 2014 Jon Favreau movie Chef, and published a best-selling cookbook. In May, he launched Hot Luck, his very own food and music festival.
When we meet on a crisp Austin morning, Franklin recognizes the early hour and offers me a cup of coffee. We sit down at a picnic table behind the one-location empire he's built and talk about how this all started, why he hasn't opened a chain of BBQ joints from Hollywood to Times Square, and why no one not named Obama has been allowed to skip the famous line.
Thrillist: What can you tell me about the first brisket you ever cooked?
Aaron Franklin: It was about 14 years ago. I was still playing music, just a normal job -- I still have a normal job, really, although actually it's not that normal at all. I bought a cheap cooker, bought a cheap brisket at (grocery store) HEB. Real cheap. I cooked it, it was terrible. I had some friends over, and I've pretty much been hooked ever since.
How do you go from smoking a terrible brisket for your friends to all of this?
Franklin: When I cooked that first brisket, I was kind of sitting out drinking a beer, playing with the fire and smelling the smoke. I was like, "This is it, man, I'm super into this." And 14 years later, I still do it -- even as little as I actually get to cook these days, I'm still pretty knee-deep in BBQ.
I didn't know that BBQ existed like it does. I hadn't been to any of the famous places. I just knew the stuff that I'd grown up with, which is more like the East Texas, scrape-the-fat-off-the-top, gray, thinly-sliced tough meat. The whole time my pipe dream was to eventually open up a place. So we started having backyard barbecues, and I hung out at rock shows all the time, so I started making handbills that said, "Two Sundays from now, I'm having a barbecue," and they got bigger and bigger and bigger. Before we knew, we had like 100, 150 people showing up for these things.
So the first brisket was bad. The next one wasn't bad.
Franklin: It might have been! We can't confirm or deny that.
When people brag about going to those backyard BBQs, they aren't saying that the brisket was bad. How did you get good at it?
Franklin: I don't really remember what it was like. I've been doing the same recipe pretty much forever. In the early days, like, I put some garlic in there --boy, that's gross. Then pretty early I settled onto the half and half seasoning that we use now. So none of that stuff has changed. What's changed is how I've learned to cook that piece of meat. But I'm still figuring stuff out. I still cook something and I'm like, "Huh, never thought of it that way. Interesting."

These days, if you go to a new small-town BBQ place somewhere out in Texas, there's a good chance the person who opened it learned to cook from watching you on YouTube.
Franklin: It's crazy. I don't go out to eat a lot of BBQ, believe it or not. But I'm starting to hear from friends or people who do keep up with BBQ, like, "Man, I went to this other place… really good! Super Franklin-style. Like, really, really Franklin-style. Like, I went to the counter, and it smells like Franklin brisket."
Yeah, some moron put a bunch of videos on the internet. I try not to think about it, because I don't really want to know. But really, when we made the videos, we made them to teach them how to cut brisket, so when we sold the whole brisket we could just email them a link. There wasn't anything on the internet -- the first thing that popped up was a restaurant that took the back of the knife and scraped all of the fat off the flat, cut the point off, threw it away, and then cut the lean part with no bark on it. And we work too hard to cook these briskets to have them go out like that. I was thinking of it as like, we've been so lucky here and so many people show up, and we've been so fortunate to build a ramshackle little joint and be so successful that this was kind of like our little community service in making these videos. The better everybody is, the better everybody is, and we have more good BBQ to eat.
That's a pretty zen attitude about it.
Franklin: It's pretty cool, I guess. You know, I had a pipe dream to open a place. I'm sure a lot of other people do, too. The same excitement that I felt 14 years ago, it definitely happens a lot more now, but I think it's pretty special to hear some guy's like, "Oh my god, I watched these videos, I got into BBQ, I opened a restaurant, and now I'm supporting my family!"
BBQ is having a moment. Why?
Franklin: I suppose it's in our genetics to sit around a fire and "ooga booga" and cook a piece of meat in a cave somewhere. It's in us to want to do that stuff just naturally. And how cool is it to make all this food and be proud of it, and it actually turns out good and then your friends and family come over and it's great?
Ten years ago, if you went to, say, Chicago, you could find a couple of local BBQ joints, but it wasn't anything special.
Franklin: Now there's BBQ everywhere. We've always had that stuff here in Central Texas. It's just salt, pepper, meat, and fire. No big deal. The internet's been a huge part of that -- people blogging about food and that kind of excitement is pretty infectious. We see it in the line all the time, too.
Is there something about Austin -- besides the kind of wood you'll find locally -- that made it easier to take hold here?
Franklin: To me, what makes Austin super attractive is that, like, you used to be able to cut out of work early, go get some enchiladas, sit on somebody's porch for a little bit and drink some beers, and then go to a show, then go eat pancakes at four in the morning, then go back to work. You could do that and be totally fine. For me, and the way our restaurant has ended up, that kind of excitement and old-school Austin energy is still kind of happening.
To me, that's BBQ culture. It's like, "Oh, we forgot beer!" "Here, have one! Where you from?" You make friends, and it's cool, and everybody's happy. You're in this together. I can't think of any other food where that kind of culture follows the actual cooking. I'm excited about hot dogs, but they don't take very long. BBQ is a long commitment to cook it, and sometimes a long time commitment to eat it, but it feels good. It's like hanging out with your buds.
They're just hanging out on your porch, waiting for the food to be ready.
Franklin: Which is weird. Just super weird. But yeah -- let's slow it down a little and enjoy ourselves. It's a good excuse for things to slow down. I spend so much time on the phone and the computer, and everybody does. It's pretty cool to just grab a lawn chair and just be like, "I'm not doing a thing."
Some people get snobby about the line at your restaurant.
Franklin: And you know what? It filters those people out. When we first started getting a line, I was like, "We can't have people wait this long!" But they're showing up before we open. We can't tell people what to do. What we realized early on is that the people who stand in that line, or any line -- it could be for Cronuts -- really want to be there. They want to hang out, make friends, and eat BBQ. And it filters out cranky people. Which actually helps us out. You're not gonna sit in line and then be annoyed at us by the time you get to the counter. It's a really long time to wait, but the people who do wait really do have a good time.
I'm sure you've had offers to do more restaurants. What's kept you to this one location here in Austin?
Franklin: This is what we do. This is what we like doing. A lot of people ask when the next location is going to open. "Hey, I got a deal for you in Vegas! I got a deal for you in New York!" We don't want to. We just don't want to. That's not what we're about.
There are people who think you're crazy for not opening a place in Times Square.
Franklin: Those people can own a chain of not-very-good restaurants if they want to. I'm pretty happy with just one that's pretty OK. Don't want to lose control of it, don't want to have a bunch of other people cooking stuff. You can only be in one place at a time. I don't want to sell out. We cook 106 briskets a day. That's enough.
There aren't even enough cows to be had. Even now, that's a constant issue. We use all-natural stuff. Not into growth hormones. Antibiotics, I can live with -- we all get sick sometimes. There aren't a lot of beef companies that do that stuff. We go through about 45,000lbs of brisket a month. We use all Prime. There's really only one supplier that can work with us and get that much. There's not a lot of that to go around. That probably accounts for less than 1% of the overall beef supply, and I betcha I'm buying, like, all of it. That's a big reason expanding would be hard -- but not the biggest reason. The biggest reason is that we just don't want to.
Who are some of your favorite famous people you've cooked for?
Franklin: You know, we don't really get that many famous people. They don't like to stand in line. Weird, right? We don't really let anybody through. I mean, if there are friends in town, like bands playing in town, we'll get little to-go orders and stuff for people that we like. But all you gotta do is show up if you want it. It's pretty simple. But Obama ate here -- that was pretty cool. He's the only guy that's technically skipped the line.
His successor -- does he get to skip the line?
Franklin: I don't know. We'll, uh… I don't know.
Sign up here for our daily Thrillist email and subscribe here for our YouTube channel to get your fix of the best in food/drink/fun.
Dan Solomon is but a simple boy from Texas. His work has appeared in Texas Monthly, Fast Company,
Wired
, and the
New York Times
. You can read his tweets and look at pictures of his dog at @dansolomon.