E
very proud owner of a grill has their own way of barbecuing, and most don't take kindly to backseat grilling advice. But exceptions should be made when that advice comes from pitmasters who've devoted their entire lives to the pursuit of meaty perfection.
These tips come from some of the world's most obsessive barbecue cooks, ranging from world-champion competition-circuit legends to the pitmasters behind some of the best 33 BBQ joints in the country. Heed their advice, and may your charcoal burn forever brightly.
Recommended Video
Acquired Taste: Blood Rice Cakes With Timothy DeLaGhetto and Justina Valentine
Don't you dare set it and forget it
"Give lots of TLC, as every day is different. There is no 'set it and forget it' setting in cooking good BBQ." -- Tootsie Tomanetz, octogenarian and 50-year TLC-giver at Snow's BBQ (Lexington, Texas)
Buy the best meat
"Invest in quality meat. They say you can't polish a... well, you know the rest. But it rings true. The quality of your meat is relative to the success of your cook. Higher grade meat with more marbling means the cut is going to be more tender and flavorsome, and the presence of more intramuscular fat makes it more forgiving during the cook. Meaning, it's going to be harder to dry out a Prime brisket than it is a Select." -- Jess Pryles, Hardcore Carnivore founder, cook, and author (Austin, Texas)
Baste with herbs
"Incorporate a basting brush made of herbs by attaching whole stems of thyme, rosemary, and sage onto a wooden spoon with butcher twine. Use it to baste meats throughout the cook with butter, a good oil, or sauce." -- Billy Durney, pitmaster at Hometown Bar-B-Que (Brooklyn, New York)
Wrap or pan meat to smoke it faster
"The most common technique to smoke meat faster is wrapping it in foil. This is done after the protein has absorbed adequate smoke and caramelization has taken place on the outside. Generally a liquid such as water or apple juice is placed in the foil with the meat and wrapped tightly. The steaming effect from the liquid speeds up the cooking process.
"Panning is another variation of foiling: use a pan covered tightly with the meat and liquid inside to shorten the cooking time." -- Myron Mixon, four-time World Barbeque Champion, television host, and operator of Myron Mixon's Pitmaster Barbeque (Old Town Alexandria, Virginia)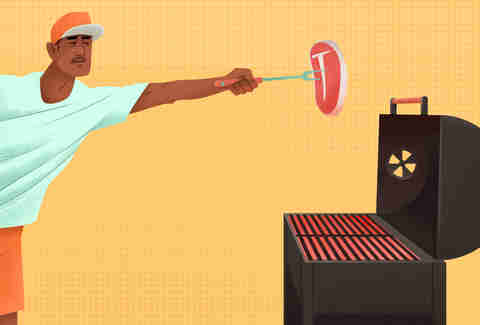 Pay attention to your meat's proximity to heat
"Use proximity as a cooking tool. You don't have to cook everything on a grill directly over hot coals. Having a hot side and a cold side is beneficial if you want to sear something and then move it over to indirect heat to finish cooking slowly. This will prevent you from burning the meat." -- Evan LeRoy, chef/owner of LeRoy and Lewis (Austin, Texas)
Always watch the temperature
"Temperature control is the number one key to everything. You'll always be managing fire throughout the cook, and there will always be variables that affect your ability to hold a steady temperature, such as the cooker itself, weather, air quality, brand of charcoal, wood, and how many times you open the cooker. Once you learn the principles of fire -- how to build it slowly, what feeds it, and how to increase and decrease it when necessary -- you will be able to turn out quality barbecue." -- Mike Mills, four-time World Champion and three-time Grand World Champion at Memphis in May, pitmaster at 17th Street Barbecue (Murphysboro and Marion, Illinois)
Start your fire extra early for optimal grilling
"Most backyard grillers don't start their fire early enough to let it mature. Always start your fire an hour before you think you should, giving plenty of time for your coals to get nice and hot." -- Scott Roberts, pitmaster at The Salt Lick BBQ (Driftwood, Texas)
Reverse sear thick steaks
"When grilling your favorite steak, I suggest the reverse sear method to achieve the perfect internal temperature throughout. This process works best on larger cuts such as tomahawks or steaks over 1 3/4" thick. Reserve sear is simply the method of cooking at a lower heat until the protein is 90% to desired temperature, then finishing it off on the grill at a high temperature." -- Brooke Lewis, Grand Champion at Memphis in May, co-owner at The Shed BBQ (Ocean Springs, Mississippi)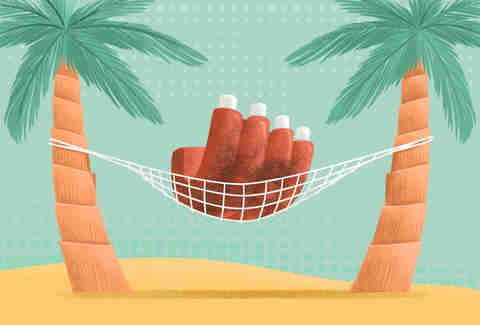 Let your meat rest before you dig in
"If I've learned anything, it's that resting your meat in a hot box after it comes out of the smoker makes for better barbecue. Modify a cooler to suit your purpose at home and give yourself a few extra hours on the back end to rest the meat. You won't regret it. -- Wyatt Dickson, pitmaster at Picnic (Durham, North Carolina)
Keep it clean and use quality charcoal
"Use a quality charcoal for your heat source when cooking and remember that lump charcoal burns hotter than briquettes. Make sure that your grill or pit is clean before cooking, clean it with a wire brush and empty out ash from the bottom. When you start the charcoal, use a chimney and newspaper instead of lighter fluid. And make sure your grate is very hot before placing meat on the grill, which will help prevent the meat from sticking." -- Tuffy "The Professor" Stone, Grand Champion at Jack Daniels World Championship Invitational, American Royal, and Kingsford Invitational, pitmaster at Q Barbeque (Richmond and Rancho T, Virginia)
Take time to get to know your gear
"Know what you're cooking on. This takes some trial and error to learn how your grill or smoker works. And allow yourself plenty of time. Most folks make the mistake of trying to rush, getting frustrated, and inevitably screwing it up!" -- Sam Jones, pitmaster at Skylight Inn (Ayden, North Carolina) and Sam Jones BBQ (Winterville, North Carolina)
Skip the sauce and go with a dry rub
"As opposed to liquid marinades, I dry rub all my meats 24 hours before I cook them so the spices have more time to penetrate. You get more flavor into the meat that way and you also get more of a bark than if you did a liquid marinade. In my opinion, dry is a more traditional barbecue style than wet." -- Craig Blondis, pitmaster at Central BBQ (Memphis, Tennessee)
Explore the vegetable kingdom
"Grilling is for more than just meats.  Wrap your veggies in foil, seasoned with butter, oils, spices and rubs, then let them steam on the grill to cook through. Prior to serving, give them a quick sear over the grill grate to add some flavor and grill marks. This is a great tip for corn on the cob, peppers, fruits, onions, tomatoes -- you name it!" -- Leonard Botello IV, pitmaster and owner of Truth BBQ (Brenham and Houston, Texas)
Brine away
"Brining helps make sure typical "dry cuts" won't dry out, and it will ensure juiciness, especially in chicken wings, pork loin, chicken breast, or whole chickens." -- Adrian Davila, Davila's BBQ (Seguin, Texas)
Sign up here for our daily Thrillist email, get Eatmail for more food coverage, and subscribe here for our YouTube channel to get your fix of the best in food/drink/fun.