N
o one ever said grilling had to be fancy, but my god, there's a hell of a lot more nuance involved than slapping a hunk of meat over an open flame and waiting until it's done. For all of the scientific complexities that go into barbecuing, smoking, and charring meats and vegetables, backyard grill culture is a notoriously lazy one. Don't be one of those inattentive grill cooks who doesn't even have an opinion about propane vs. charcoal -- get yourself learned with these essential grilling and BBQ cookbooks, each an imperative foundation in the chargrilled canon. Collect them all to achieve flame-taming mastery.
Around the Fire by Greg Denton and Gabrielle Quiñónez Denton
Husband-and-wife pair Greg and Gabi are the chefs behind Portland, Oregon's Ox, a restaurant known for its flame-kissed fare. Take a cue from these 2017 James Beard Award winners: Think of fire as "relaxing and enchanting, something that can intrigue and mesmerize." The partners' zenned-out approach to grilling stems directly from their studies of the Argentinian techniques that Mallmann espouses, taken to its logical end in grilled desserts and smoked cocktails. While there are some decidedly high-brow recipes in their book (grilled foie gras, anyone?), the primary focus echoes the mentality of their ethos at Ox in using seasonal ingredients, which means great things for vegetarians. But perhaps the most rewarding revelation is for the meat eaters in the form of "black gold": Greg and Gabi advise collecting the drippings from your grilled meats and flavor with herbs and other aromatics to devise an otherworldly yet enormously simple dressing or sauce.
Francis Mallman is South America's most famous chef, aptly distinguished as the godfather of the open flame. After stints in the world's finest restaurants, the Argentinian chef has spent much of his career breaking down the barrier between food and the kitchen, returning to cooking in its most simple form. He approachably walks through the literal seven types of fire techniques, from the traditional parilla to the equivalent of a cauldron. The recipes range from the extremely simple to the highly ambitious: as in, a lamb al asador, complete with timed itinerary that lasts most of the day. There's a primal sense as you flip through pages of pictures of splayed rib cages and the insides of fish open to a spit, but that's exactly what grilling should be all about: a callback to our deep connections with ingredients and the simplest measures taken to make them taste delicious.
Meathead By Meathead Goldwyn
If a man who willingly goes by the name "Meathead" writes a book about meat, rest assured it will be reliable AF. Everybody loves this cookbook, and everybody loves Meathead Goldwyn. A longtime BBQ judge and proprietor of the site AmazingRibs.com, Goldwyn is fanatic in his love for properly smoked and cooked cuts -- one look at the site will tell you as much. But in the cookbook, he dives into the weeds with his technical prowess of the ins-and-outs of barbecue, but he writes without pretension as if he were offering advice to an interested, slightly dumb friend. This book is best-known and most-praised for its meat myth busting, so all you rib boilin', salt rubbin' monsters out there are in for a rude wake up call in Meathead.
Elizabeth Karmel is out to break every single bullshit gender stereotype that the grilling game has been fostering since the past... forever. Growing up in North Carolina, Karmel was raised on the vinegary style of barbecue the region hawks, eventually becoming keen on making Carolina-style BBQ herself. The rest is herstory (which, as an unabashed pun user herself, Karmel would approve). With her mission to get women in front of the grill in tow, Taming the Flame is approachable and welcoming, perfect for the absolute beginner who's a tad intimidated with all there is to know. Karmel, insanely knowledgeable and charming, includes an FAQ-stylized rundown of all the questions you could possibly have, and a BBQ dictionary to unmuddle terms you've pretended to understand.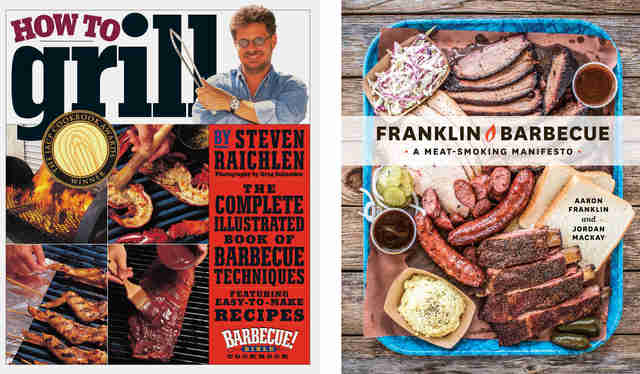 TV host and author Steve Raichlen has written many, many cookbooks about grilling by now, but maybe none have surpassed the eminence of How to Grill. Published back in 2001, this book has a few outdated cues (pretty sure nobody's using mail-order anything anymore), but when it comes to the basic essentials like smoking brisket, making pulled pork, or nailing the perfect burger, the information itself is indispensable. His newer books, namely Project Smoke, have become more artfully sophisticated, but you know you're getting solid advice regardless of the pretty pictures when it's coming from Raichlen.
Austin BBQ hero Aaron Franklin didn't intend for his book to be taken in in one sitting. As an "elemental and theoretical breakdown of the barbecue process," it's no doubt a laborious read, but one well worth the effort if you want to be as good at the smoker as one of Texas' best pitmasters. It's not a cut-and-dry recipe book, focusing on technique following in the traditions of Central Texas barbecue -- the stuff Franklin was raised on -- but you'll encounter useful tips on rubs and a visual guide to breaking down cuts of meat, on top of the erudite BBQ knowledge you'll acquire by buying into the gospel of Franklin Barbecue.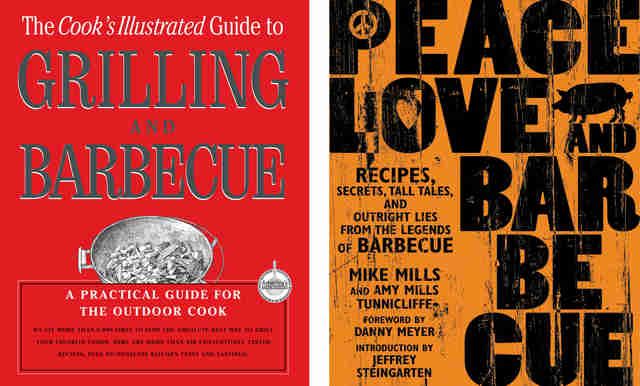 Good news for people who want to spend less on a cookbook than they would on a New York City iced coffee: The Cook's Illustrated Guide to Grilling is maybe the best deal you can get for the most utilitarian piece of grilling writing out there. Painstaking testing and retesting is what Cook's Illustrated -- the same folks behind America's Test Kitchen -- is all about. It's not filled with pages of gorgeous photos of glistening medium rare beef, but it is filled with every single need-to-know tip and trick of grilling, down to the very best gear that'll last you well beyond one summer.
"This is the last cookbook you will ever need," begins Peace, Love & Barbecue -- a bold claim for a world saturated with valuable cookbooks. However, it's not necessarily wrong. In competitive barbecue circles, Mike Mills, owner of 17th Street Barbecue in Southern Illinois, is known as "The Legend," and his daughter Amy isn't terribly far behind in her expertise, especially after writing PL&B under her dad's tutelage. It's more literary than most cookbooks you'll encounter, but there's a sense throughout that you're being let in on a very old, very important trove of secret family recipes. Guard them with your best set of tongs.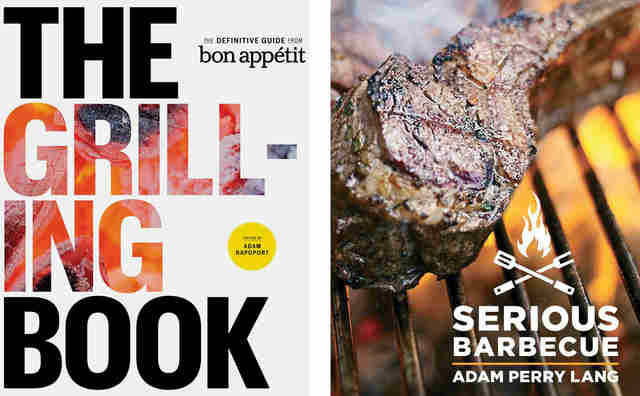 You could comb through back issues of Bon Appétit to pick out the handful of recipes germane to your grilling situation, or you could just pick up this book. It's big, bright, and bold, covering more than 380 recipes all related to your next backyard barbecue (and the one after, and the one after that, and... ) that include sauces and side dishes. It's broken down into expected sections like chicken, beef, and pork, but you also get an entire section dedicated to burgers that goes far beyond the oft-repeated wisdom of the 80/20 beef variety. Think of it as your compendium to every decent grilling and BBQ recipe you'd ever want to reference.
Adam Perry Lang came to be a prolific grilling and BBQ writer after cooking his way through some of the world's most important French kitchens and putting New York City barbecue on the goddamn map with his restaurant, Daisy May's. Since focusing on BBQ, he's schooled some of the most seasoned pros with his pork recipes at prestigious competitions. So to say that Lang knows a thing or two about cooking would be a gross understatement -- he knows the most. In Serious Barbecue, Lang shares his expertise by way of idiot-proof packaging to turn even the biggest dunce into an expert by the time he's through with you.
Sign up here for our daily Thrillist email and subscribe here for our YouTube channel to get your fix of the best in food/drink/fun.