T
he rain has stopped (a bit, anyway), the grass is mowed (until next week) -- it's time to break out the grilling gear. You probably already have the basics (e.g. long-handled tongs, charcoal chimney, portable fire extinguisher, "
Dinner Is Coming
" apron), but technology seems hellbent on having you join it in 2018, as evidenced by the newfangled gadgets and gizmos we've singled out below.
The tailgater thermometer/bottle opener
Grilling is tricky if you're not one of those people with a Jedi-level sixth sense for when meat is done. This little doodad solves the problem of undercooked meat and stores easily: like a Swiss army knife, the thermometer probe folds up into the case where the readout is.
Price: $11.39
Where to purchase: Target
Grillight tongs
The winner of our "Lamest Sounding Really Cool Idea" award is a set of grilling tongs with an LED flashlight at the center to let you see your food better when you're grilling. Yep, that's it. No Bluetooth. No bottle opener. Just tongs that light up. But you'll get why we're putting it on this list if you've ever found yourself double-fisting tongs and a flashlight after sundown.
Price: $29.97
Where to purchase: Grillight
Weber iGrill
Using an app to grill does not make you a nerd -- it makes you James Bond. This thermometer connects to your phone via Bluetooth and lets you decide how deep into the food-geek rabbit hole you want to go. Second-by-second temperature updates? Sure thing. Connect to social media to keep the whole world updated about when you pull your pork? Check. If you just want something to tell you when to take everything off the fire, it will do that too. Most pros caution against the "set it and forget it" model of grilling. Those folks likely didn't have this kind of tech to remind them not to burn stuff.
Price: $49.99-$99.99
Where to purchase: Weber
Veggie grill clips
Grilling asparagus and other thin veggies in quantity means you have two choices: 1. Move in a hurry to turn everything before the last ones burn, exposing yourself to grill mishaps; or 2. Just accept that you're going to singe the last few veggies. Both of these options suck. These veggie grill clips by Charcoal Companion solve this problem. They grip asparagus, julienned squash, and zucchini, some kinds of mushrooms -- whatever you're putting on the sides of those steaks and drumsticks – all at once, thus preventing burning and thin veggies falling into the fire.
Price: $12.99/set of four
Where to purchase: BBQGuys.com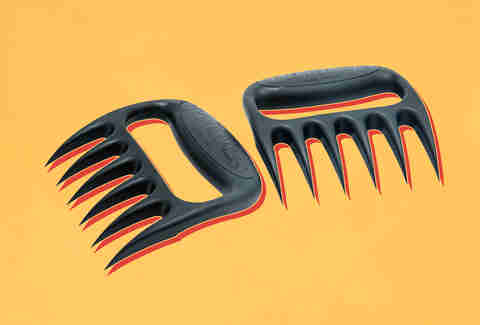 Bear Paws
The only thing better than fresh barbecued pulled pork is getting to stop pulling it after your hands have cramped so much you have to wait an hour to hold a fork. Barbecue claws give you all the shredding with none of the pain. You hold these combs-from-hell in comfy handles and go to town on your meat like Wolverine on an inconvenient bad guy. Voila! Beautiful shredded or pulled barbecue for whatever your needs, even if those needs are Cosplay based. There are many varieties, but we dig the Bear Paws.
Price: $12.95
Where to purchase: Bear Paw Products
The Looftlighter
Anybody being even a little bit honest will admit that half the fun of grilling is having an excuse to play with fire, but half the time the damn bricks just won't ignite. Which is why a charcoal lighter that's essentially a hand-held flamethrower needs to be on your essential summer supplies list. It uses no chemicals to light your fuel of choice, instead using an electric heater to blow 1,256 degree air in a straight line. That's just a little under half the temperature of a welding torch. Your briquettes and wood chips will ignite when you need them to.
Price: $62.95
Where to purchase: Amazon
Grill gloves
If you're wondering why we recommend a pair of heat-resistant gloves for grilling, go back and read that sentence about 1,256 degree heat. Whether you want to protect yourself against accidental burns or just prefer to handle that pork roast with your hands instead of a spatula, these gauntlets have you literally covered. A lot of different models exist, but we like the Grill Heat Aid model. They're thick enough to protect but still flexible enough to use your hands like hands. But avoid anything under 10 bucks. They're usually slick silicone numbers and too clumsy to hold anything with.
Price: $28.97-$35.17
Where to purchase: Grill Heat Aid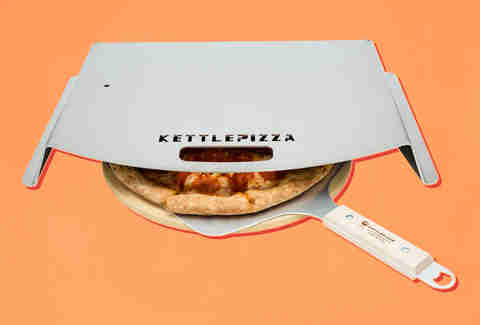 KettlePizza ovens
Fact: The best pizza crust comes out of a brick oven. Further fact: You don't have one of those at your house. Corollary fact: You can put the next-best thing in your grill. The KettlePizza Gas Pro inserts into your gas or charcoal grill and shapes the heat to give your crust that charred feel and smoked taste. Cook halfway, top, then put back in to finish the job. For best results, make huge batches of dough all at once for the freezer, then thaw on demand.
Price: $139.95-$429.95
Where to purchase: KettlePizza
Grillbot robot grill cleaner
Essentially a Roomba for your barbecue, this thing goes to town on your grill while you're busy eating, drinking, and rushing to the hospital after a predictable lawn dart accident. Brass or steel wire bristles rotate under the friendly casing with absolutely no plans for world domination or exterminating all mankind when it's done. It even shuts itself off. The future is here, and it's ready to make you lazy.
Price: $79.95
Where to purchase: Grillbot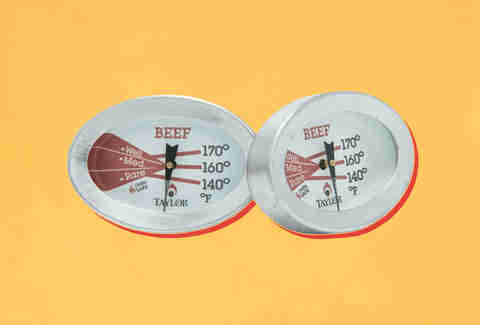 Taylor Grill Beef Buttons
The worst part of grilling is figuring out when the meat is done. Forget those myths about poking it with your finger and comparing it to the tension in your fist. What if you're a rock climber or work in construction? Using one thermometer to probe takes a long time, and means you're opening the grill too often and for too long. These little buddies you poke into your meat, so you can peek at them once or twice. They can handle most temperatures your grill can put out, and the ink glows in the dark so you see it quickly and clearly, in the event that you don't have flashlight tongs.
Price: $7.99
Where to purchase: Target
Sign up here for our daily Thrillist email and subscribe here for our YouTube channel to get your fix of the best in food/drink/fun.