If you buy food in bulk, you might as well relocate your trash can to inside your fridge, because that's where most of it is headed anyways. Yes, buying in bulk can get you some sweet deals on 30lb of Cheesy Poofs you're definitely going to eat in the next week, but it turns out it's also a cause of food waste. A lot of it. We found out why you should stop buying food in bulk (except for a few select situations) by talking to the editor of SupermarketGuru.com, Phil Lempert, who weighed in on not wasting money by pretending you're saving it.
You'll waste the food you've purchased
According to the United Nations, a full 30-40% of the US food supply is wasted. Just thrown in the garbage like yesterday's news, if people still got their news from newspapers or vegetables. This proves that Americans are horrible judges of how much food they can properly consume, especially when they eat at a Hometown Buffet. Educate yourself on when to throw away food in your home: this is how long food lasts after its expiration date, how long food is good for in the freezer, and how long food is good for after you open it. Buy accordingly.
 
Eating insects is not particularly pleasurable
"Certain grains, nuts, and candies can breed insects," Lempert says. "I go to 10-15 stores a week and I've never seen anyone cleaning out those bins... getting to the bottom and making sure that it's crystal clean. I always tend to shy away from the bins with the shovels."
Lempert says if the bulk bin is plastic or is in a barrel with a plastic liner, there's a chance that insects have gotten to the food before you. Especially if you bring the bulk food home and don't store it correctly. That means if you have to store food long-term, invest in an airtight glass container, a Ziploc bag, or something with a vacuum seal.
It might not be worth the money
The Spice Girls will stay good forever because their music is timeless, and spices themselves can stay good for one to four years depending on the spice and storage method, according to experts. But Lempert questions if the health and food-safety risks are worth the potential cost savings.
"If over the course of two years, you've saved two bucks [on bulk spices], it's not worth your time," he says. "I buy spices and clear out my spice rack every six months. Just throw [the spices] away and buy new ones. Buy them in glass. Research is showing positive health qualities in spices and herbs -- whether it's on diabetes or blood pressure and the like. The longer a spice is out there, the less effective it is flavor- and health-wise."
The same goes for pasta and grains, which some experts also recommend buying in bulk. "The cardboard boxes [you buy pasta in] are not impervious to insects," he says. "I prefer to buy pasta in a cellophane bag because I know it's sealed properly. But the boxes let air go in and out, you don't know how long it was on the boat to come here, how long it was in the warehouse (if it's an imported product), how long it was in the warehouse in the supermarket here. We're not talking about days. We're talking about months." Better to buy one box of pasta that will be fresh when you eat it than to buy a case of pasta and let bugs have a feast.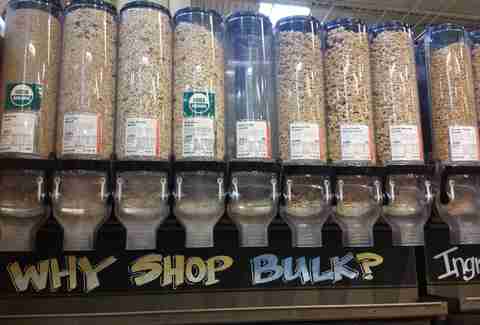 The few exceptions where buying in bulk makes sense
Because very little in this world is black and white (except for old-timey photos of your grandparents back when they loved one another), there are some situations where it's perfectly OK to buy food in bulk. Notice none of these situations are "you find a super-good deal to buy a case of perishable food you'll never be able to finish before it goes bad."
You have a huge freezer
"Buying meat frozen is fine," says Lempert. "Frozen foods, if packaged properly, will last a year." Check our handy chart for specifics, but it's definitely incumbent on you to store everything correctly. While food lasts "forever" in the freezer, it doesn't mean it'll taste good forever. Make sure you seal and package your meat correctly, and that you write the purchase date on it.
You live with a bunch of people/have a family of 25
Buying in bulk makes sense if you split it with a bunch of roommates or family members. Then you're getting the cost savings without overburdening yourself with a case of something like Cadbury Creme Eggs. We get it, Easter is extremely exciting.
You're about to have a huge party
"When it comes to large jars like salsa, mustard, and ketchup, for the most part it'll go bad unless you can use it all -- like if you're entertaining," Lempert says. "That's a great time to buy in bulk in those large sizes: if you're having 20 people over. Use it, but don't expect to have a storage space for it... or expect to use it up until it's wasted."
Sign up here for our daily Thrillist email, and get your fix of the best in food/drink/fun.
Lee Breslouer is a senior writer for Thrillist, and has a ton of salsa and no friends. Follow him to condiments: @LeeBreslouer.