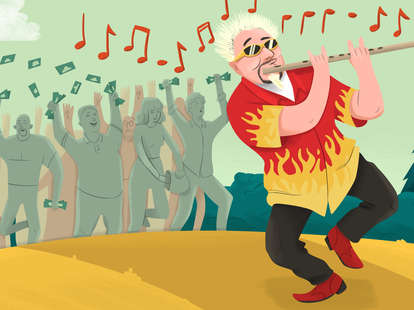 Jason Hoffman/Thrillist
Jason Hoffman/Thrillist
Here's What Happens After Guy Fieri Visits a Restaurant
In a tornado of frosted tips and fire decals, Guy Fieri comes to restaurant owners armed with a simple proposition: Close your place for a few days, relinquish control of your business to a TV crew, and cook pretty much every item on your menu. For 260 episodes and 24 seasons, Fieri's hugely popular Diners, Drive-Ins and Dives has been shining a light on mom-and-pop shops with honest-to-goodness food all across America.
The hedgehog-haired mayor of Flavortown might be a punchline for food writers and at least a few notable contemporaries, but even their favorite restaurants open up their kitchens to Fieri for a 10-minute slot on the show. But after taping wraps, what happens to these restaurants? Does the buzz hit hard, forcing their regulars to move on? Do these treasured local joints become tourist traps for meaty dudes shouting about "Donkey Sauce"?
Here are the stories of six businesses featured on Diners, Drive Ins and Dives, (or "Triple D," as it will now be exclusively referred to) and how it all goes down.
Things are intense before Fieri even commits
It always begins with a quick phone call and a lofty proposition.
"In our case, the producers called a bunch of food writers in Denver to find some good local places," said Emily N. Biederman, owner of Steuben's in Denver, Colorado, featured in Season 11 of Triple D. "They reached out to us and we basically had to sell them on our place over the course of a few weeks."
While TV magic makes it seem like Fieri just rolls up in his signature convertible with a camera crew in tow, the reality is each visit is months in the making. The team does extensive scouting on every place they visit. Restaurant owners spend hours on the phone with writers who develop a story around the restaurant, and then they have to agree to close up shop for a few days. They also agree to make any and all menu items upon the host's arrival. Some make the cut. Some are just consumed as part of the research process. After all that, the restaurant is submitted to Fieri for final approval.
Once this is all laid out, things go silent -- excruciatingly silent -- as Fieri and his crew decide whether the restaurant has the right story for them.
"When you get the call that they are going through with it, they warn you: This will change your business forever," Biederman said. "And yeah. It did. It really did."
Griffin Bufkin owns Southern Soul Barbeque, a smoke shack on St. Simons Island, Georgia (population ~14,000). The restaurant, featured in Season 9, is 40 miles from the nearest highway.
"We weren't really sure what to expect… from the show or Fieri himself," Bufkin said.
When Fieri first stepped foot in Southern Soul, he came in a plain white T and cargo shorts, his normally spiky hair flaccid and un-frosted. No backward sunglasses. No bowling shirt. Just a guy named Guy.
"I barely even recognized him," said Bufkin. "He introduced himself, talked to every one of our employees... was a real nice, down-to-earth guy."
But when he came back for filming, it was like he slipped his "Guy Fieri" persona on like a Halloween costume.
"He was all Fieri-ed up. His tips were freshly frosted. He had his flames on. And he was just amped up, you know? Still really nice, really cool -- but like an amplified version of himself for sure," Bufkin said.
Fieri did have some encouraging parting words of advice for Bufkin regarding the impact of his show.
"He told us to be ready for a 200% increase in business," Bufkin said, which seemed like a pretty lofty prediction considering the place is about an hour off the highway. "Believe it or not, that's what happened. And it really hasn't stopped ever since."
"Fasten your seat belts"
Taping lasts a few days. Fieri comes in and does his thing (which involves a lot of loud eating, backwards sunglasses, and overwhelming excitement), and the crew shoots B-roll and customer interviews. It's all a huge blur. About six months later, the filmed episode airs. That's a long time to wait. But once the episode debuts, things happen fast.
"It changes your life immediately," said Sarah Sanneh, co-owner of Pies 'n' Thighs, which sounds like the world's most wholesome bordello, but in reality is a Southern-style restaurant in Brooklyn. "Our business just went crazy. And it brought in so many new people that would have never visited us otherwise. You don't want your neighborhood spot to become like a restaurant in Times Square, but everyone that has come in as a result of this show has been so great, so positive, that I really can't complain about any part of it."
Reruns help make restaurants tourist destinations
One thing every restaurant owner noted was that this spike in business is not temporary. The Food Network replays Triple D as much as TBS plays Home Improvement, which is a lot. Those reruns translate to regular spikes in business.
"We can always tell the day after our episode has been re-run," Sanneh said. "Like, all of a sudden we'll be slammed on some random Tuesday, then we'll realize, 'Oh, they just replayed our show… that makes sense.'"
In Biederman's case, she has seen bumps in business from tourists because American Airlines plays her episode on inbound flights to Denver. But obviously, not all the episodes are seen by accident during a flight. The show has an enormous fanbase. It's consistently one of the Food Network's highest performers, and has a Facebook fanbase approaching a cool million. Those fans are mobilized by the show. And very, very hungry.
The Guy Fieri road trip
The rabidness of the fans is exemplified in a shockingly common phenomenon: Triple D road trips, where fans embark on cross-country road trips simply to hit up some of Fieri's recommendations. This happens way more often than you'd think.
"People come here about once every other week that are on these restaurant crawls across the country. They roll up in their RVs and pile out," said Adam Sappington, owner of Portland, Oregon's James Beard-nominated Southern restaurant, The Country Cat. It was featured on Season 18 of Triple D despite being neither diner, drive-in, nor dive.
One thing every true Triple D apostle has to do before they leave is take a picture in front of a stencil Fieri leaves at every restaurant -- the stencil that says "Guy Fieri ate here."
"So Guy put his stencil on our fucking hood," Sappington said. "At first it was like, 'Oh man, I wish he hadn't done that.' But I can't be mad. The whole thing ended up being so amazing, we love it now. People take their picture in front of it, and it's like another notch in their Triple D belt. It's like, 'This is the 256th place we've been to!' It's pretty cool to be a part of that."
The stencil isn't the only lasting impression
Fieri himself can sometimes come off on camera as over-excitable at best, obnoxiously grating at worst. But really, what is he doing with his show aside from helping small business owners get massive exposure and bringing affordable -- and for the most part, fucking amazing -- food into the public consciousness? It doesn't necessarily make him a hero, but it definitely doesn't make him an asshole either.
And it really seems like he genuinely cares about the restaurants and people he visits.
"Exactly one month after filming our episode, our entire restaurant burned to the ground," Bufkin said. "And one of the first people to call us -- while the place was actually still on fire -- was Guy Fieri. He wanted to see how we were, if he could help, but overall just to encourage us to get back on our feet."
So yeah, Fieri gives a shit, and as a result it's not just the fans who love him. The restaurant owners who get put through the wringer for the show seem to love the dude as well. They may have been skeptical at first. Now they're true believers.
"I would never agree to be part of anything that badmouths Guy Fieri in any way," Sappington said. "With so many food shows focusing on competitions and negative aspects of the industry, it's just great to see a show that really puts a lens on what the restaurant world is all about. Fieri is showing people what it's really like to be in the restaurant world, and people out there just eat it up."
Road trip, anyone?
Sign up here for our daily Thrillist email, and get your fix of the best in food/drink/fun.
Wil Fulton is a staff writer for Thrillist. He actually blames Gwyneth Paltrow for most of the world's problems. Follow him @wilfulton.